I'm going to call the people in those links you guys gave me and head to the pet stores today. I'm very excited...birds are far more interesting than lizards
I am definitely thinking of looking at cockatiels too. Apparently they are good first time birds. :)
Quote:
If you make perches out of branches make sure you properly sanitize them first and get all the bugs out. Cooking them in the over for a little while works usually, but you gotta do it right, sometimes soaking them in bleach is another good way
Or you can buy bird-safe perches made of Manzanita like this:
Manzanita Wood Perches
Be careful if you are taking branches from outside. Besides properly prepping them - you need to make sure they are bird-safe wood. There are some branches out there that are dangerous to pet birds.
---
All I pay my psychiatrist is cost of feed and hay, and he'll listen to me any day!


I'd recommend buying them too. I used to breed reptiles and needed to make a lot of driftwood branches for large enclosures but reptiles don't usually chew the wood like birds do.
---
I'm my spare time I ride dragons and runners, practice my Harper skills, talk to dolphins and hang with MasterHarper Robinton.
Hand-fed Cockatiels are AMAZING birds. My first baby was an absolute cuddlebug.

Right now, though, I have a Budgie. I'm making a larger cage out of PVC and wire mesh (ungalvanized!), and getting him a companion, within the next month or so. I bought him from a breeder who is an amazing lady, who hand feeds her babies and socializes them excellently. He's an absolute PIP! He thinks he's a macaw, I swear! That or a friggin' peregrine falcon. ;) He talks and whistles and siiiings his little head off, but woe betide you if you ignore him! He can be LOUD. It's not conure or lovebird loud, though, it's...much better. I HIGHLY reccomend budgies -- hand fed ones, at least. I don't really know about the others. The challenge is great, but you're never as close to them. They won't fall asleep under your hand like they're a chick being brooded, I don't suppose. Eitil does. He's...really, the perfect bird. Seriously. And apparently, budgies are the third best talkers! I am unsurprised. He whistles andy griffith, dixie, and various parts of other songs, likes to tell me that he's a pretty (slash another word that starts with a p and isn't quite as nice ;) ) bird, and says a few other things sometimes when he thinks he'll get attention for it.

A long cage is better than a tall one. They don't fly like helicopters, they fly like planes. ;)
---
Come on, how could you beat this for cuteness?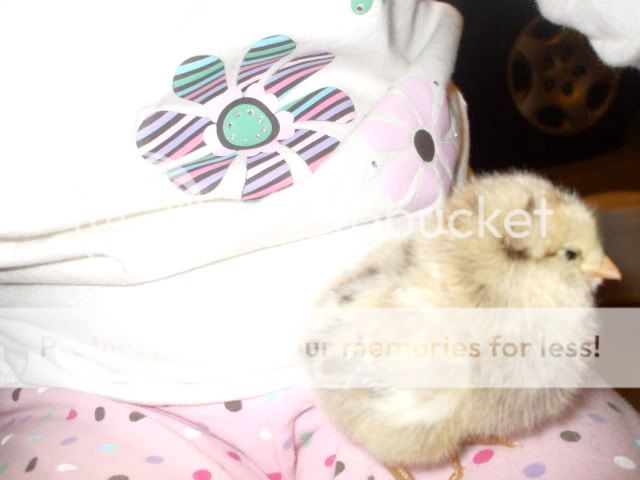 ---
Are you absolutely sure you wanna mess with my carrots?
I raised a chicken in school, for agriculture. I named him Kiev. A fox got in and ate him :[

lol, it was fun though!
---