Big and Little Fluffies!
---
Here is my sisters himalayan rabbit, Sooty. He was super pissed and heavy and I was super gross with helmet head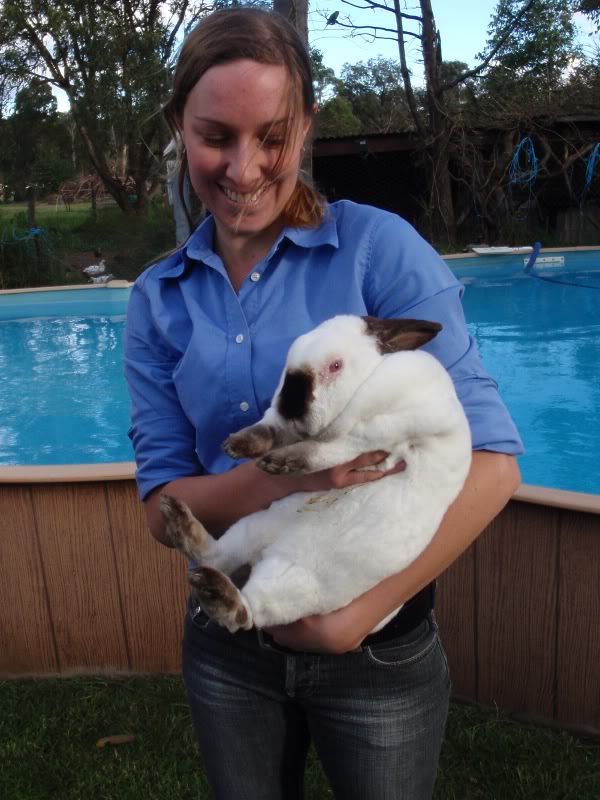 And my little girls
Muffin and Snufkin!
Thought you might like the pics
Banned
Join Date: Dec 2008
Location: At my house, or stable, duh!(Michigan)
Posts: 2,479
• Horses:
3
Awww they are all so cute
Cute, that is one huge Bunny!

Love the piggies!!! I'll have to post more piccieso of my 3 stooges. Are you bringing all these critters with you when you immigrate to the states?
Ahh... Bunny's not havin' a happy day! Love the piggies. I'll be getting one next month. I used to have a bunny and a piggie but the passed away a few months ago. They are both great pets to have.
Nah the piggies are going to own my mum when I leave. But I am hoping to get a hedgehog when I get to the USA permanently
What a huge bunny
. The pigs are so cute! I wish I could have a guinea pig....they are so animated though, that there's no way may cat would be able to leave it alone.
The grey one looks like one of my moms. She has 3, I gave her 2 of them for xmas.
I hope you'll beable to bring Pinto Pony with ya when you come across!
Ponies are retiring to lesson and trail ponies with my mum :( and then I hope to eventually get a new horse in the US one day :)