Teen Forum Moderator
Join Date: Dec 2010
Location: South East Texas
Posts: 7,157
• Horses:
2
Bird owners?
---
Share your birds of any shape or size! (Yes, chickens count
)
This is my budgie, Boo Baby. She flew into my tree, extremely thin and tired, about six years ago but I have no idea how old she is. She has to be at least 7, since she was an adult when I got her. Old lady!
I knew nothing about budgies when I found her so I've learned slowly, but she's a lot of fun. She was VERY aggressive when she first came to me, but she now knows commands such as "fly", "step up", "go home" (go in cage), "lets go out!", and "snack time!" She listens to the radio when I'm not home since she has no budgie friends (I tried to give her friends...she attacked them all), and perches on my shoulder when I'm doing homework or if I'm on the computer. She's on my shoulder as I type this.
She is a blue pied clearwing dilute, and a lot of fun, but she's also QUITE opinionated! LOL. Her favorite pastime is pulling my hair and chipping off my nailpolish. *sigh*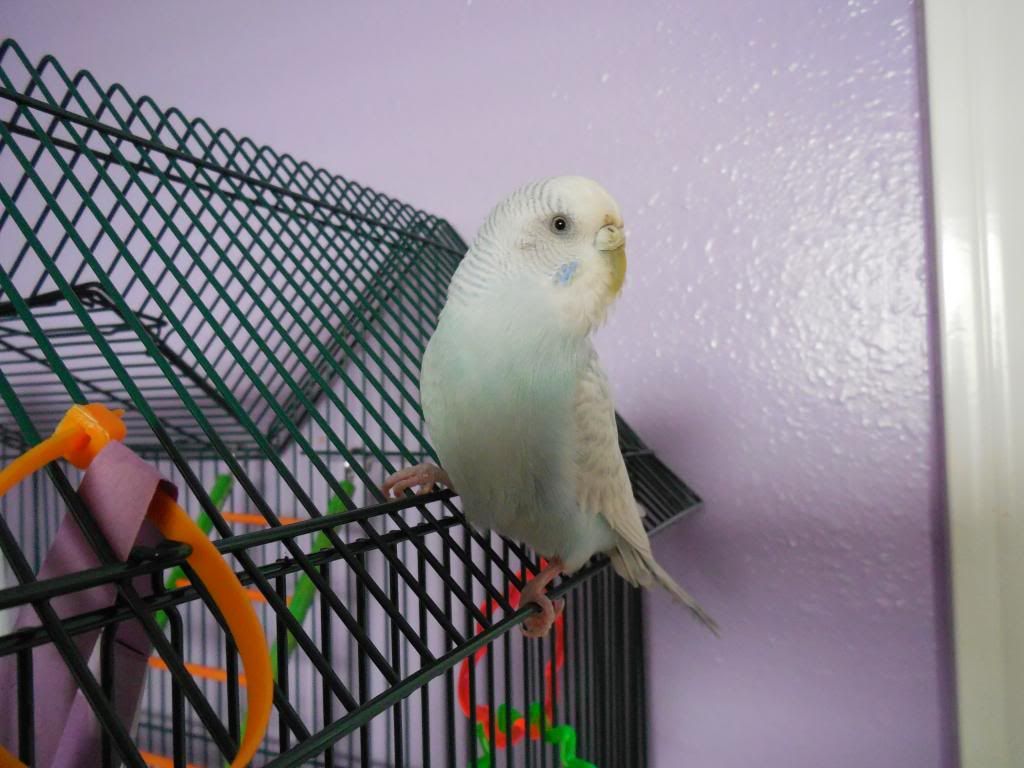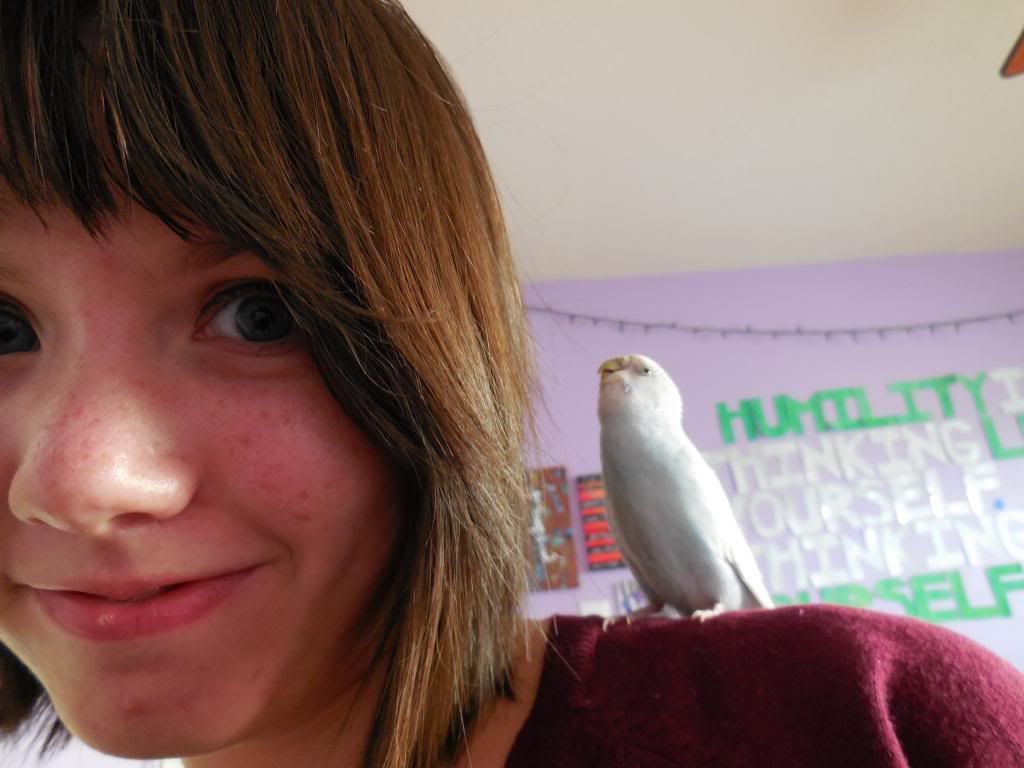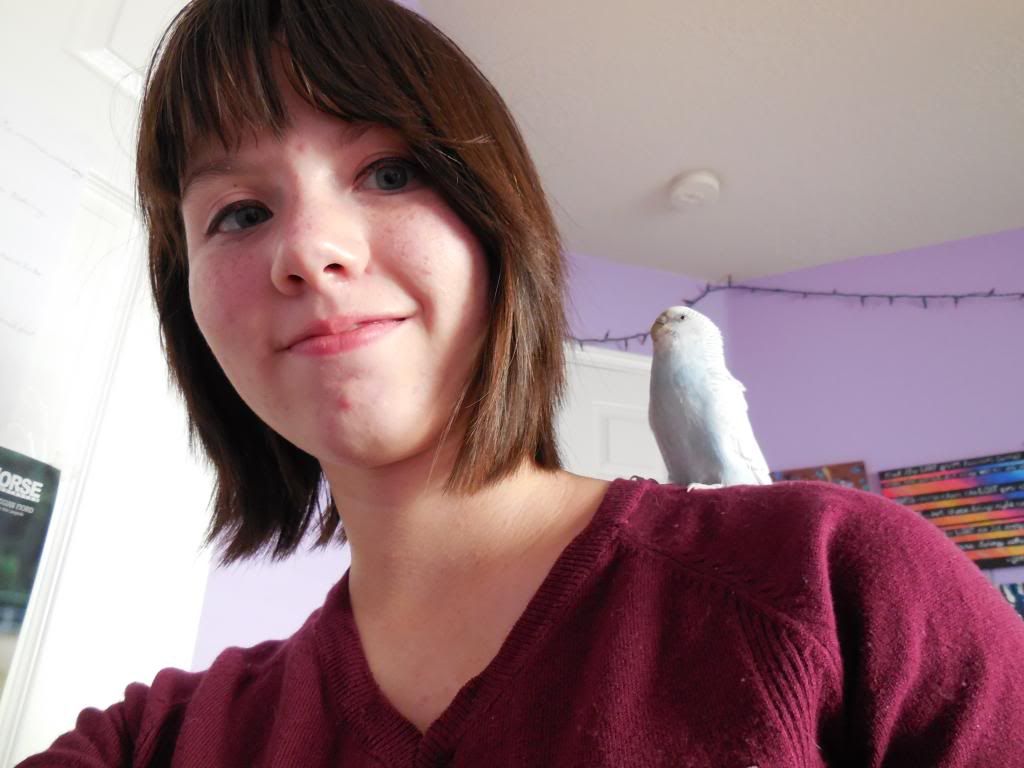 ---
Everyone in your life is meant to
be in your journey, but not all of
them are meant to stay till the end.
Have you checked out the chicken thread? On my phone so can't easily post the link, but it's under farm animals.

Anyway, subbing for now but will come back with pics of my feathered friends.
Posted via Mobile Device
Teen Forum Moderator
Join Date: Dec 2010
Location: South East Texas
Posts: 7,157
• Horses:
2
I have, but Boo hardly counts as a chicken so I decided to start a new one ;) I'm looking mostly for pets, but recognize that some chickens ARE pets so I included them. haha.
---
Everyone in your life is meant to
be in your journey, but not all of
them are meant to stay till the end.
Boo is a cutie!
For better or worse, my chickens are definitely egg-laying pets. Here are a few of them (looking quite happy back in the beautiful fall weather):
Hi
It seems I need some parakeet/budgie information.
Something Iíve always wanted is a cockatiel, parakeet, or a conure, and had planned to buy one this summer. A friend of mine knew this and when a friend of hers asked her to take their parakeet because it needs a new home (and my friend has had them before) she thought of me and called me this morning.
From what I understand it is a younger male....between 2 to 4 maybe, and is neither friendly nor unfriendly. It seems Mr Bird just hasnít been handled much as the kids lost interest. Mr Bird comes with everything, including some food, so it would seem Iím getting a bird ahead of my plans. And because my friend called way too early in the morning..before the caffeine fully kicked in!
Iíve been reading up on birds for years and have extensive wild bird and farmyard bird experience, but this will be my first indoor birdÖthat is, one that isnít rehabbing from an injury, orphaned but being raised to return to the wild, or because Iím bird sitting, bird.
What kinds of questions should I be sure to ask the owners when I go to pick him up?
While Iíve handled parakeets before, it was generally brief. What things do I need to be aware of that are specific to them?
There is an excellent bird forum I know of if you want to PM me. The only one aside from HF that I like.
This is my big boy, Jasper. He's 28 years old and inherited him from my aunt who could no longer care for him.
This was my BudgieFlock.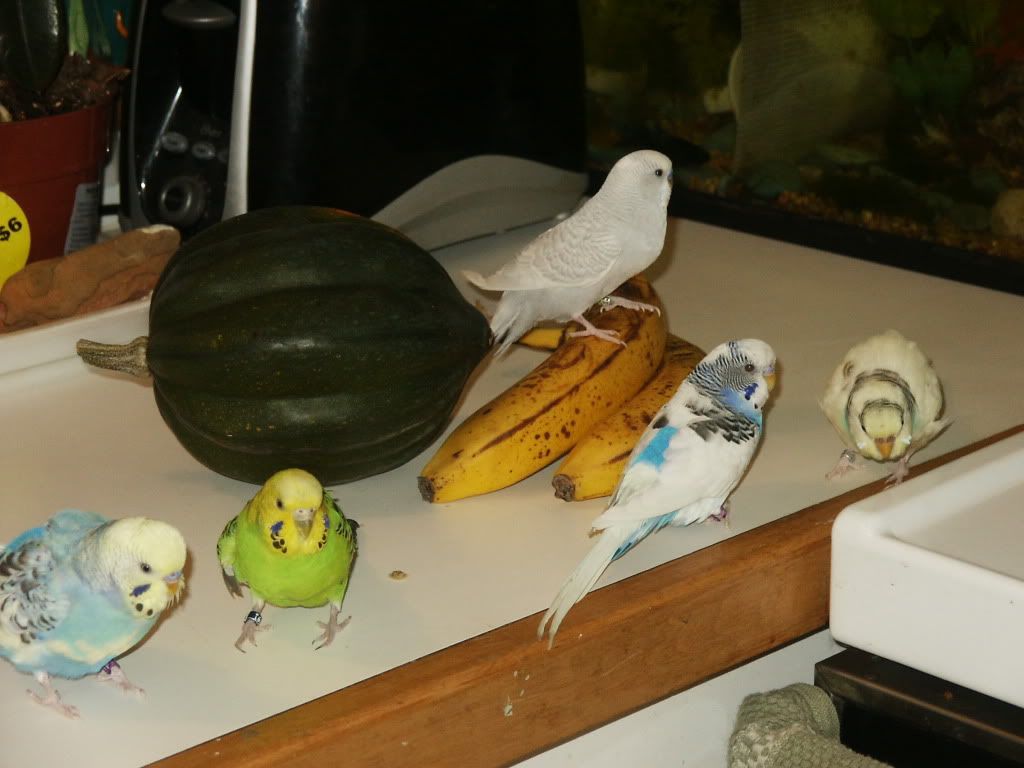 I lost the little green girl, Kelp, from ovary issues two years ago at 7 years old. I lost my first budgie and favorite little old man Sandy, the light grey one, a few months ago at 12 years old when his kidneys went. I still have the other three, who are now 11, 10, and 10 plus the little one below who is five. With the proper diet and exercise, budgies can live much longer than the usual estimates.
I have 2 cockatiels (actually one is my boyfriend's and the other was given to me, from him, for my birthday) lucky me
The pied cocky-tiel (white one) is mine. His name is Lemon and we've had him for coming on 5 years now. Rotton little thing but he has his cute moments
He also has a rather strange obsession with the dogs and would much rather roam around on the floor with them and drink from their bowls that hang out with the other bird...
The normal grey cocky-tiel is stricky by bf's. He and i do not see eye to eye, let's say. Miserable little thing that merely tolerates me when he feels like it. He's totally pathetic and a suck with my bf, though. even goes in the shower with him
---
"If a horse fails to do something that is because he was not trained to do it. If a horse fails to do something properly that is because he was not trained properly."
www.wildestheartart.com
Wow egrogan, those are some pretty Wyandottes! Are those NH Reds or Golden Comets squeezed in there between them?
Endi, your little girl is cute as a button. How long did it take for her to learn to trust you? Or did she start off as little miss bossy pants?
Sharpie, is Jasper a parrot or conure? I was looking in my book and could not tell, either way he's very impressive looking and the little crew is adorable. Very pretty colors…and is that a fish tank back there? LOL Can never have too many huh?
Lolruffian, Lemon looks like a cutie pie!
I was sent a picture of Mr Bird and he appears to be mostly bright green with a yellow head and neck (is that called a yellow bonnet?) and his stripes are still as far forward as his eyes and still fairly dark.
Lockwood, maybe this one will help!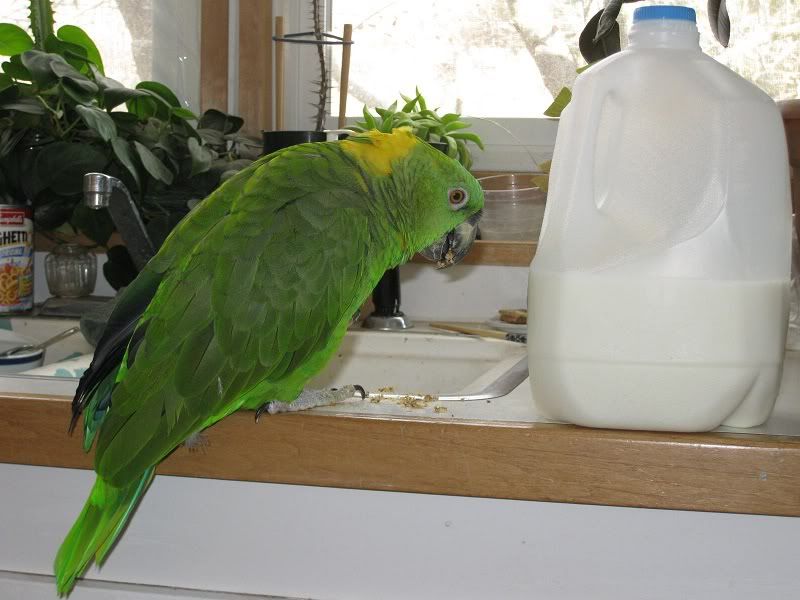 He's the biggest Yellow Nape Amazon three different Avian vets have worked with, weighing in at an easy 720g without being a bit overweight. He's in the same size category as the Mealy Amazons and Scarlet Macaws when I buy supplies. If he was able to be flighted (permanent wing and feather follicle damage prevents this) he would probably bulk up to 800g or so.
ETA: Uhh... why did the parrot species name link to a major retail website?? I did NOT do that!
Quote:
Lockwood, maybe this one will help!

ETA: Uhh... why did the parrot species name link to a major retail website?? I did NOT do that!
Were you browsing before you signed on? Sometimes certain words do that on here.
Yes, that pic does help. I'm sooo not ready for a bird that size yet.
Well, that's a really silly thing for me to say because now that I think about it, my Bourbon Red tom is 35lbs and wasn't too happy the last time I wrestled him down for a pedicure.
And I carry one of the hens everywhere because she's very spoiled and prefers to have a chauffeur.