Dawwwww!! So freaking cute! Just want to snuggle him (gently) :3
Posted via Mobile Device
Quote:
Yay! Bet she starts gaining fast now. I still haven't transitioned my guy to dry food yet but I probably will soon. I think I'll try putting warm water on the dry and let it get kinda soft and then just use less and less water. Glad yours is doing better!!
Posted via Mobile Device
When I start her on dry food I'll soak it.gradually I'll have it less soaked till she's eating it on her own.
I'm glad I don't have to fee her with a syringe now lol.
Or, to entice eating dry food, soak it in the juice from the wet food! Or mix part dry food and part wet food. :)
Oh, this is when Kenya first had her babies. She's a fantastic mother(making biscuits and purring all through labor), and passes on her small size to her babies.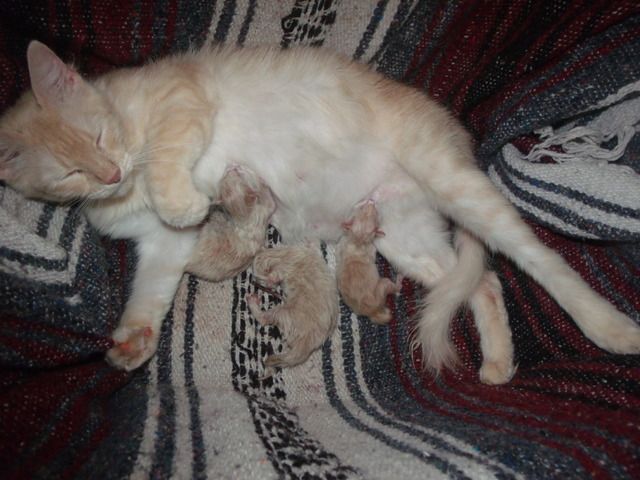 ---
There on the tips of fair fresh flowers feedeth he; How joyous his neigh,
there in the midst of sacred pollen hidden, all hidden he; how joyous his neigh
Drinking kmr
Thanks very much for explaining Speed Racer!
---
Cross Country- The act of hurling yourself and your equine partner at a stationary object with poise and grace while attempting to survive...

Nawww cuteness overload!!! Kayella is that the Itteh Bitteh Kitteh Committeh? So freaking cute! I want me a few cats. Or maybe lots. I can see I'm going to be a cat lady in my old age...
We picked a dying kitten in a barn in PA while back (she was blind, around 4 weeks old, and nothing but bones). Didn't know how to eat so we ended up bottle milking her for about a week. Boy, that kitten was HUNGRY!

She's still blind (and will be forever), but the biggest and fattest out of all my cats.
---
"Life isn't about waiting for the storm to pass: it's about learning to dance in the rain..."

"When we are no longer able to change a situation - we are challenged to change ourselves."

"How people treat you is their karma; how you react is yours."

This kitten is blind in one eye