Cats and Tricks
---
I have learned to really love teaching my pets tricks. And no, I don't mean horses, my horses really don't know any "tricks," though I think that I would like to teach them certain things.
No, I love to work at getting my cats to do tricks. I think it is so much fun, and it is sometimes pretty challenging. But there is nothing quite as hilarious as a cat trying to get a treat by throwing out all of his tricks.
I don't mind teaching dogs either, but my dog is 12 and she just can't physically do many tricks comfortably anymore.
I have four cats at the moment, and three of them enjoy doing tricks. The other one will do them, as long as no one is in the room but me and him. Two of the others are just in the starting process, and the third is really catching on.
Rue is so much fun to work with. He LOVES to work (well for a treat of course, if there is no food involved he will do the trick, but not with as much heart.) He currently can sit, speak, stand up, sit up, jump up, high five(his favorite), come, spin, lay down(in progress), jump through a hoop, go get it, pedestal and floor. He also plays hide and seek, where he will find me, and then he will "hide" (by poking his head under something
) We are also working on "heel,""dance," and "roll over."
Tux and Pixel are both new to learning tricks and so far are only very proficient with sit, speak, high five, and stand. But they are all getting there.
None of my cats started this young, Rue was 4, Tux is 14, and Pixel is 3, but they have all caught on quickly. Cats are extremely food oriented.
Does any one else have cats that do tricks? I always love to see it!
These pictures are pretty old, I need to get new ones.
Rue standing up on his pedestal.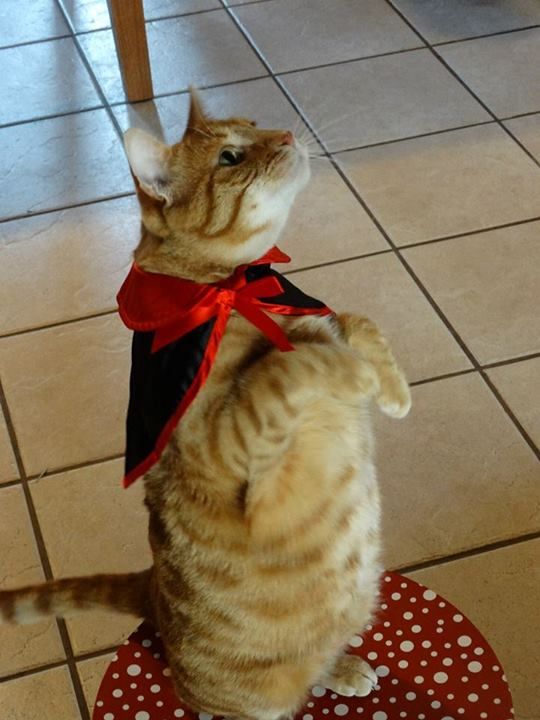 Blurry, older picture of Rue jumping through a hoop.
Pixel looking slightly strange, sitting up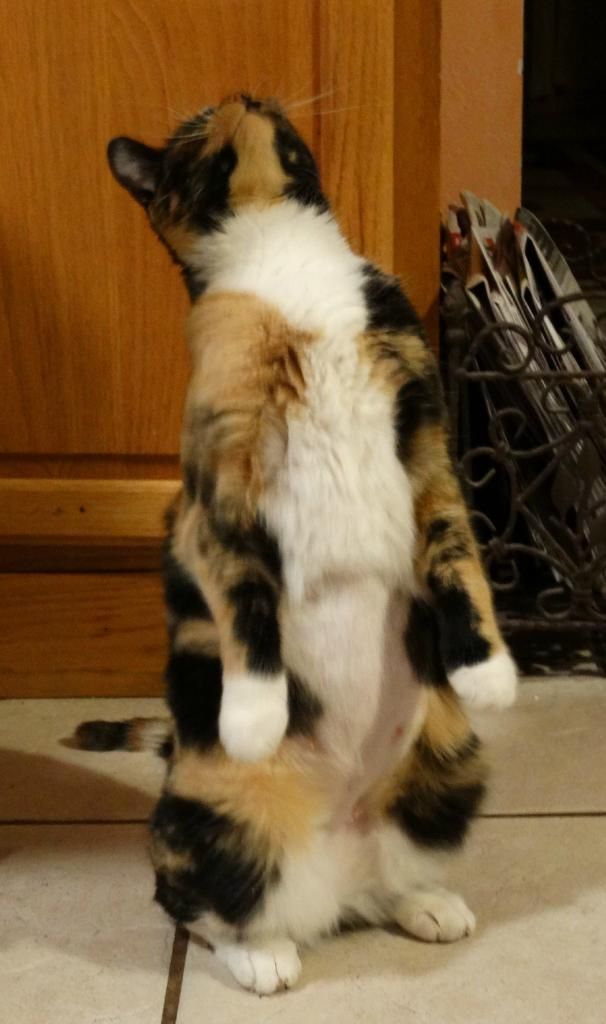 Tux giving a high five
Well, not like that. I have taught my current cat to sit before he gets a treat and he will sit up for the treat too. I tried to teach him to shake but he really wasn't into that and I lost interest.
---
"And somewhere in the northwoods darkness a creature walks upright. And the best advice you may ever get is: Don't go out at night..."