Crystal has crossed the Rainbow Bridge
---
Eight years ago we acquired a little Bichon Friese named Camilla's Crystal Ball. She was born in 2000, so she was already an adult dog. Crystal had been a breeding dog and her owner wanted to retire her from that and find her a new home. We actually went to see a male Bichon, but Crystal just fit in with us so well, we took her.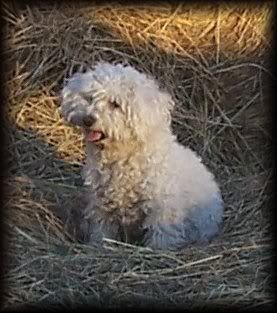 This was our first time owning a Bichon and she was such a lively, friendly, cuddly dog. Crystal would greet me when I got home from work with a merry little dance. She would sit for hours on hubby's lap, being patted and loving it. She came with us to medieval events and was an excellent travelling dog. So quickly she fit into our lives and into our hearts.
Unfortunately in the past year, her 13th year, complications started to set in. The spirit was willing in this perennial puppy, but the body was breaking down. On her last vet visit, she had gone blind in one eye and damaged it, and the damage was too great. The eye had to be removed and a lengthy recovery was ahead of her. My hubby and I both talked to the vet, and determined she had been through enough. She had a wonderful lfe with us, wasn't getting any better in the other medical areas, and it was time.
We held her and she looked at me and I could see it was time. It was time. The injection was done and as she slipped down, she gave my hand one lick, then was gone. Peacefully. We took her home and buried her under a tree in her favorite blanket with her last treat by her nose.
Goodbye my fourlegged daughter, my fluffy white puppy, my darling friend. You've left a Bichon sized hole in my heart that we will never get over.
---
Sometimes I wrestle with my demons.
Sometimes we just snuggle.
Aw, my condolences to you. Lovely pictures, she was a cutie, for sure. X
Thank you MissingStar
---
Sometimes I wrestle with my demons.
Sometimes we just snuggle.
I'm so sorry for your loss )8
loss of a dear frend.
---
im sorry to hear of your loss and i think you made the right choice and you thought of her and her qualaty of life.
she sounds like she won your harts over and with her love she will all ways be with you and never forgoton to you and your husband her memory will be like starlight it will go on for ever.
I am very sorry for your loss. :(
Crystal was a beautiful girl and I am sure she enjoyed her life with you.

I currently own a Bichon mix and I have to say, they are amazing dogs.
Hugs for you. I'm a big Bichon fan and may own one some day in the future.
I'm still recovering from loosing my partner GSD (old age) and am not ready yet. It's amazing how pets become like one of our own children and help make life more complete. :)
I'm sorry for your loss. ((((Hugs))))
---
Being horseless is the pits!!
I'm so sorry for your loss. She looked like a sweetheart.
---
-Paula
AWH:( im sorry.. I cried reading that. I lost my dog Bugs last year..:( Its hard to lose a friend like that:(... Dogs really do become part of them family:(... Hugs..
---
http://www.horseforum.com/member-journals/sunnys-thread-160521/ << read about Sunny and I. Our journey