Cuteness Overload!! Ferdie babies!
---
A few of you have seen pictures of my Fainting Goat, Ferdinand, and his "girlfriend" Catfish...Yes, Catfish...Let me explain..
Ferdi was lonely and needed a girlfriend..I got a phone call from my Papa a few months ago and a woman had called him telling him he could have a nanny she had. Just come get it! She was sick of it..Soo we go look at the nanny and she's in awful shape..She was THE absolute UGLIEST goat I had ever seen and she was tied to a tree in the woman's pen because she would go through the fence..The nanny had no hair around her neck and was skin and bones....My Papa isn't someone who will just "take" something for free, so he told the woman she could bring her son fishing at his house..for catfish..So the nanny is now known as Catfish because he traded "cat" fishing for her..
Here is a video of Ferdi and Catfish...Just so you can see how ugly she is, and how cute Ferdi is..
Now...after a loooong wait..We have Ferdie babies!! Catfish had twins today and they are too cute..The black and white is a male and the little brown and white is a female...Thank God they took after Ferdi and not their mom..I just had to share the cuteness!
I am in love with his little mohawk line..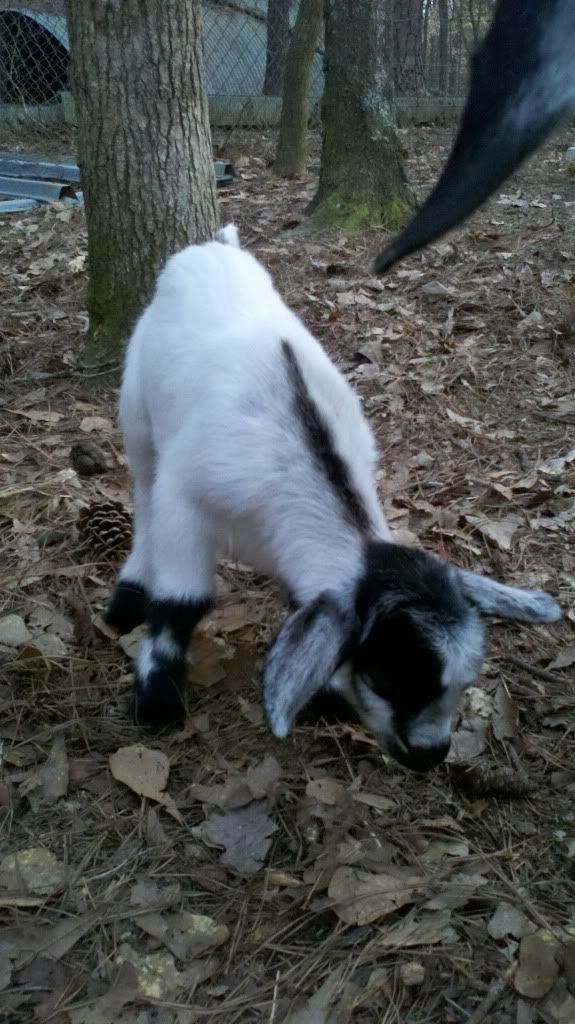 ---
I am Sparkly Meanie Doodie Head and I approve this message!
AWWWWWWH,

Cuteness overload..I think I might spontaneously combust lolol
Posted via Mobile Device
Squeeee!!! I want!!
---
Pssh.I didn't pick up the wrong lead
It's called a counter canter...
...A very advanced maneuver.
Cuteness overload! I love how you say, "Ferdi!", in a very sing-song way. Ferdi is pretty much a hunk.
Started
Join Date: Mar 2009
Location: Middle-of-Nowhere, Illinois
Posts: 2,225
• Horses:
1
You have quite the herd. One goat named Catfish and another who eats Pop Tarts!
Ferdi is indeed cute. And so are the babies! Nothing cuter than fluffy little baby goats. :3
---
"A musician must make music, an artist must paint, a poet must write, if he is ultimately to be at peace with himself.
What a man can be, he must be." Abraham Maslow, 1968

They are adorable! I also just laughed at the name Catfish, i work with an appy named Catfish! :)