Does anyone have guinea pigs???
---
I have 2 piggies at the moment. I have Wilbur, my first and "miracle" baby. I took him outside in my coat while I was out doing chores in the pasture and he slipped out and ran away. That night it snowed and I was sure he was a goner. I was devastated. It was so bitterly cold that night. Since it was so close to thanksgiving, mom took me out and bought me a new guinea pig that very night that I lost him to get my mind off of losing Wilbur. That is when I got my second baby, Katrina Belle. She is very small and only 6 weeks old. 4 days later (yesterday), I was out feeding Comet and Wilbur just appeared out of nowhere! He was by Comet's water tub! At first we thought he got in the barn with the hay but there was no evidence of that at all! I looked at the footprints in the snow where he was and they were only in one spot! It looked like he was just "PUT" there! I was so happy that I almost cried! Despite being cold, he was perfectly fine. Later that day we ended up shelling out for another cage. Wilbur is the black and white and Katrina is the brown and white
jayden.jpg
this was my genia pig named jayden she pasted away about a year ago. she allways made me laugh cuz everytime id enter the room shed make her noises. I miss her
Quote:
Attachment 80235
this was my genia pig named jayden she pasted away about a year ago. she allways made me laugh cuz everytime id enter the room shed make her noises. I miss her
awwwwww so sorry for your loss
Weanling
Join Date: Jul 2011
Location: in a field full of horses right up the top somewhere :)
Posts: 577
• Horses:
4
I'm sorry to hear about Jayden Stacy
here's my laddy- meet the guinea pig with THE most uncontrollable backside!
---
99% of the time, its the riders fault.
Flicka 13yo Haflinger Mare.
Showing
Join Date: Jun 2011
Location: Cariboo, British Columbia
Posts: 11,770
• Horses:
3
He poops a lot. I had them too, eons ago, couldn't pay to own them now. But enjoy your pets, very cute, take my share.
haha my little girl poops a lot. I call her Trine Trine the poopin' machine!
I was given 3 guinea pigs a couple of months ago. Hamlet, Othello & MJ. Hamlet is Othello & MJ's papa piggy!
Othello is at the back, MJ in the middle & Hamlet up the front.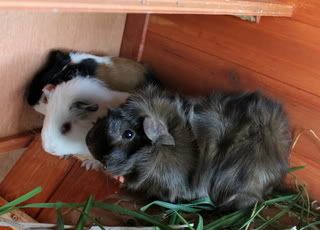 ---
Flirt-Hugo-Phoenix-Romance-Fanta-Nippa-Shiloh

Trojan 09.11.02 - 26.10.10 // Kody 01.09.89-25.06.12 // Rex 05.11.95-21.12.12

awww! I love the crazy hair ones
I had one for 6 years and had to put her down last spring because she got really sick. She was my first guinea pig and is probably my last. I would like to have more, but for now my parents are enjoying the freedom of having no pets, and in the future I'll probably have a dog.
Her name was Clementine and she was the biggest eating machine that ever lived. She would squeak until you couldn't help but pity her and bring her a fat juicy lettuce lettuce leaf.
Consequently she pooped like there's no tomorrow!
She was lazy, but smart. SHe knew she couldn't pee on us when we took her out, and would hold it in. If I didn't get her "I HAVE TO GO PEE" message, which was usually grumpiness and unwillingness to purr when I petted her, she would bite me and I'd run to put her in the cage so she could pee... or when she was reaaally lazy she would just have fun on me.
---
A ride a day keeps the worries away!