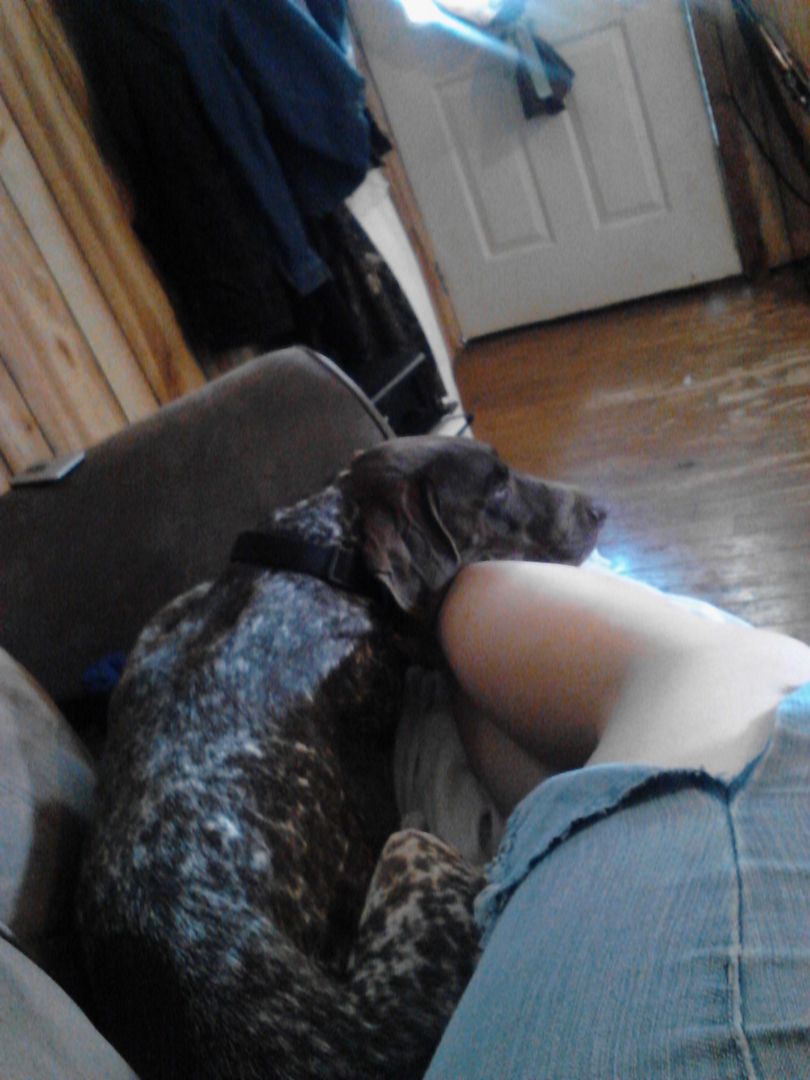 ---
*As Long As We Are Together, We Are One And We Are Safe*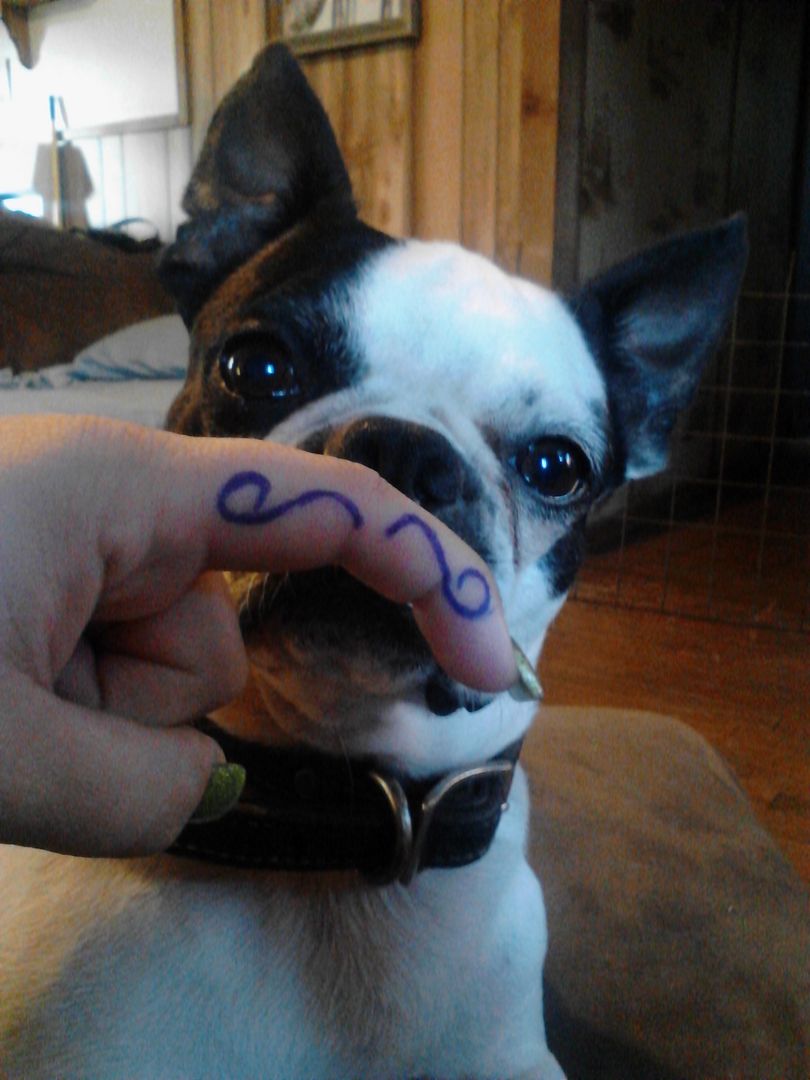 ---
*As Long As We Are Together, We Are One And We Are Safe*
Aww, what a pretty boy. How sad he ended up in a shelter, good for you for saving him.

Never met a boston with a moustache. Going to have to show that to my kiddo when she gets home from school lol.
Posted via Mobile Device
Ok so the first pic is of our Shorthair Major. He does this everytime my husband comes home from work... the second is of him on point for the first time after we got him... took with a camera phone so its kinda crappy.. the third is the first day we got him and he is snuggling with me on the couch... as you might be able to tell he was very thin when we rescued him.. and the fourth is our other dog "Bocefus" just for a funny :)
---
*As Long As We Are Together, We Are One And We Are Safe*
BOSTON TERRIER!! I have three...cant get enough of those gassy little beasts:)
Awe . they are all very cute.

GSH tend to be runners and end up in shelters and rescues alot. it is very sad.
thank you for rescuing
---
Don't Flatter yourself Cowboy I was looking at your Horse

LORI

The first pic is a familiar sight. They are loyal to a fault. Dell knows when it's 5 and does the same waiting for my hubby. Looks like he has made his place in the family :)

They aren't easy keepers for sure. I give my hubby a hard time, the dog goes through a bag of food twice as fast as 5 of my horses go through a bag of ration balancer. He doesn't look too bad, thin but not awful. He looks like some heavily hunted dogs look at the end of a hunting season. Forti-cal liquid fat supplement is a huge help keeping weight on them.
Posted via Mobile Device
I didnt read all the comments so i dont know if this was said

I have your answer right here, I have a purebred german sheperd and she is to strong to fight with. She will stalk that cat down then......BAM blood everywhere.....

What you need to do is pick the strongest kitty and let your dog go up to it and touch it, sniff it, lick it she is aloud to do what she wants with it execpt:

Bite it
Chase it
Hold it down
If she does any of these shock her

Now keep doing that but there is another that gets in the way with my dog

My dog is learnning to leave the cats alone because of the method above but she still cant take her mind off them, she will sit in the middle of the yard and stare at cats, I cannot get her to sit or anything as she does not listen

DO NOT SHOCK HER FOR THIS please dont shock them because that is the wrong attention, when she bites a cat shock her because your mad but when she just wont focus....
This will sound harsh but give her a boot, i know you probley think thats harsh but im dead serious when your mad because she is biting a cat but when you are annoyed Boots her, not to to hard and right on the back of the bumm because it will not hurt as they think it will.


I dont ever hit my dog but when it comes to not focusing our dog trainer recomended this

good luck
Megan
Thanks Megan! We honestly can't let him get that close to the cats because he strikes... I was holding my fat cat on my lap and he walked up stared at it and then just grabbed it around the neck.. didn't hurt him just held him there... I whopped him.. I have no issues with hitting a dog.. just like a child.. we slap him on the butt all the time when he is just transfixed on the cats.. but then we turn around and make him follow us out into the field or the yard and we play with him... We are getting ready to get some quail to start him on birds so maybe that will become his new favorite...
---
*As Long As We Are Together, We Are One And We Are Safe*
This way may seem like a fluffier way to deal with the situation but it may help if nothing else does. I like working with two extremes of reward and discouragement.

This only works if your dog is food motivated though. I would leash your dog (this is big, the more the dog can get 'away' from you to the cat the dog wins), have a high quality treat (hot dog?) and sit in the room with a cat, when ever your dog isn't whining, staring at the cat or relaxes give a "Good" command and reward. You try and reinforce the good behavior. Every time the dog looks at you instead of the cat, reward. If the cat moves and the dog doesn't focus on the cat reward. The cat runs and the dog doesn't chase, reward. This takes time but then the dog gets more intent on looking for reward when the cat is nearby then actually chasing the cat.

If the dog lunges towards the cat I would make a loud correction noise then do what ever it took to flip the dog onto its side/back and not let it up until given the release signal.
---
Want to know the story? From The Start? It is a work in progress.
The $25 horse I didn't want.