Dog has cancer
---
I noticed a tumor on my dog late Thursday. After getting bloodwork and testing done, his tumor was removed Monday. While a week later, he seems to be doing fine, but we found out it was a Mast Cell Tumor and Stage 3. Our vet has given him 4 to 6 months left, even know he appears healthy and the tumor is removed. The vet believes that the tumor may have spread in other lymph nodes. Diesel is an 8 year old Boxer and my baby boy, who gets spoiled. At this point we don't think chemo or therapy is an option, price and age of Diesel. We are going to change his diet to better help him fight cancer. We know this doesn't fix it, but anything that would help. We are going to try going all natural mostly on food wise and make sure he says happy and healthy as can be. He has been in the family since he has been 8 years old, but my dad and I have owned him for four years. He goes everywhere with me, pet store and hiking mostly. I'm at the point I'm scared to really take him places because of his immune, but he loves it. Other then finding the tumor and starting to show age you would have no idea he is sick.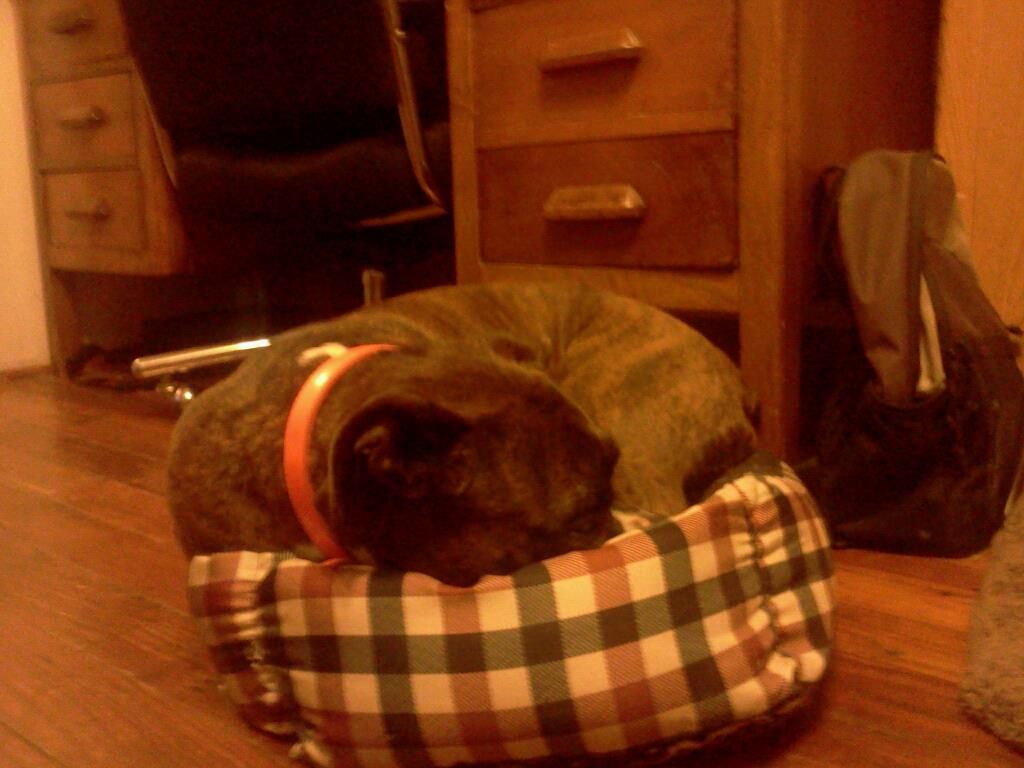 He was the seeing eye dog for this puppy until she passed and he was never taught to help her, but did it on her own.
Ne and him
---
Extreme Trail Rider and Barrel Racer.
King - 11 year old Tennessee Walker Gelding
Sassie- 7 Year old Appaloosa Mare
Im so sorry. I have been in the exact same situation so i know how it feels. A few years ago i discovered my dog had pancreatic cancer, which is always fatal. He too, was given 4-6 weeks to live, he ended up holding on another 6 months! I'll tell you what we did to extend his life and make him feel a little better:
- flaxseed oil, sounds strange, but it really makes a difference. We gave it to our dog with his breakfast every morning, its probabaly what helped him pull through for so long.
- diet wise, avoid store bought. We gave our dog cottage cheese with flaxseed oil for breakfast, and a home cooked meal consisting of rice, meat and veggies for dinner.
-he couldn't go out for long distances, but we still took our dog for walks, so regular exercise is helpful.

And dont forget to give him plenty of love, a happy dog will always live longer than a sad one. If you just love him, give him a good diet, exercise and treat him well, i reckon he can live past the 4-6 weeks the vet gave him.
---
If I am not riding I'm thinking about horses, and if I am not thinking about horses I'm riding
I'm sorry to hear such news =/ my friend had 3 boxers and I watched one wither away from severe heart problems...I went with her when it was time to put her to rest. Such a sad thing when our companions/best friends get sick like this. *hugs*. Is there a chance that the mass didn't spread?
Wow. I'm so sorry. the year anniversary of my boxer Dixies death is coming up. She was such a special dog. But I believe all boxers are. I'll be praying for you and your dog. Good thoughts your way!
---
FLYING WITHOUT WINGS IS POSSIBLE, IT'S CALLED RIDING A HORSE! <3
Oh, I am so sorry to hear abut Diesel. Big hugs! =(

I lost my Golden/Pyrenees mix from bone cancer last October. We ended up putting her to sleep as she became immobile. It was an extremely difficult time.

You have the right idea of feeding him natural food. Give him love, and take him out for short walks if he is up to it.
The way I'm understanding it's unlikely that it didn't spread. I'm looking up as much as I can about it, as I have access to vet tech websites, going to school for it. He has been on Grain Free, and still gonna be on a process food diet, but All Grain Free with low Carbs, with I'm finding out is best. He refuses to eat people food, because he has been taught never to. I heard Flaxseed oil helped, for sure getting him some of that to. I'm getting a full report for the biopsy of the tumor, then gonna have a vet tech and my professor look at it and see what they can tell me. He's still his normal self, we only notice because we saw the tumor. He was actually just playing with me minutes ago, so at this point walks/hikes are still happening as soon as stitches are out. I also believe all boxers are special dogs, every one I have met has been. I'm hoping it didn't spread, but there is a lot of questions I didn't think to ask when the office call me. That's I'm asking my professors and asking at a follow up appointment.
---
Extreme Trail Rider and Barrel Racer.
King - 11 year old Tennessee Walker Gelding
Sassie- 7 Year old Appaloosa Mare
He seems like such a sweet guy ): I'm so sorry to hear this...
---
The sensitivity of the internet baffles me.
It is a hard thing to deal with. We've had 2 dogs that had cancer and passed on.
Posted via Mobile Device
So sorry to hear this.

I'd take him off any grains, feed him lots of meat and veggies. Also fish oil and if you can get some Hoxsey Formula - I did that for my dog and his osteosarcoma (fast moving cancer) never came back.