Farewell little Pocket-Right decision, wrong reason
---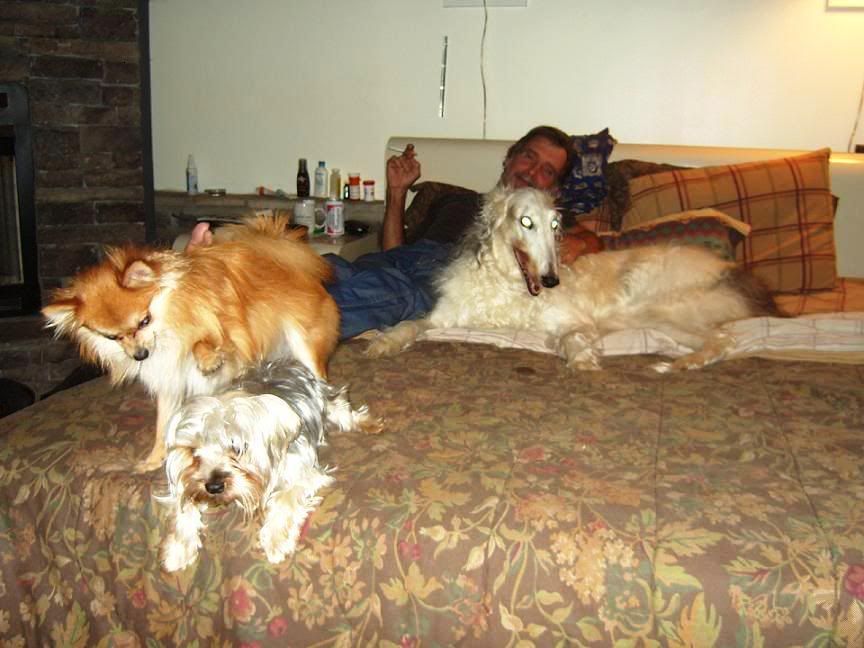 Pocket was my little golden boy, a tiny pomeranian with a lion's heart. I got Pocket for Christmas when he was eight weeks old. He weighed 11 ounces.
He never knew he was tiny. He was a fierce competitor with all the other "big" dogs for my attention. And he was ABSOLUTELY the most comical dog I have ever known in my life. He made every evening fun, filled with play and laughter, as he got into one fix after another, always with a zest for life and a new game.
Pocket got sick when he was around two years old. I didn't know what was wrong, and thought maybe he had swallowed a rib bone. So off to the vet for X-rays, exam and blood work. What the vet said nearly dropped me to my knees.
Poor Pocket had been born with several birth defects. Some, but not all, included a dangerous narrowing of the spine, an oversized heart, tiny kidneys, an almost nonexistent liver, bad hips and poor ligament and tendon structure in his back legs. The prognosis wasn't good, and the vet could not tell me how long he might have.
We got Pocket through this crisis, which seemed to be due to arthritis in his back (sigh). So very young. We got him through the next several ones too. We kept up hope.
Pocket just about made it to 5 years old. The last few weeks, his inexhaustible appetite for life and fun seemed to flag.......... He slept a lot, choosing to hide under the bed in the quiet rather than sleeping on the bed with his buddies and me. Last Saturday he seemed to be in some pain. So I gave him the pain meds the vet left for him. By Sunday, he was in terrible pain, his little back was bowed. His tail, forever curled over his back and wildly bouncing, was quiet and still and tucked. His eyes begged for help.
Off to the vet ASAP, emergency for Pocket!
The vet said that, due to the structure of his back legs, his tendons would not stay in place. That had placed tremendous pressure on his back, which was compromised already. He said that, to have any quality of life, Pocket needed two surgeries on his legs at about $1,000. He would have to have surgery on one leg, then be crated till it healed, then have surgery on the other. And still no guarantee on life span, due to his other problems.
I killed him. Yes, you can say "put to sleep" or "euthanise" or whatever, but the fact remains he was alive and by a word of mine he is now dead. Maybe it was the best thing to do under all the circumstances, but it was mainly for the wrong reasons. I just didn't want to spend that $1,000. He has cost me so much in vet bills with no hope for his future, his emergency visits were always around $200 each.......
I can't forgive myself. I cry all the time. I am so sorry, Pocket! I loved you so much, and now you are gone, and I said the word. RIP my beautiful boy.
When I read your story I read this bit
Quote:
He would have to have surgery on one leg, then be crated till it healed, then have surgery on the other. And still no guarantee on life span, due to his other problems.
and that is why you didn't do the surgery, not the money, OK it may have been a factor, but I know you, I know your heart, and you would not decide to kill anything for no reason.
You have sent him over the bridge, to a place without pain and fear, you didn't make him struggle anymore.
Silent One, open your heart, I know your love of God is strong in you, and I am sure that he would not condemn you for showing compassion, and if he doesn't condemn, then don't condemn yourself.
Thank you for your kind words, GH. It has been a difficult year with many changes for me, and I haven't handled them all with grace.
There is only one who handles everything with grace, the rest of us do our best
Silent one don't blame yourself for the choice you made. As the vet pointed out there were no guarantees after the sugeries were complete for your Pocket. From what you posted it is evident he lived a very full life in the short time he had and he owed this to you. He had a lot of strikes against him and at some point you had to do what was best for him, as you so painfullly did. My heart aches for you but know you made the right decision.
I'm sorry for your loss and for your pain. Any day now I could be writing your exact post. I thought I bought from a reputable breeder. As it turns out, I bought a dog with multiple congenital health issues. Every morning I wake up knowing this could be the day that I have to make that decision. Please know that you are not alone.
Don't think of it as killing him, think of it as giving him freedom from pain and a body that was failing.

Sometimes we have to make difficult choices, and those are often based on financial concerns.

Animals do not fear death. For them, it's just another cycle of existence. Your guilt is misplaced, and your little guy would be dismayed to know you're blaming yourself for his death.

My condolences. It's hard to lose them, no matter what the reason.
---
You want the truth? You can't HANDLE the truth!
Whoever bred the dog killed him, not you. You did all you could to save him but in the end, he couldn't overcome the irresponsibility of someone just wanting to make a buck breeding dogs and not bothering to health test.

I'm very sorry for your loss, and please don't blame yourself.
Posted via Mobile Device
I too read your words and felt your pain. The thousand dollars might have had a small part in it but the largest part was your love for your boy. You couldn't stand to see him suffer and that to me is a love that few are so lucky to have. Your pup was very lucky to have had 5 wonderful years of being loved by you. Rest in Peacee little Pocket.