Some more pics from last night
He doesn't like salmon
We bought him some toys
I feel bad using the flash but we only have one lamp on to keep it dark
Who cares about cute toys when you have a tube!
Looks so stupid
He is just too cute. I love those pictures of him and the tube. I can just hear him saying *dorky voice* "hi guys!" and it just cracks me up. XP
---
Fabio - 13 year old Arabian/Lipizzan gelding

~
Rest peacefully, Lacey.

Oh my goodness he's adorable!! Congrats!!
---
The lovely images above provided by CVLC Photography cvlphotography.com
How cute! I didn't even know you could keep them as pets. Are they trainable?
---
Congrats on the new little hedgie. I had two of them but I recently lost one at the beginning of the summer. He looked just like your baby. I still have my one chubby boy named Otto. He is a pure albino, and is probably the most unfriendly hedgehog I have ever met. I love hedgehogs and think they make awersome pets. Did you get information from the breeder on food, health, etc? If you have ANY questions, feel free to PM me.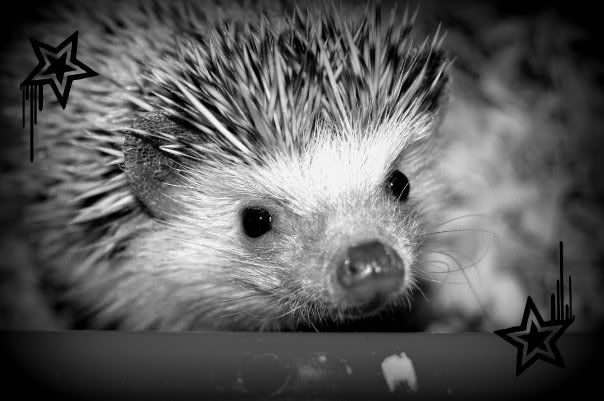 Thank you Rangergirl, your hedgies are adorable, but aren't they all haha. If I have q's i am sure pass them your way
Thanks...
These photos are from playtime last night...
Oh a nice smelling bag
Ahhhh, werehog!
Smells good!
I need more!
Look at those werehog fangs!
Soooo good.
My back smells boring
Much better
Can't get enough of it
Why are his quills green?
The breeder painted them with kids non toxic paint to tell the babies apart :) he hasn't got a weird fungus or anything haha. He was the green boy! We haven't bathed him yet, were planning on doing it today but it is cool and rainy so we might so it tomorrow as it is supposed to be a bit warmer.
Gottcha. My Hedgie loves his bathes. He plays in the water and then he curls up in a towel with me on the couch to dry off.
Ok, he is just tooo cute and funny...
Licking the bottom of my shoe...
"This is my best side"...
"Get out from under my table!!!"
"I am tooOoooOOooo cute!"
Walking in the bath...
He slid onto his head while sleeping on me
"whats so funny???"