Showing
Join Date: Jun 2011
Location: Cariboo, British Columbia
Posts: 11,940
• Horses:
3
According that cat whisperer guy on animal planet channel, and from all the cats I have seen, they like perch or lounge up high to see out a window. My hubby builds for our cat and my adult kid's cats as well, a cat tree, looks like a tree with platforms for branches all covered in carpet. You can put it by the window and the cat will love it. They sell them in pet stores as well.
Quote:
Originally Posted by
DraftyAiresMum
View Post
Exactly. We don't brush Cosmo, who is a DSH, but he's also on great food (Taste of the Wild) and has zero stress...unless Abby is attacking him. Lol
Posted via Mobile Device
mine are not too thrilled about Taste of the Wild....none of the good stuff, actually.....junk food junkies, both of them:-/
t
They came from a shelter, so nobody knows what they grew up with.
Wares, we have one of those trees (traded my old refrigerator to my best friend for it lol) and Cosmo hates it. I might give it to my brother and let him re-cover it for his cat.
Deserthorsewoman, we rescued Cosmo as a six-week-old stray outside a bar. My big tough Marine boyfriend couldn't stand leaving the little guy. As you can see, he's anything but a typical cat.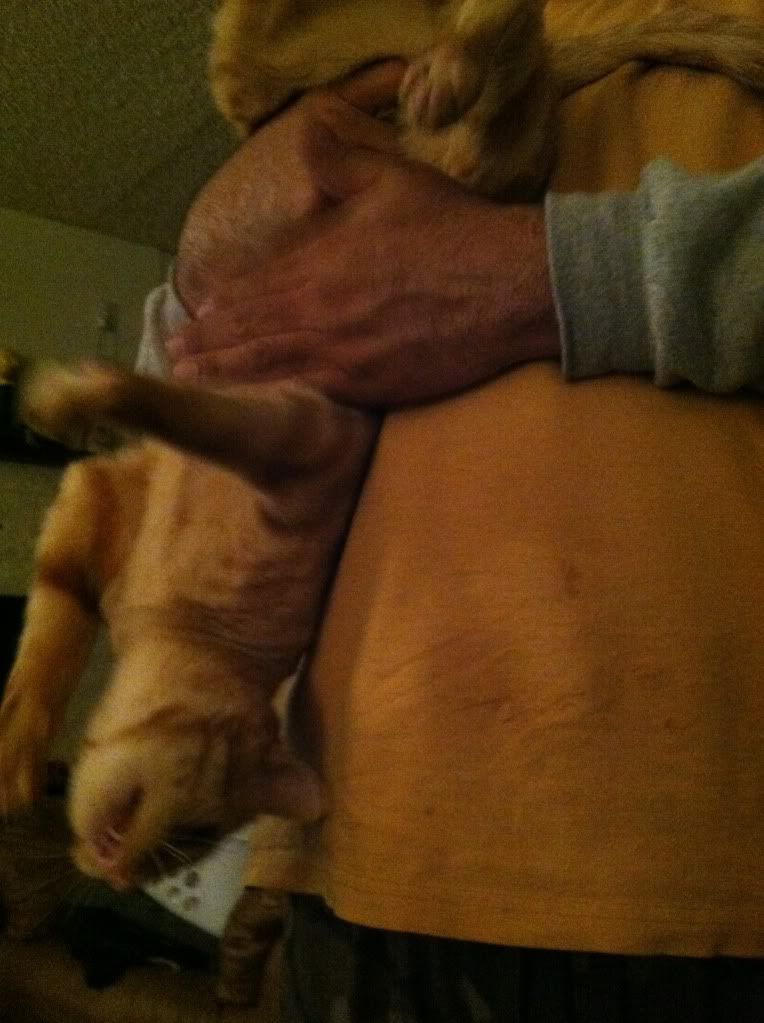 Posted via Mobile Device
I thought I was the only one with weirdo kitties
Oh, no. Cosmo is our special one.
Posted via Mobile Device
Ok. So there's good and bad happening with Mr Kitty.

The good: he's not nearly as scared as he was. My BF and I went over to my brother's last night to celebrate his new job. We were all in the living room watching Young Frankenstein and Mr Kitty was snoozing under "his" table, completely unconcerned.

The bad: Mr Kitty absolutely freaks out at night. He hides in the most random places and last night, he pooped on the living room carpet. He also freaks out when it's quiet in the house.

I think he freaks at night because that may have been when the other cat would pick on him? IDK.
Posted via Mobile Device
Definitely get the Feliway. Yesterday!
One of mine freaked at coyotes yapping and still does when there are dogs running around outside( he was a stray, so most likely encountered them before). Mr. Kitty might have heard something that terrified him enough.
Maybe leaving a radio on all the time, not loud, tho, might help. But I would really get the Feliway.....poor guy.
---
Last edited by deserthorsewoman; 04-02-2013 at

02:58 PM

.
Finally managed to get a calming aide for Mr Kitty. Couldn't get Feliway. It was just WAY too expensive ($50?!
when you said "pricey," I was thinking like $20 lol). Got a diffuser that the guy at Petco recommended as being as good (it was on clearance for $7.50). It has worked WONDERS for Mr Kitty!
Also got him some cat grass, since he was eating the house plants.
Posted via Mobile Device
Good to hear
I get the Feliway from online vet supplies. Way cheaper! I think, not quite sure, tho, the diffuser was 25, the refill 15$
Cat grass is a great idea, too. If you happen to feed oat or forage hay, the plants which grow from the spilled grain make fabulous kitty grass. Found out by coincidence. I had run out and just pulled it out, put it in a plastic container, add water, and when it goes dead, discard and pick the next
We board (for now) and they feed alfalfa and Bermuda grass.
Now, we need to figure out Cosmo's issues. He has been pooping in the back room for a couple of months and this morning he peed on the bed TWICE, with us in the bed!!!!
He's getting neutered on Wednesday, so hopefully that'll help.
Posted via Mobile Device