I must have been very lucky indeed from what everyone describes a husky mix acting like. I have had two and both were absolute perfect dogs. They both had prey drive, but reserved it for mice and snakes out in the fields and hills. Never chased cats or any other animal deemed a pet. They are obedient and both loved kids to the point of standing between them and their own dogs. The one here now will lay next to a baby for hours just watching over it. Both dogs had very strong homing instincts and were/are very much home bodies. I personally would not have an Akita around having trained a couple of them. Very strong willed and disrespectful. Always looking for something to do other than what I wanted. Granted both of them were someone elses dog and I was helping them fix issues they were having. No doubt if I had raised them they would have been different dogs personality wise ;).

I realize part of that is the environment here. I am the alpha and no one disputes that. If they tried it was brought home to them in no uncertain terms that no arguing was allowed. I would have another one in a heartbeat.

Turbo is cute and Ii will be interesting to hear if he is full akita or not.
---
Last edited by JoesMom; 08-14-2013 at

11:01 AM

.
A purebred husky is one thing, but mixing it with another breed often doesn't turn out well. Unfortunately a dog rescue has a bunch of these mixes but I'll not consider getting one. My purebred St. B was an incredible dog, which I trained to the eyeballs and he was always willing to learn. The husky/St B. couldn't teach him a ****ed thing no matter what incentives were used. If he got a notion to run, even as we were playing with him, he'd just up and go. He killed our chickens, tore down the entry and squeezed in. He didn't eat them, just killed them. Besides a bunch of other things, that was the last straw. Nope, no husky crosses for me.
I have a Siberian Husky named Harley-Davidson. My hubby first introduced me to the breed with a female he had which was Siberian/Malemute. They are definitely different to own!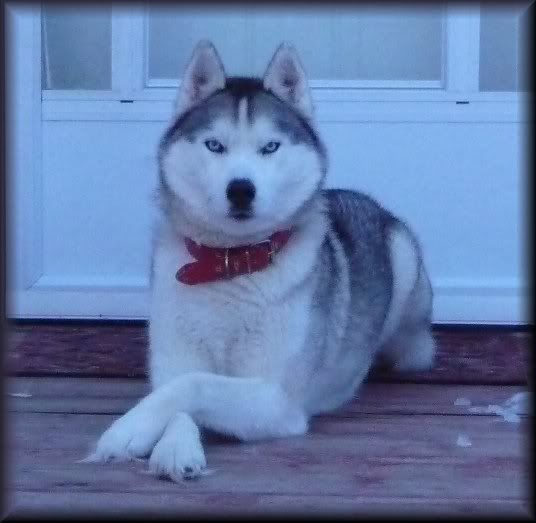 He leaves "his" cat alone, but no others are tolerated. I know all about that high prey drive!
---
Sometimes I wrestle with my demons.
Sometimes we just snuggle.
I still have yet to have turbo DNA tested. But, his pray drive sticks to bugs. He loves stalking (and eating) bugs. Weirdo. Haha. But he's about 60ish? Pounds now at 5 months old.
Posted via Mobile Device
Photos ??? Such a cute pup!
Posted via Mobile Device
Thanks! These aren't very flattering pictures but he doesn't stand still long enough. Haha. I also get asked daily if he's a shepherd or a shepherd mix. Sigh..
First pic is at 3months old when I first got him and the second is him a few weeks ago.
Posted via Mobile Device
You realize his coat is going to have gorgeous fox tipping going on in about a year right?
He is just beautiful! I love a nice sturdy healthy dog.
Posted via Mobile Device
What is a fox tipping? And he was born completely fawn and now the tips of his hairs are black and underneath is still all fawn
Posted via Mobile Device
He's pretty darn cute
.
That said, as someone who is pretty active in dog rescue and responsible dog breeding, I am a little more than a little disappointed in your decision to buy a pet store puppy, but I'll save you the lecture since you already know where your puppy came from. Just please do refrain from buying from a pet store in the future, as every puppy that is bought is more money in the breeder's pocket.
Sorry, just had to put my two cents in.
I owned an Alaskan Malamute before and enjoyed her very much. She was a very loving dog and wouldn't hurt a hair on the head of other creatures. She had a very low prey drive but people were intimidated by her size. These type of dogs are just wired differently as they had to rely on their own instincts to survive in the north. So, what some think as stubbornness isn't that at all. You just have to know how to get the best out of them. Our Chinook was a great joy for us and our very young daughter at the time. Good luck with your puppy.