jrts?
---
does anyone have jrts? i have two twin sisters called Molly and Holly and my chihuahua Daisy.

lets see your piccies, i need to find some out lol
What is a jrt?
---
Ω Horses are a projection of peoples dreams Ω
Jack Russel terrier?
I would try but I suck with names :/ sorry.
---
Not got one but know a lot. Met 3 today and they made Indy's day because they didn't try to beat him up.
---
Eagles may soar but weasels don't get sucked into jet engines.
yes sorry they are jack russell terriers! gorgeous dogs lol
I have a friend who's got a lovely little golden and white one, nice but very yappy and not too obedient. Trouble with the ones round me are they're nearly all very aggressive and attack other dogs. They seem to think my baby is a punching bag and he's a big Staffie x Ridgeback who just crys when they attack him, silly little dogs he could snap them in half but he doesn't know how to use those things in his mouth for anything other than eating and smiling.
---
Eagles may soar but weasels don't get sucked into jet engines.
My mother has one, and it's the most unruly dog I've ever seen...ha! They are quite active and very energetic!

I have a JRT / Mini Poodle mix!
We own two!
Tucker is our younger one, eight years-old. He's purebred, but not very well... He has contracted tendons on his hind legs, yet he's still quite energetic and loves to run around! He's our avid watchdog, too; always letting us know about the intrusive squirrel or invisible person!
Jess is our resident senior. She's thirteen and getting slower, but still has many bright days! She has Cushing's disease and arthritis in her legs, and she bloated a year ago. She loves to lay in the sunbeams during the day, and beg for food when we cook. She still enjoys chasing the cat occasionally!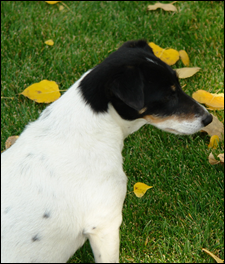 They are both quite obedient, most of the time. Jess is just a little deaf, and Tucker is, well, a little ADHD! ~
awww gorgeous dogs! mine dont bark, thye only bark in the house. i have never had such gorgeoys dogs, they are brill on the yard