Just got a Tarantula...anyone else have one?
---
I just got a Rosehair at Petco yesterday. We named her Orchid. Anyone else have any???
My girl: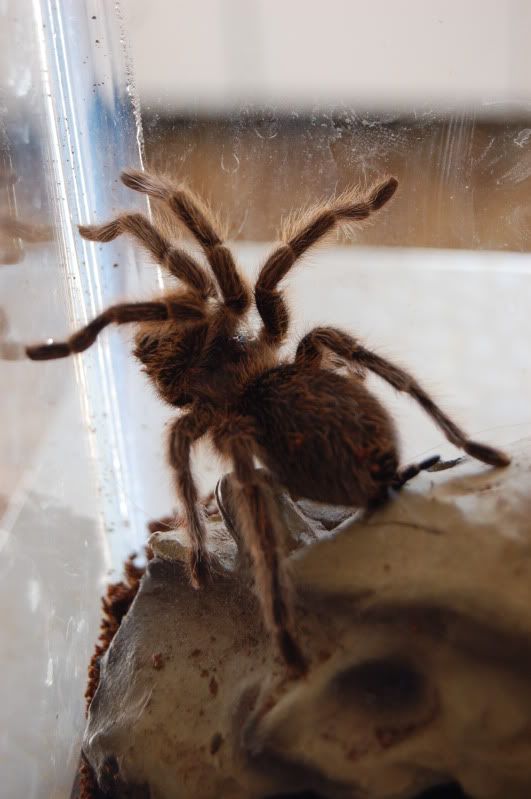 Congratz! Looking at her butt, it like she should flip over and molt as soon as she gets settled in too!
I own tarantulas and I know ladydreamer does as well.
Welcome to ze addiction!
Are you new to owning tarantulas?
I think tarantulas are one of the easiest pets to tak ecare of!

I had one for 5 years and I loved her.
Rose, her name, was a Chilean Rose Hair Trarantula. I don't ahve any pics of her but she was awesome!

Your Orchid is very pretty. :)
---
-Horse racing is my passion-
Athena:15y Palomino QH & Shirley's Brittney:8y Bay OTTB
I had one named Ricky Bobby. He liked to go fast.
Great pets; very easy and so much fun to watch! I had him outside when it was warm, so I went out every dusk, fed them, and watched them crawl around.
Holy CRAP I wish you had put a picture warning up
Rather you than me
I'll stick with Rodents and Reptiles ;)
I have four right now. I got a gift certificate for Christmas for more though. I am so excited!

Congrats on the new, cool pet.
I've always wanted a pink toed tarantula...but Hubby is absolutely terrified of spiders, so I am afraid to spend the money on one and come home to find it squished, because he panicked and killed it!!!
I love them because when they are walking on you you can hardly feel them!!
Very cool!
---
"The ideal horseman has the courage of a lion, the patience of a saint, and the hands of a woman..."