Kitten problems
---
So, we've had Jasper for about two and a half weeks now. We found him next to our mailbox when we went to check the mail and since he was so tiny (maybe 5-6 weeks old), we couldn't just leave him and decided to keep him. Everyone who meets him instantly loves him. It goes beyond just the typical kitten love and the fact that he's just so freaking adorable. He has the best personality of any cat I've ever had or met. Even our 1-year-old large (18+lbs) male cat, Cosmo, adores the little bugger and has since the second day we had him. They sleep together, play together, eat together...do everything together.
So, on to the problem. Jasper is a very...Velcro cat. He absolutely adores me and will regularly fall asleep on my chest or shoulder. When I pick him up, he's almost like a rag doll and just lets me do anything to him. He also likes to climb up on my shoulder and sit there, taking in the view. He follows me everywhere, even the bathroom. Anyway, he has decided that I am his new favorite scratching post. He'll climb up on the couch or table and just dig his claws into me. I dislodge him and put him on the floor, but he just comes right back and does it again. It's gotten so bad that he tried to climb my leg while I was cooking dinner the other night and he tried to climb my boyfriend's leg when he was putting on his belt one morning (he wanted to play with the belt).
I don't have a spray bottle, but getting wet doesn't seem to bother him, so I don't know if spraying him with a spray bottle will do anything.
At the moment, they don't have a scratching post/cat tree (but they don't use the furniture), but I'm going to build them a big one. I have all the components except for the plywood (have the carpet and posts, though). Jasper is seriously the most acrobatic cat I've seen in a while. Even Cosmo wasn't anywhere near this acrobatic when he was that age.
So, any ideas how to get him to stop sharpening his claws on us and climbing our legs?
And just for giggles, here's the little terrorist.
The day I found him. I put him in my purse to "smuggle" him past the dogs since I didn't know how he'd react to them. I needn't have worried, though. He loves them.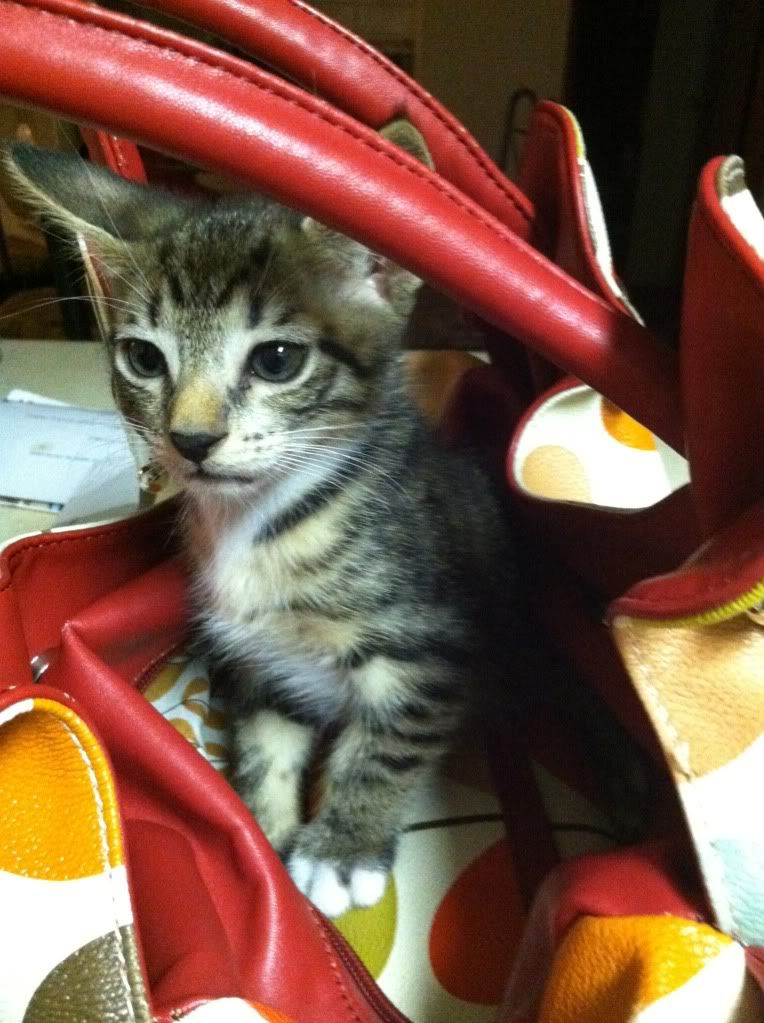 Chilling with Cosmo: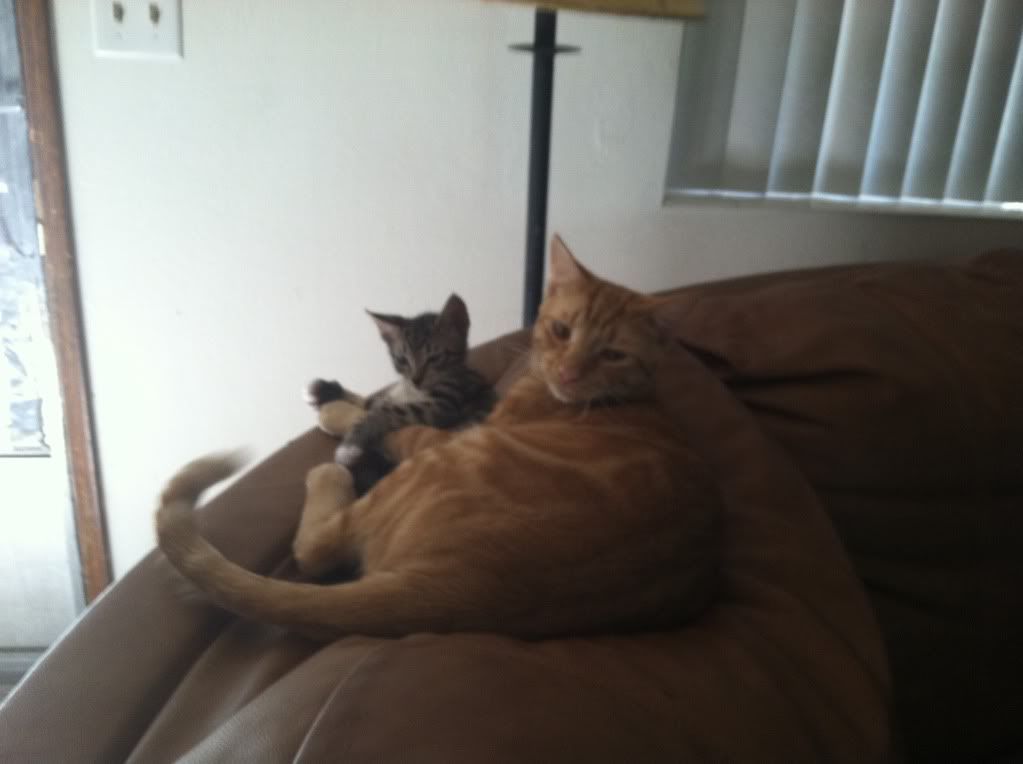 Today: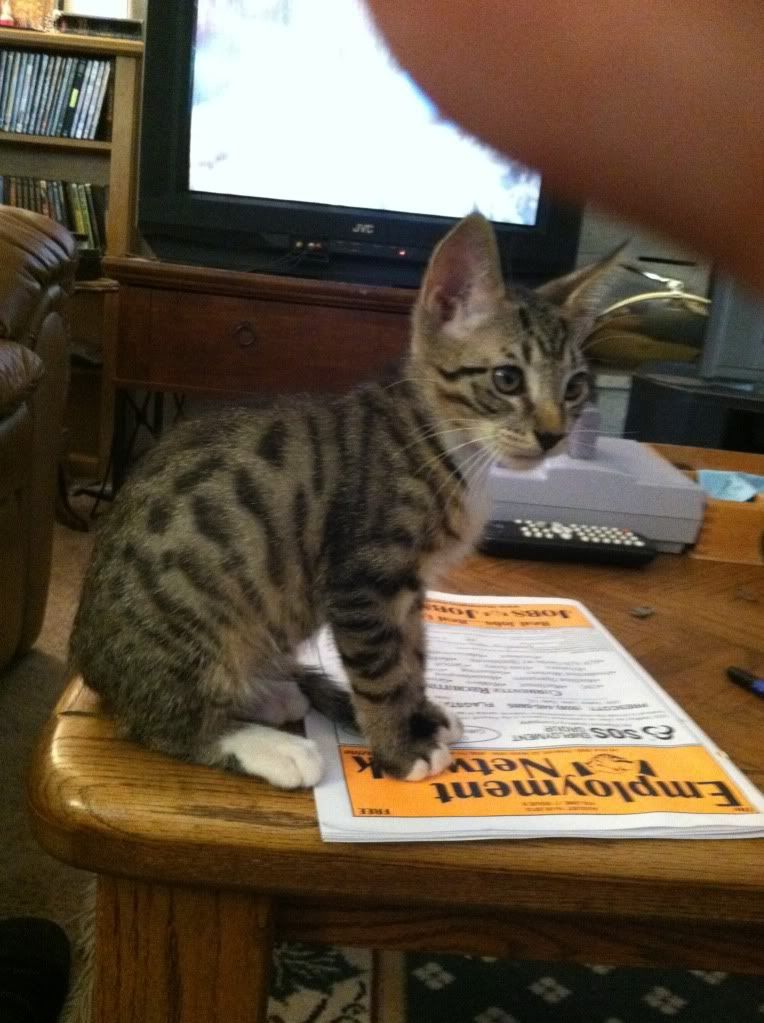 He's marked and shaped just like a Bengal kitten, which is kinda cool.
Posted via Mobile Device
Such a little precious!!! The options I know of for clawing are: the scratching post (which you are working on); trimming the claws; putting on those little claw covers (sorry I don't know the proper name). Given his circumstances, I wonder if he suffers from abandonment and/or insecurity issues and that is why he is so clingy?? If that is the case, I suspect he will outgrow it as he becomes more settled. Good for you taking him in.
I would say he'll outgrow most of it. A lot of kittens have no boundaries.

For now, get him a cheapo scratching thing.
My boyfriend is convinced that Jasper sees me as a replacement "mommy" because I was the one who found him. In fact, as I type this, his sound asleep on my chest with his head on my shoulder.

I'll have to see if I can maybe file his nails (he's still too tiny to cut them). I'm really hoping my unemployment card comes tomorrow cuz I'll go get the plywood to make their cat tree. He LOVES to climb on anything and everything (we have a brick wall between our kitchen and living room that has bricks with cut-out openings in them that are big enough for him to climb through and he climbs through and up them all the time).
Posted via Mobile Device
Clip his claws. It helps a lot! I have kitten who would climb up to my shoulder from my leg. IT HURTS! I clipped her claws and she cannot climb up anymore because it's not sharp anymore :P
I usually grab them by the scruff and look into their eyes (not super close because you don't want claws to the face) then say NO. And release.

Or... redirect to something he can use his claws on.. like a little mousey toy.
---
"Strength is the ability to use a muscle without tension"

Looks like clipping his claws (or filing them) is gonna be it.

Sky, I've done the scruff him and say NO thing. He just looked at me and then when I put him down, he went right back to clawing me. Lol. There's a reason we call him "the little terrorist."

It's not malicious (Cosmo would be mean about it when he clawed me when he was a baby), really. And it's the only time he uses his claws (on people). When he's playing, he doesn't use them, and if he gets in trouble, he just goes limp until you let him go.
Posted via Mobile Device
Gah, he's so cute! The naughty ones always are ;)