Oh, my, Leticia is absolutely tubby. LOL. She is beautiful though.
lol thanks smrobs. SHe is just rubenesque (however you spell that word) lol. I love my little pumpkin.
---
quarter horses.....simply the best
I'll post pics of my kids later ;)
---
John 14:6 - Jesus said unto him, "I am the way, the truth, and the life: no man cometh unto the Father, but by Me."
Quote:
OMG! Your kitten looks just like my late Beebeesu!!!! Whoa! I wanna cuddle him Cheryl!!!!! Awwwww
awww.. you know he looks like our late Kovu aka Bubba as well that's how he got dubbed bub but Lucifer is so much more fitting.. He actually lives with my 90 yr old neighbor now, he got attached to him and I didn't have the heart to take him away from him.
---
Courage is being scared to death but saddling up anyway~~John Wayne
Started
Join Date: Aug 2009
Location: In the barn whenever possible.
Posts: 1,910
• Horses:
2
Our Kitty: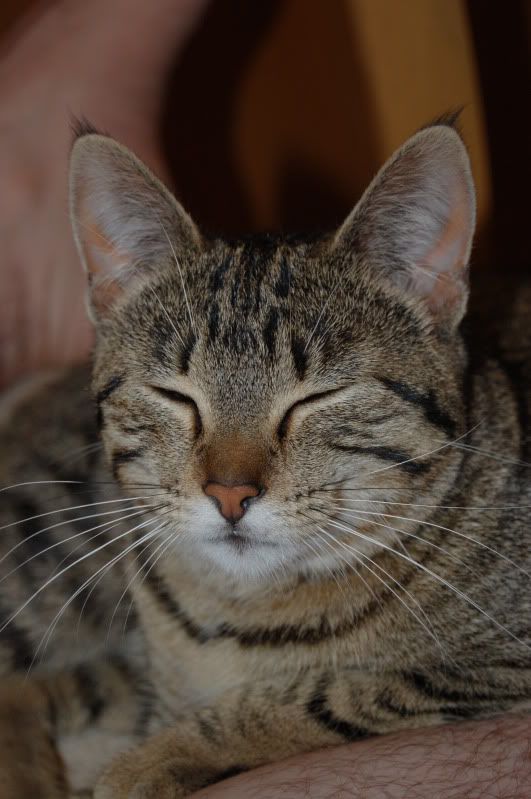 And our puppies: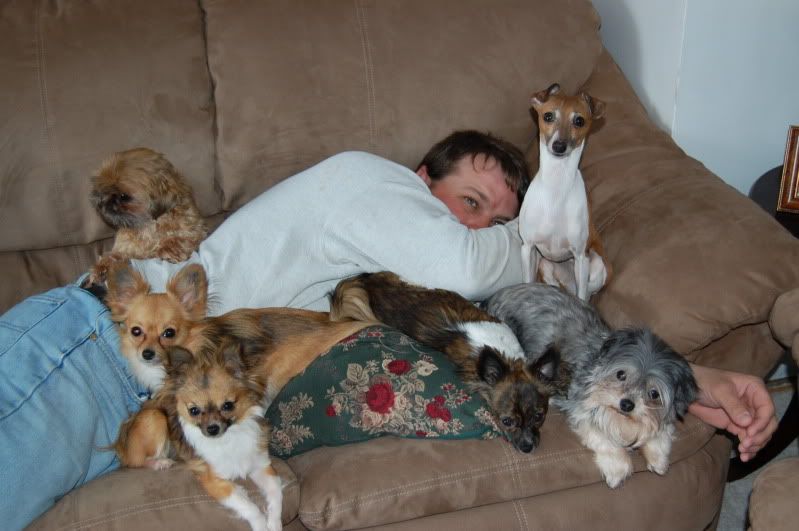 ---
"Riding a horse is not a gentle hobby, to be picked up and laid down like a game of solitaire. It is a grand passion. It seizes a person whole and, once it has done so, he will have to accept that his life will be radically changed." -Ralph Waldo Emerson
this is my pride and Joy Rosie! she is one in a million and don't know what i would do without her! she is my child!!!!!!!!
and our resuce min pin Peewee!!! he is such a weird dog
This My Dog George
Hes A King Charles Spaniel
We Got Him When He Was 6 Months
Sadly We Had To Get Him Put Down Last Year At The Grand Age Of 8 And A Half. He Had A Heart Murmur His Whole Life So He Was Lucky To Live So Long! Hes The Cutest Dog In The World And I Miss Him Loads:(
I Love The 3rd Pic! He Was Looking Up At My Mom And It Was The day Before He Was Put Down:(
I Have No Other Pictures On Ths Computer:(
---
a silent night,wen friends are few,I close my eyes nd tink of u.A silent night,a silent tear,a silent wish dat u wer here♥ Is maith liom cąca milis:) lol
First one is Bear the ferret
Second one is Whitee the ferret
Last one is Misty. Sadly she died of natural causes in December of 2008.

I gotta get some more of the rest of our animals. We also have three mice, one rat, 12 chickens, and one cat.
---
Ok so I have a ton. The great dane is Leyna, my dog. The yellow lad is trapper.The mix with her is cip. The red heller with her back turned is zoey. The red pit is Baby Dog. The brindle pit puppy is Nicodemus. The spotted cat is Kook, my cat. and the betta ifsh is blue fish, the only pet I can keep with me at college. I also have a feist mix, catahoula mix, and a couple barn cats not pictured...lol. the two pits, great dane, and kooky live at one house, all the dogs are inside together. The other dogs are at my mother's house, all outside together.
UMI!! lol....I want a monkey bad...she really looks real, Im not the crazy monkey lady, but I could be....
Niles and Bailey, Niles is 9 and starting to have hip issues, she weighs 235...Big Girl.....
Last liter of Basset's they all sold before they were even born, all registered.
Mama.... O'Reilly Queen
I love my Lucy, may she rest in peace, I rescued her and she lived for awhile with me then had a stroke....I miss her
Bella......the Princess......she thinks......she is now 4 months old....
Ok thats all for now, I have a few more...lol
---
Last edited by PonderosaMiniatures; 10-05-2009 at

01:51 PM

.
Similar Threads
Thread
Thread Starter
Forum
Replies
Last Post
My Other Pets

SlickDirtyDancin

Other Pets

0

08-13-2009

01:17 PM

Your other pets!

zanyoutthere

Other Pets

45

07-16-2009

12:39 PM

My Other Pets!!!!!!

morganshow11

General Off Topic Discussion

2

01-31-2009

07:48 AM

My pets!

omgpink

General Off Topic Discussion

5

08-24-2008

12:46 PM

other pets!!!

bee

General Off Topic Discussion

49

07-22-2008

12:32 AM