Quote:
omg, those bunnys are soo cute!
Thank you =]
Here is 4 more of my rats. The tan one is the largest rat I have ever seen. One pic is him compared to a regular sized basketball. The spotted tan one is a stunted half brother to him. He has a crooked tail, two different colors of eyes, and 3 different shades of tan on him. His mama tried to eat him and the small tan one in the pic. Both were orphaned off onto Divine. She is the big tan ones littermate. So is the big black one.-
Here is my Sugar Gliders, I have two females that are around 3-4months old. Martini and Tequila(They have longer complicated names that my friend came up but that's their nicknames)-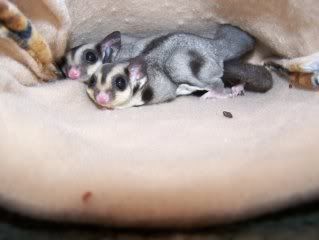 I'll try and get the Mini Rex buck pictures tomorrow and the mice pics. I might take a pic of the mice tonight.
---
"Blame it on my wild heart."



Nice pics everyone!!
These are my current friends in the animal kingdom - apart from my two horses!
Izzy:
My 6yr old Border Collie x Lab dog. She is the most loyal thing out, in fact is a bit clingy, but I love her to death.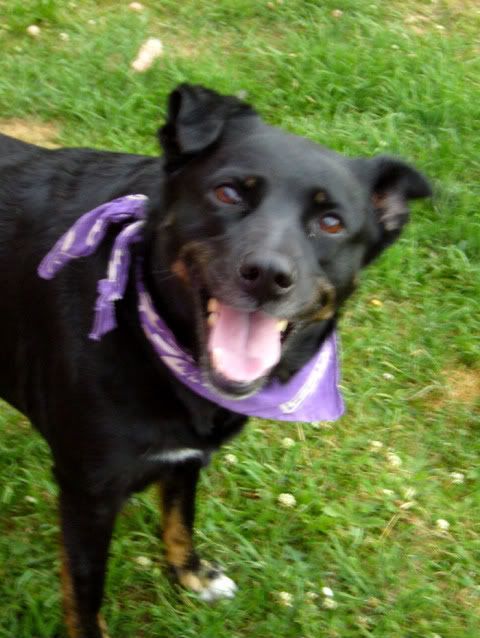 Misty:
My 12yr old Russian Blue x cat. I'm not a huge cat lover but she's just so lovely and was my first pet.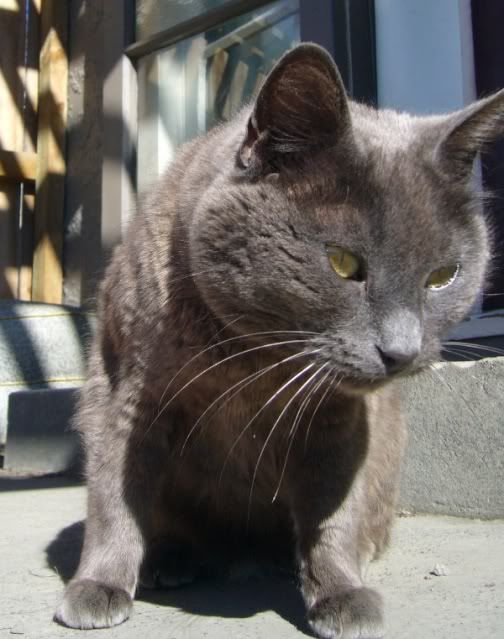 Nova:
My 1yr old male kitty. Got him last Christmas. He's a complete idiot... could be sleeping one moment and then hanging upside down off a chair like a monkey.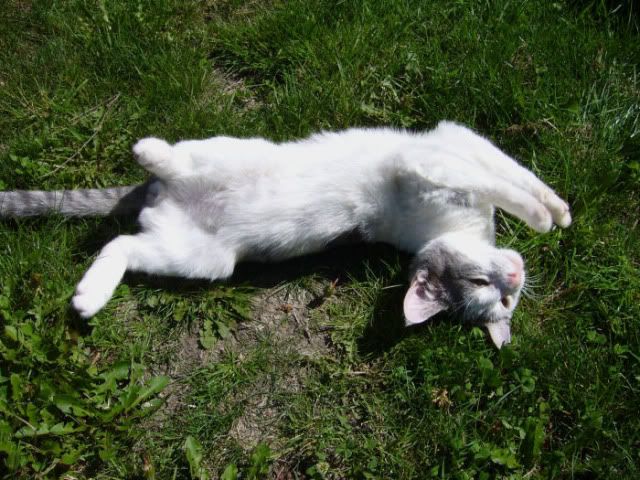 -this was taken a few months ago. He has splotches of grey on his back too-
Topaz:
My 7mth old guinea pig who I absolutely adore. She has the nickname of "Diva Pig" simply because she is super demanding but amazingly cool. She's the type who will sit on me all day if it was permitted and watch over my conversations to my friends... she even sings along to songs and has her own "fan club" amongst my friends haha.
Rubi:
My nearly 4mth old guinea pig. I got her as a friend for Topaz, as Topey was a companion for when I broke my leg... and now that I'm returning to university, I didn't want her to get lonely. Rubi is incredibly shy around most people... but has an "exploring" streak... and is rather curious. She has a really cheeky personality when its just me around too.
My family also has more cats and two more guinea pigs. Sorry if the pics are a little on the large size!
---
♥ Seoul Searchin' for the Lovebug ♥
oh my goodness, those sugargliders are adorable!!

so is all those cute dogs and cats and guinea pigs :)
Thank you! They are really sweet but a wee bit crazy! =P
---
"Blame it on my wild heart."



Okay, here is my menagerie!
This is Zeus, hes a 7yr shepherd/chow mix
(about 3 years ago)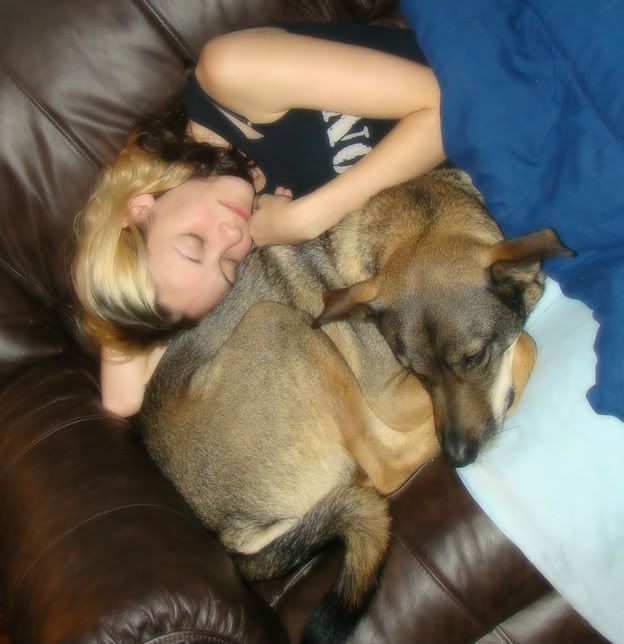 And the absolute love of my life, best pet I've ever owned. MYA!
I found her on my porch almost 2 years ago, shes been stuck to me like glue ever since.
The night I found her..
She was SKINNY!!
and not too bright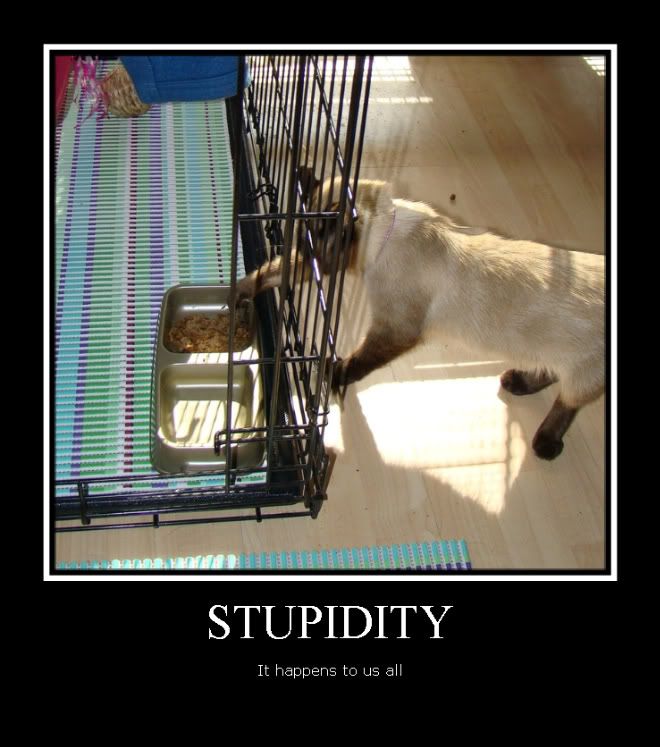 but she loves her mommy..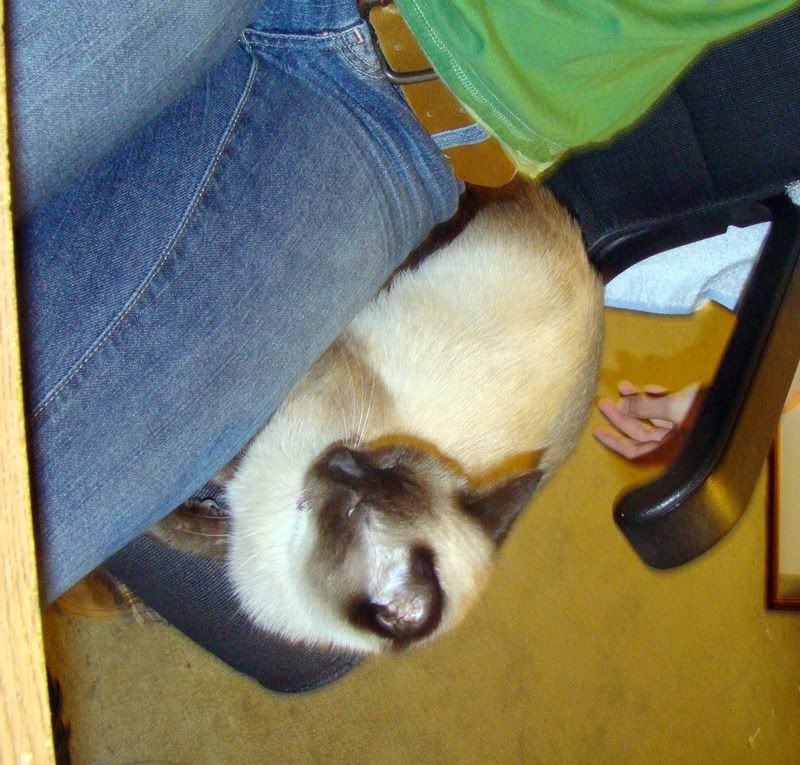 Okay I'm done obsessing over my cat now
.
Theres also Rayne, my baby Columbian Rainbow Boa. I've had her for almost 5 months and my parent's don't know about her yet..LMAO!
This is Lucy, my 8 year old Boston Terrier that I rescued when she was four. Blind from cataracts in both eyes, but you'd never know it!!
---
Quote:
Smart people listen. Not so smart people think they do not need to hear what others have to say.
And Chloe, our two year old, three legged cat that we rescued last Christmas Day!!
---
Quote:
Smart people listen. Not so smart people think they do not need to hear what others have to say.
And Dobby, my male Frog-Eyed Gecko. Apparently these are rare? I've never seen them before this guy so I guess its possible!
And of course my spiders!
This is my little angel, Isabelle! Shes a Pterinochilus murinus or OBT (Orange Bitey Thing). She has an ultra nasty disposition and is ultra fast. Hehe :) but I wuv her <3.
And Stubbs. Shes a Pterinochilus lugardi. Shes kinda grumpy but stays in her hide. I havn't seen her come out in months.
Hehe shes missing one spinnerette (hense being called Stubbs)
We thought she was "pregnant" when I first bought her..nah..just ultra fat.
The last time I saw her was sometime last month when she came out for some water.
She didn't stay long
And last but not least...I don't actually have a name for this girls yet. Shes my second favorite and I can't wait until shes fully grown! Shes a Hysterocrates maculata (Togo Starburst). Shes another moody, jumpy and lightening fast bugger.
When I got her she was only 1" big.
Its kinda hard to snag pictures of her because shes always hiding but..here she is at 4"!
Lucara, I can't believe you have a OBT, or a H-max. We had some, didn't stay in the house long. Not with our sons. We went from 15 to 6 T's when we moved. We also rehomed our pair of Butterfly agamas and 4 corn snakes. Also, 3 of our 5 cats.

Anyway, here's my other baby's:

Christopher is the orange and white. Abby is the gray and white.
---
Horses are the guarding angels of the soul.
Lucara, I love all your "exotic" pets, they are amazing!
---
"Blame it on my wild heart."



Similar Threads
Thread
Thread Starter
Forum
Replies
Last Post
My Other Pets

SlickDirtyDancin

Other Pets

0

08-13-2009

01:17 PM

Your other pets!

zanyoutthere

Other Pets

45

07-16-2009

12:39 PM

My Other Pets!!!!!!

morganshow11

General Off Topic Discussion

2

01-31-2009

07:48 AM

My pets!

omgpink

General Off Topic Discussion

5

08-24-2008

12:46 PM

other pets!!!

bee

General Off Topic Discussion

49

07-22-2008

12:32 AM