marbled crayfish update!!
---
Hello again!! my first batch of marbleds are growing up and a new batch has been laid, hatched and has started roaming by momma cray. in the middle of all of this i was given a 20 gal tank from a friend who found it. so i will go through and describe the pics
because of the cold weather the whole hatching process took a really long time. but on christmas day the babies started roaming!!!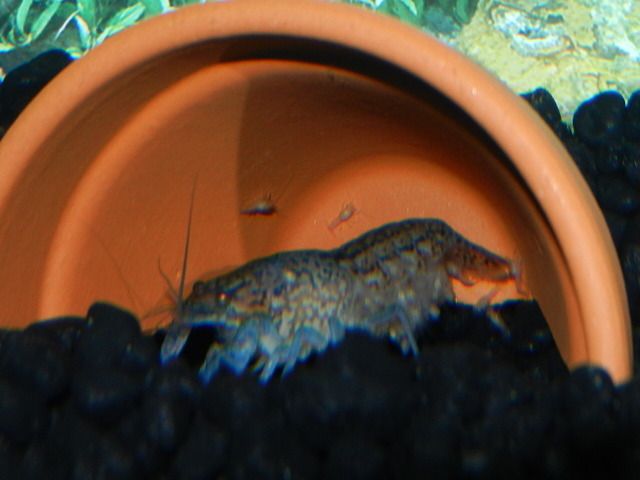 before they started roaming, i finally got to clean the tank- brown water was in the bucket after vacuuming the gravel, you would never know it looking at the tank though. another quick vacuum was done to day prior to taking the divider out. and of course i had to get a pic of the babies!
and momma cray while the tank was being cleaned. the eggs are hatched- those are the babies under her tail!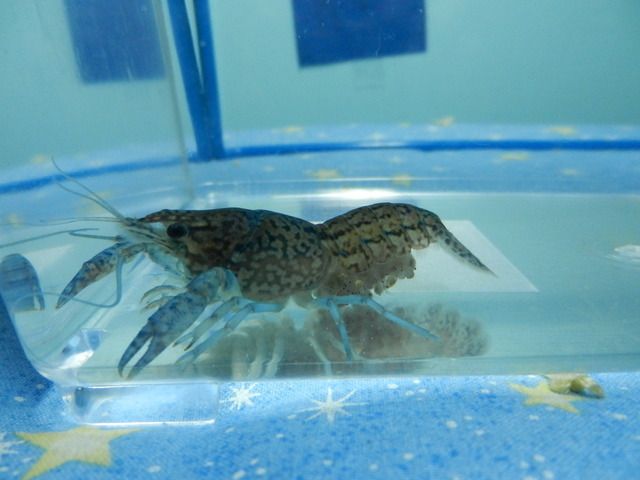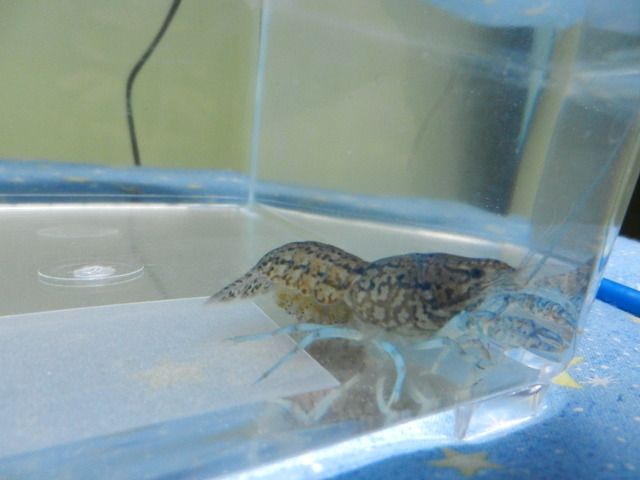 lately she has been roaming later in the day. its usually when the babies have gone back on her tail for the night- which i think is so cute! she is climbing the divider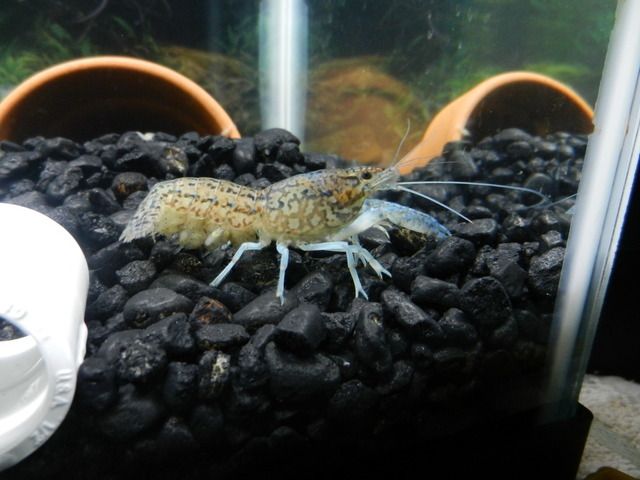 roaming babies!! (thats 1/2 in PVC pipe, just to compare for size.....)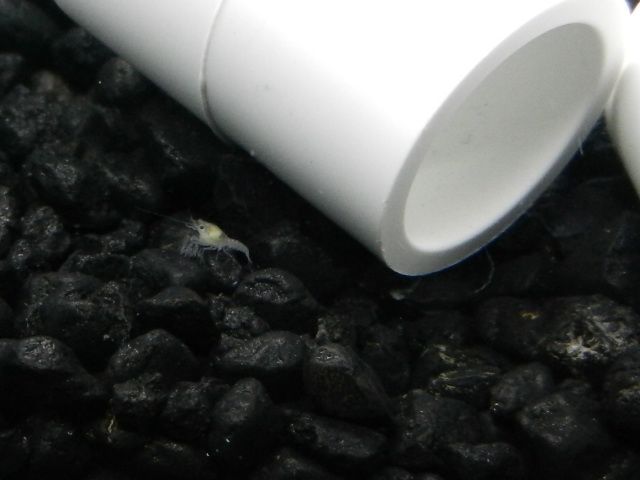 and now for the big finish!!! first i went to AC Moore, coupon in hand to buy a plant that i was/did modify for the baby crayfish tank (this is the DIY plant part! ) after separating (cutting) the plastic parts off the plastic covered wire base, i got to work pitting together some plants. we get pizza that has this plastic mesh under it, which is very useful around the fish once washed off. so i but bases for the plants and glued them on with hot glue (i have used hot glue in the tanks before and nothing has happened). i made 2 tall plants, one short cluster of plants, and 2 short plants, and i have tons of little pieces left that will be used in breeder traps to comfort fish
the plant base
i then designed the tank. putting decor in... the water was 56 degrees! then i decided to put the heater in after to make the babies transition easier. the heater won't be in for long, and its not set to be really hot either.
and then i buried those in the sand and added the PVC pipe and terra-cotta bases for food.. and boom! here is the tank!!!
my DIY plants left to right: 2 small plants, cluster of plants, big plant, big plant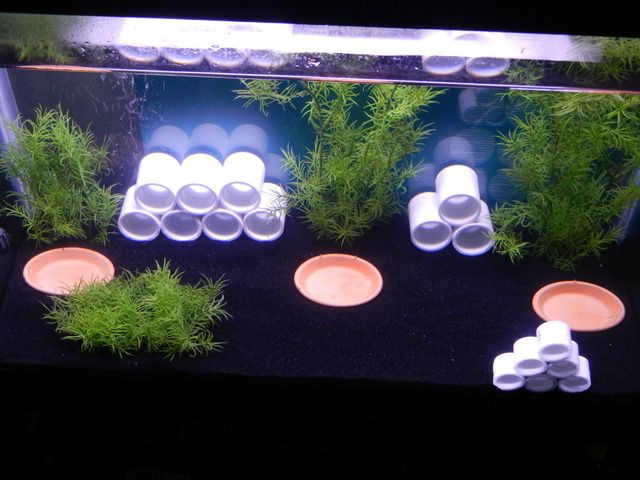 and of course the babies before putting them in. they are now 3 months old
my costs for the tank:
Stand:
$30
Tank:
free
Florescent light and hood:
free
Filter:
free
Black sand:
Christmas present (free!)
All plants:
$5.30
PVC pipe:
$8
Terra-cotta bases:
$2.40
Heater:
free
soon i will post a link on this thread to my video of them being released into the tank!!
thanks for reading!
---
You may be out of my sight, but never out of my mind. ~RIP Angel
Aww! I like them! What are you raising them for? Any particular reason, or just for fun?
well the marbled crayfish clones itself actually so i got it just for fun
when there gets to be to many some will be frozen and fed to the others -_-
---
You may be out of my sight, but never out of my mind. ~RIP Angel
Love the tank with the plants! Never heard of some one raising crayfish but we did used to catch them in the back creek growing up and keep them and tadpoles in an old tank in the back yard.
---
All I pay my psychiatrist is cost of feed and hay, and he'll listen to me any day!


I think they are very cool pets! They are also really easy to care for and it is relaxing to watch the babies interact in the big tank. My hope is to some day breed other kinds of crayfish, seeming that these just clone themselves so you get babies no matter what! :)
Posted via Mobile Device
Similar Threads
Thread
Thread Starter
Forum
Replies
Last Post
An update.

HowClever

Horse Pictures

7

09-02-2012

09:30 AM

CC Update

Raficca

Rider Wellness

1

08-01-2011

06:01 PM

Update :)

Spirithorse

Natural Horsemanship

0

05-15-2011

08:40 PM

Update.

Picture Perfect

Horse Talk

5

05-13-2010

08:52 PM

Here is my update

sheawhittet

Meet the Community

3

05-09-2010

02:20 AM