Meet Abby!
---
So, temporarily I've given up on the idea of getting a cairn terrier. They're too expensive and extremely difficult to find around me, being the reasons. However, my boyfriend and I still thought that my big dog, Cash, needed a buddy since he's home alone all day. So, I kept searching Craigslist.
Finally, on Tuesday, I found puppies that my boyfriend thought were adorable and weren't outrageously priced. There were eight 7-week-old aussie/border collie puppies in the litter. So, we went last night after I got paid and picked one out. By the time we got there, there were only three females left. There was a little all white one, a brown and white one, and an all brown one. We were torn between the all white one and the brown and white one. Turns out that the all white one is deaf (the owners didn't know, but I had my suspicions, so I "tested" her and if she's not completely deaf, she's at least 90% deaf). So, we picked the brown and white one. I told the people that if they can't find the all white one a good home, now that they know that she's deaf, to call me and I have a friend who might take her.
Anyway, we took the puppy with us to go put a vending machine in one of my boyfriend's new accounts (he runs a vending machine business) and she was absolutely perfect! Last night she slept with us and is such a snuggler. Cash isn't entirely sure what to make of her right now and Cosmo (the 6mo cat) watches her and hisses at her if she gets too close, but he hasn't offered to swat at her or chase her.
Without further ado, meet Abby! They aren't great pics 'cuz I can't find my camera charger.
Exploring the driveway when I left for work this morning:
That's Cash to the right of the pic:
"Coming, Mom!"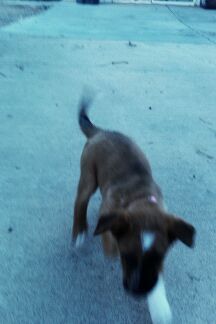 Following Cash, who is in turn following Dad lol: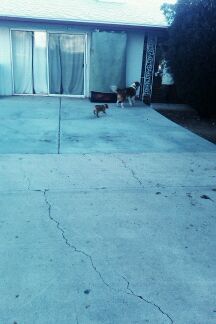 ---
Do not tell me I can't...because I will
show
you that I can.
So glad you finally found a puppy! What a nice Christmas present!! :)
She is adorable I'm sure she will keep you all busy with all the energy she is going to have.
---
My two horse Apache and Sammy are my world
along with our dogs Patch and Bear.
But I will always love you Jimmy R.I.P
She's just the sweetest thing. And hella smart.
Posted via Mobile Device
Very good although you are sadly short on pictures - you'll have to remedy that one sooner than later
Oh, definitely! Gonna tear my place apart looking for my camera charger.
Posted via Mobile Device
Oh my gosh she's adorable!
---
"The hand should be a filter, not a plug or an open faucet."
N.Oliveira
Found my camera charger!! * happy dance*

Just got home and Cash is much better with Abby. He doesn't move away from her and growl like he was doing last night and this morning.
Posted via Mobile Device
Good luck w/your new puppy! That is a mix of two high energy breeds, but didn't you say the bf hikes? Merry Christmas!
Congrats! She is adorable.
Posted via Mobile Device