Meet Wink!
---
Thought I would introduce Wink to you all!
I am a total sucker for a sob story, and my best friend runs the foster care program for the local ARL. They foster the older and disabled dogs to prevent them from being in the high kill shelter.
Last Oct, I lost my best friend, my beloved Oscar, and my other dog was not quite the same, so by Dec, it was time to look for a new buddy.
Wink was dumped at the shelter only a few weeks old with his mom. Wink's eyeball was hanging out and could not be saved. The person dumping him claimed he had been hit by a car, which would be amazing that it only affected that tiny area of his face. It is much more likely that he was kicked.
As he was recovering from the eye removal, he jumped off a bed and broke his leg.
Here's the pics that stole my heart.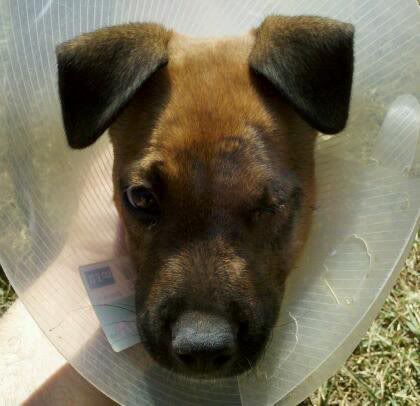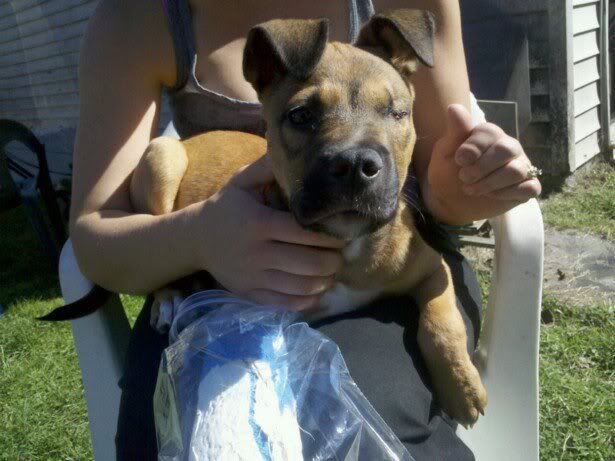 After recovery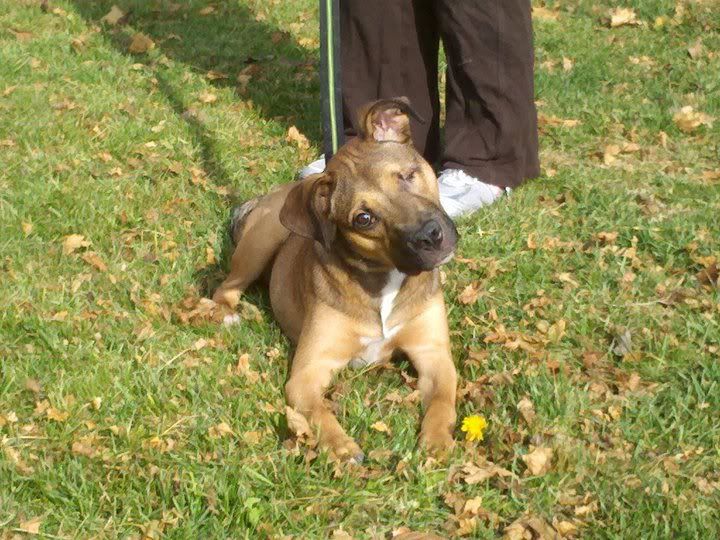 And when he first came home.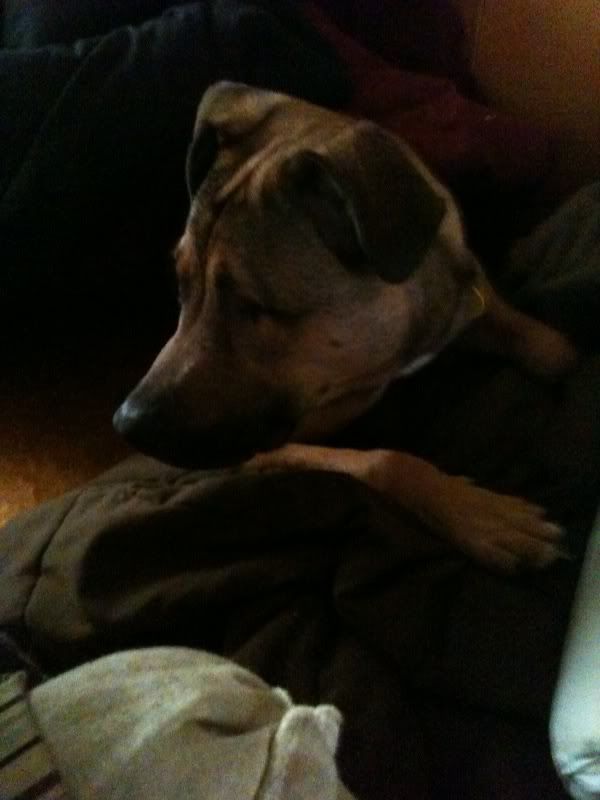 Wink is my little superstar, he brings me so much joy. I couldn't ask for a dog with a better personality. He is about to turn a year old, and has been doing wonderfully with training, except for the commands that require patience. The other month we took the CGC test, aced everything perfectly - and then completely failed the Stay command, as I knew we would. He just can't stay, his little butt wiggles and then he comes bounding after me.
For cuteness, here is him practicing his stay command. When he is ready for bed, he lays at the top of the stairs, so as he is tired, I try to set him up for success by practicing stay then.
The other night I stood at the bottom of the stairs for ages telling him 'stay'. I thought it was too good to be true, so I went up to check - darn dog was flat out asleep.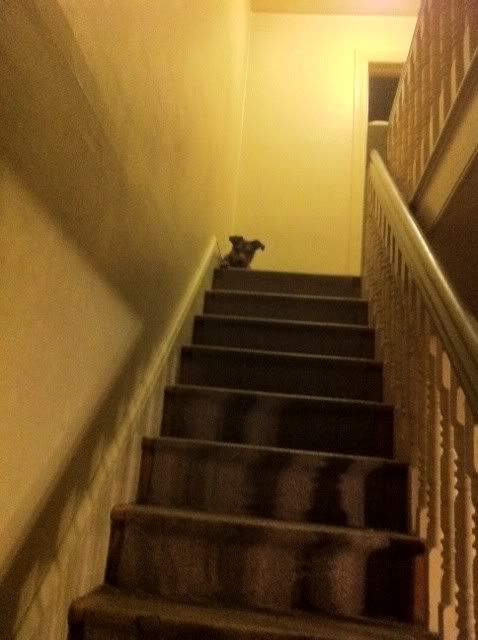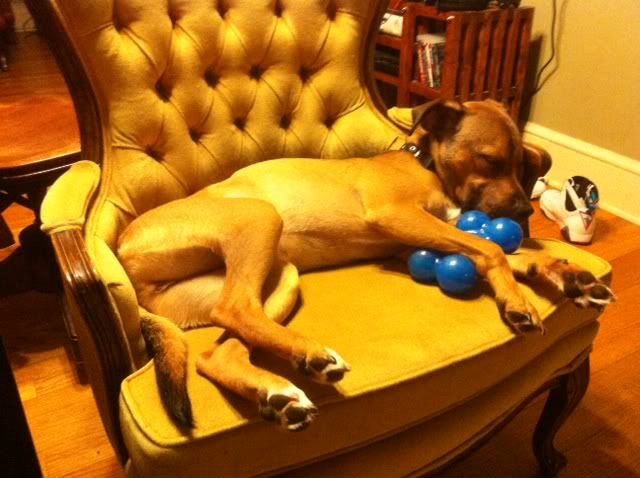 Awww! He's adorable! I love the 3rd photo :)
---
Life is like a camera. Focus on what's important, Capture the good times, Develop from the negatives and if things don't work out, Take another shot.
OMG! Wink is soooo adorable! What a darling! I love the last picture, look at him holding hims toy!
---
: ) He is too cute. Do you know what breed he is? Looks like a Boxer cross...? But his facial markings remind me of a mastiff...not his size though.
---
100% Anti-Slaughter and PROUD of it!

Thanks everyone, he really is adorable.

MIE, he almost always has a toy in his mouth. He will claim a different toy daily as his new favorite toy.

SUJ, he's only 40lb and I don't think he will grow upwards anymore, but he is filling out.
Maybe some kind of shep pitt mix? Not very sure.
He is completely and utterly adorable. Feeling that urge to squeeze and snuzzle him and only me and my computer here. Don't you just hate that?
Totally understand the need to squeeze and snuggle him, he is completely adorable, everyone who meets him, loves him.
When I let him out to the bathroom or take him for a walk - he will walk about 10 steps, turn to make sure I am still there, wag his tail, and continue walking. This is repeated every 10 or so strides. Cute little maggot.
But before you get too carried away with his cuteness, this has been some of his destruction.
This was my kitchen floor mop. Wink was in his crate, but moved the entire crate across the kitchen and slowly but surely destroyed the mop.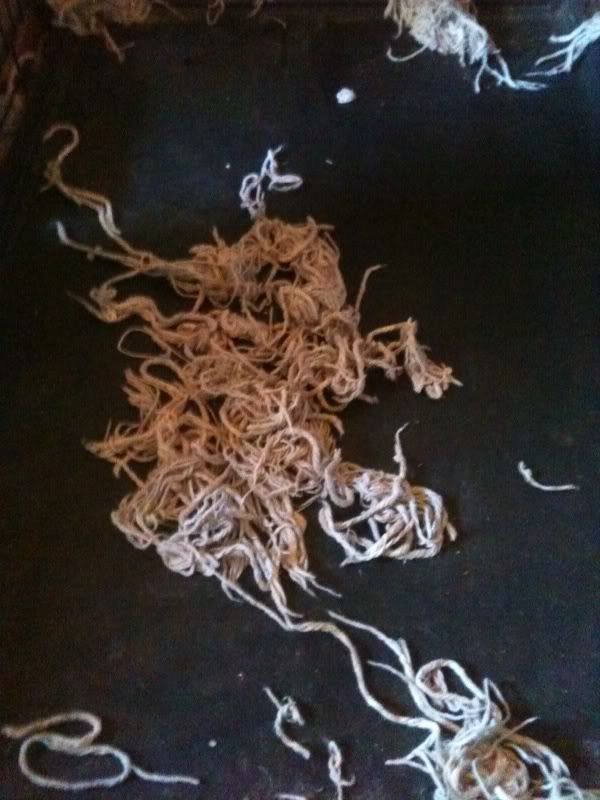 Sweaty feet must taste good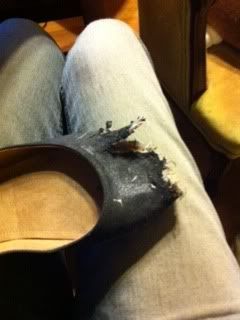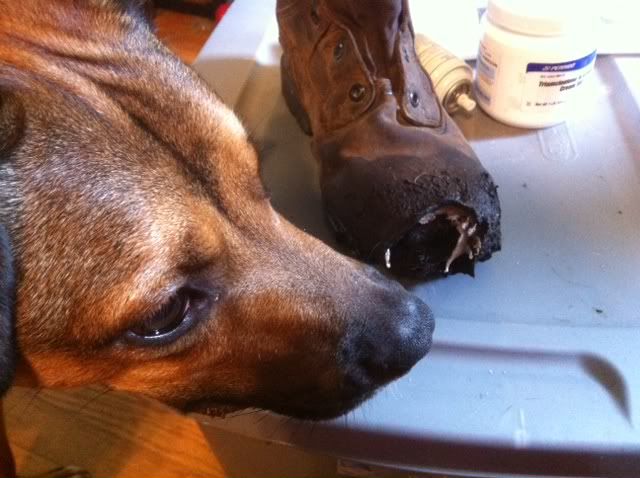 This was a box of cereal that he managed to dislodge from the top of the fridge, and get WHILE in his crate.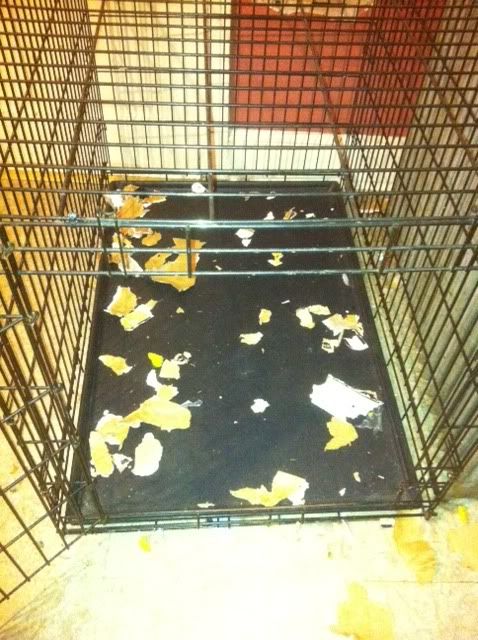 While not in his crate, when I showered he managed to puncture a bottle of soda, which sprayed all over my kitchen. Literally all over it.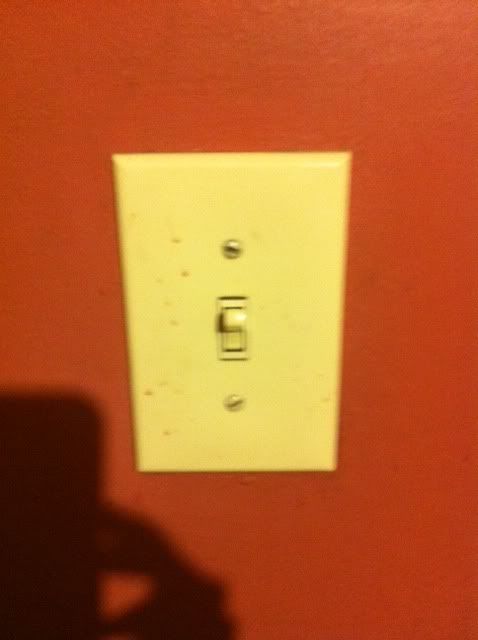 Haha. I think his destruction just makes him all the more adorable! He is one talented dog
---
"The art of riding is keeping a *horse* between you and the ground."
Quote:
Haha. I think his destruction just makes him all the more adorable!
I'm in SE PA too, you are probably close enough to dog sit!
Similar Threads
Thread
Thread Starter
Forum
Replies
Last Post
Meet Roo!

DutchFeather

Miniature Horses

9

08-06-2011

08:05 PM

Meet my boy!

dedebird

Horse Talk

9

09-19-2010

05:12 PM

Meet My New BOY

leviijeans

Horse Pictures

20

05-22-2009

09:36 PM

I want you to meet...

sparky

General Off Topic Discussion

6

03-28-2007

07:47 PM

im new meet me :)

Gammelquarterhorses

Meet the Community

0

12-31-2006

12:17 AM