I figured I would jump on the bandwagon share my boys. Harvey, the orange one, is at his ideal weight according to our vet. Salem, the black one, could use to loose a pound or two. I'd call him overweight but not obese. He's the one that gets some table scraps. I think he steals more than we intentionally feed him. He's worse than a dog. You can't leave anything unattended, not even a drink. He has been known to go diving in the kitchen trash can on occasion too. He's a stinker! Both cats are active and playful. Probably the difference here, is that since Salem has become overweight I've started feeding him out of a slow feeder bowl, restricting his portion sizes and limiting his treats, instead of calling his imminent fatness cute and perpetuating the problem! His weight has only been an issue for the past year or so, and a metabolism slow-down is not unusual as a cat gets older. He was always a thin kitten, no matter what I fed him, but now we must watch his figure!
Though I agree with Jessabel that declawing is evil, it is sometimes a necessary evil. I do not own my own house. I moved back in with my parents for a short time and my dad gave me an ultimatum. I had to declaw my cats or get rid of them. I would rather have cats be declawed, spayed/neutered and well cared for in an indoor home, than have their claws in tact and end up outside or in a shelter. I would have preferred to leave their claws alone, but I was given no choice in my living situation at the time. Now that I rent, my landlords require all cats to be declawed. Once I have my own house, and my own rules, no cat of mine will ever be declawed.
While I do think declawing is cruel and largely unnecessary, I do not think it is a contributing factor to obesity. My own cats, despite being decalwed, seem to have no difficulty zipping around the house at impossible speeds, destroying anything fragile, knocking over furniture, getting into things they shouldn't, hiding toys in our shoes, flushing the toilet repeatedly and hunting spiders.
When I worked for the small animal vet, most house cats were front declawed and obesity did not seem to correlate with who was declawed and who wasn't. I did notice that obese people, and older people tended to have obese pets (especially dogs). Perhaps their own energy levels interfered with their ability to exercise their pets. Older cats and dogs were more likely to be obese, and only pets tended to be obese (those from households with no other pets). I think having other pets for your pet to interact with helps keep them active, and as they get older, younger pets encourage playtime with older pets.
---
I have this argument with my parents all the time, they think my two dogs are to thin, well news flash to them my dog, Smokey, his ideal weight is 70 pounds, he's 75, and he run a LOT.
And Max, everyone says he's so thin and how he should be way bigger cause he's a pyr. Well people he's a very small Pyrenees so there for his ideal weight is 80 to 90 pounds. Ugh lol he's at 88 lol
Posted via Mobile Device
---
"I'm nervous"- me when I was 13 " get on the darn horse now!"-my dad after my concussion in 2011
It makes me sad when I see obese dogs. Especially if they're high-energy dogs, like heelers or aussies.
My two dogs are more on the thin side. They get free-fed higher quality food and get people snacks all the time (my fiance is a softy), but they are still a bit lean. Abby is an aussie/border collie/catahoula mix and weighs about 60lbs, but her ribs show if she moves just right. I had a neighbor threaten to call AC because of how thin she is, but she eats more than my male dog, who is bigger than her. Cash (the male) is an aussie/st bernard and weighs about 65lbs. He could stand to gain about five to ten pounds, but he's hairy, so you don't notice it as much (my mom does, though, and constantly comments on it).
Then there's our cats. A lot of people think Cosmo is obese at 20lbs, but he's actually VERY solid. Jasper is my lean mean fighting machine at about 12lbs and he could stand to gain a few, but he's still growing, so we forgive him. They are both fed one cup of a higher quality food, as well as treats and snacks, every day (Jasper loves anything sweet, including marshmallows, and Cosmo's favorite to lick up is ice cream).
Jasper is the spotted tabby and Cosmo is the orange classic. This is an older pic, so Jasper is a bit bigger now, but just as lean.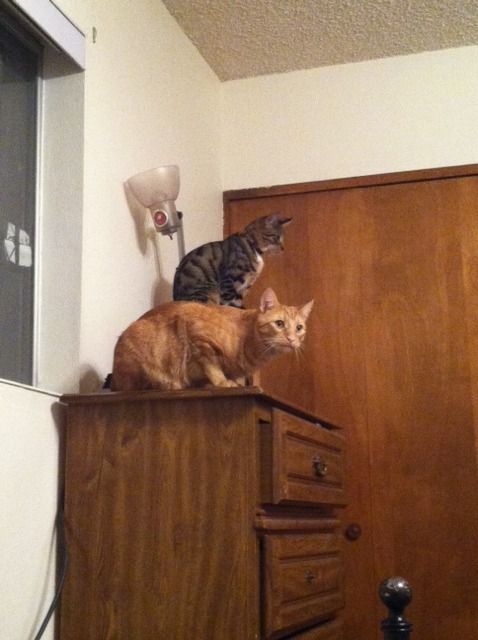 Then there's my mom's dog. She's a 6yo maltese/poodle mix and she weighs 12lbs. The vet says she should weigh around 7-8lbs. My mom regulates her dry food very well, but my dad and brother are guilty of "accidentally" dropping stuff on the floor at meals, so it makes it difficult for DD to lose weight. My mom walks her 2-3 miles every morning, but it still hasn't helped much.
Don't even get my started on my sister's toothless obese chihuahua. Ugh.
---
Do not tell me I can't...because I will
show
you that I can.
Showing
Join Date: Jun 2011
Location: Cariboo, British Columbia
Posts: 11,951
• Horses:
3
Everyone thinks my dog is too fat, however I think he's just fluffy, makes him look much fatter than he is...
main_fat-dog_1366663577.jpg
---
I am not here to promote anythingNo, that's not true, I am here to promote everything equestrian and everyone enjoying horses!
Quote:
Everyone thinks my dog is too fat, however I think he's just fluffy, makes him look much fatter than he is...
Attachment 452130
According to Gabriel Iglesias, that dog would fall into the category of "Raaaaawr!"
---
Do not tell me I can't...because I will
show
you that I can.
My horse swished his tail. That was absolutely a hunger signal. lol
I think people set their animals up for this. As a vet student I hear all the time "Pookey needs his snacks" or "He's too thin!" Then again, I think that certain shows like Animal Cops and the like have also pushed people into some fear that others will think their animals are too thin. On the same token I also see a number of people react to an animals weight without knowing the cause or jump to conclusions of abuse (i.e a dog with a thryoid problem suddenly if being abused because the owner feeds him too much)
Personally I like my dogs and cats to be a little over their target weight but not by much (definitely NOT like the pics); only for the fact that it leaves me a bit of room to lose weight due to sickness, injury or harsh winter (and with a herd of 9 in my home any sickness spreads like wildfire!).
Then again, and maybe it's off topic. I notice in cats especially that declawed cats are generally heavier and more prone to being overweight as well as other complications. I've got a declawed rescue and she is about 15lbs. Sadly enough if she drops she's in so much pain she can't move and if she gains anymore she can't move so we're stuck at a weight that most people call 'obese' but is healthy for her. I think common sense is what most people lack and it's too bad the animal has to suffer for it.
I have one elderly cat who I wish would be obese!
Right now he's ribby and looks abused. At this point in the game I'd rather work on getting it off than putting it on!
Green Broke
Join Date: Jan 2010
Location: south of nowhere, north of nothing
Posts: 4,643
• Horses:
6
My guy is admittedly faaaaaaaat.
He's been on numerous different diets gets an insane amount of exersize (well he used to. He's and old man now can't get ournd quite as well). But he hasn't changed no matter what.
Before I enlisted he ran 1-3 miles with me every other day and he still was a roly poly
IMG_84470726662365.jpg
My bloodhound was probably the most "in shape" dog I've had. He worked every day on trails but its hard to tell he was fit because of all the wrinkles and extra skin
IMG_121072389423881.jpeg
My dog was at perfect weight when this was taken [collar was removed for 5 minutes for the photo, you can see the fur ruffle on her neck from it]. She is now slightly fat but from the side looks exactly the same.
We also have a greyhound. We haven't had her long, only a few days, and she's really hard to get photos of because she's such a smooch. She is a reasonably large dog, but, being a greyhound, has a naturally teeny waist, and her bones stick out in a few places. She can look a hint ribby.
However.
She is a RACING DOG. Not been off the track long, still letting down, and is about the fittest dog you'll ever meet. She is on premium quality dog food and is fed more than she will eat in each meal [she gets multiple small meals a day, partly because of this and partly because, due to her extremely deep chest and narrow waist, she is a very high bloat risk... but she doesn't even eat the whole of her tiny meals, there's no way cheap food would keep her in good condition].
I await comments on her condition. I've already defended another dog owner who had someone telling him that his Grey was too skinny. It wasn't, it was in perfect condition [even slightly on the tubby side], but because of its breed, it would have to be morbidly obese before a few of its spinous processes weren't visible. People don't look at the whole dog, they just see a dog with a waist and think "OMG STARVED". Or a spine that sticks out a bit in a couple of places, or hips that are a bit bony. They need to consider the animal's breed. What is healthy condition for a bulldog would be morbidly obese for a greyhound.
---
REGAL PRINCESS
And until recently we had this little dude.
He was so SO slender that even SHAY [the greyhound] would have looked fat next to him. He was in perfect condition too, ribs not seen but easily felt.
---
REGAL PRINCESS