My Abby and Cash brag thread
---
Ok, so I thought I would make a thread where I can brag on my dogs and their accomplishments, and share pictures.

Anyway, first brag is on Abby. We took both dogs to Petsmart on Thursday to buy dog food. She actually figured how to walk on the leash! We had a couple feet-planted "I don't wanna" moments, but overall she was great. Also, the trainer there saw us and of course came over to say hi. She asked if she could give Abby a treat and I said yes, but she had to make her sit first. You could tell she didn't think Abby would do it, but she asked her to anyway and Abby sat down perfectly immediately. The trainer was SUPER impressed. We have about 85% recall with her (unless she thinks she's in trouble for chewing up one of the dog dishes) and she will come to whichever of us calls her (she'll literally go around whoever didn't call her if they're in the way to get to the one who did call her).

As for Cash, he LOVES Abby now. He's teaching her the duties of a guard dog and has even taught her to howl when emergency vehicles go by. It also seems like having Abby around has lessened his dog reactiveness, which is a HUGE blessing.

Pics to come. Haven't uploaded them yet.
Posted via Mobile Device
So, I am very proud of Abby tonight. So far she has learned to come when called, to sit on command (she's 100% on that one) and tonight she learned "down." She even did it for me without a treat (granted, she thought I had one, but still...lol).
Posted via Mobile Device
Have to brag on Cash for a minute.

This morning when I let the dogs out, I wasn't wearing my glasses and was half asleep. The cat managed to sneak out with the dogs and was running around the snowy yard. He's a booger to catch, so we try not to let him out. Anyway, I ran to the bedroom, grabbed my glasses, woke up my boyfriend, and then we ran outside to try to catch the "Little Sh*t" (as he's affectionately known). When we got outside, I went one way around the house and my boyfriend went the other. The dogs followed me, as they usually do. Anyway, Cash was loping out in front of me and I told him "Cash, find the kitty. Where's Cosmo?" He looked at me, then took off running around the house, Abby not far behind. Next thing I know, a streak of orange shoots past me, followed closely by a much larger streak of red and white (and then further behind a blur of brown and white lol). Cosmo shot up one of the small trees to a branch where my boyfriend easily reached him from the ground, while Cash sat at the bottom of the tree, as if to guard against Cosmo bolting down the tree. Catching Cosmo usually takes 15-20 minutes of frustrated running around the outside of the house...with Cash's help, we caught him in less than five minutes. Love my big, dumb, red dog!!
Posted via Mobile Device
Short brag on Abby.

Went on a hike yesterday and she did great. She's finally getting walking on a leash. However, she doesn't like being out of sight of Cash, or even being too far away from him.

Also, she has almost figured out how to open our back door. It's got a lever handle and she knows how it works, just can't figure out how to manage it (she was trying to use her mouth).
Posted via Mobile Device
Pics please!!
---
"Strength is the ability to use a muscle without tension"

I can't figure out how to post pics from my phone and my laptop is MIA (I know where it is, but I can't get it).
Posted via Mobile Device
Ok. Pics!!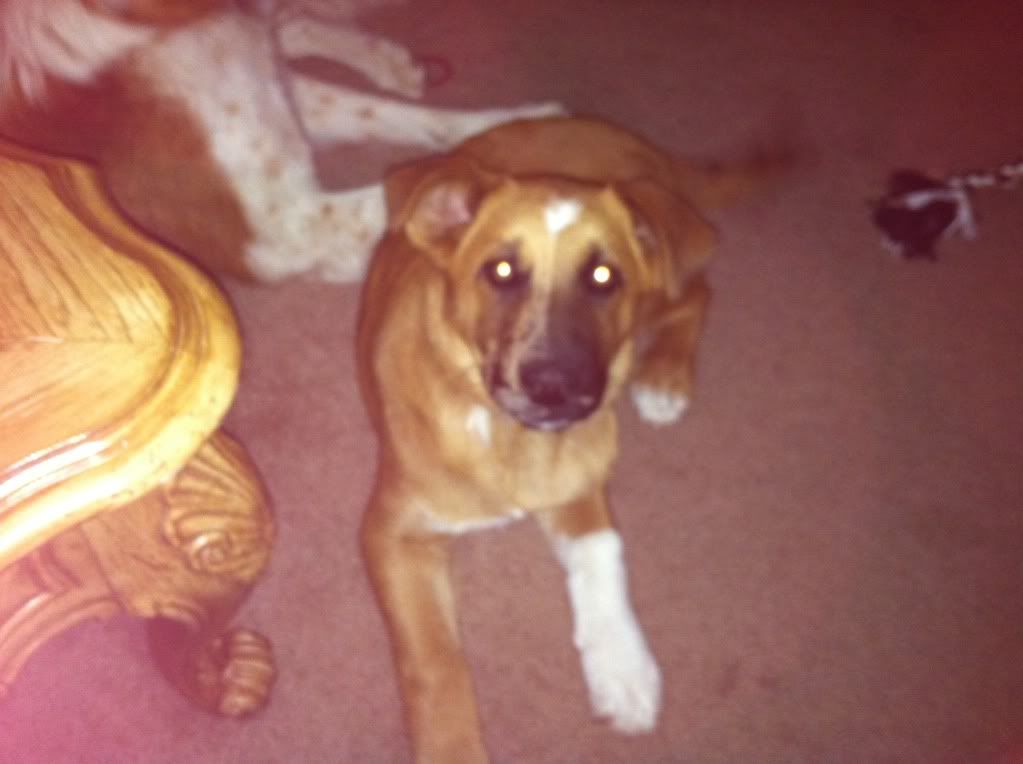 Getting SO big!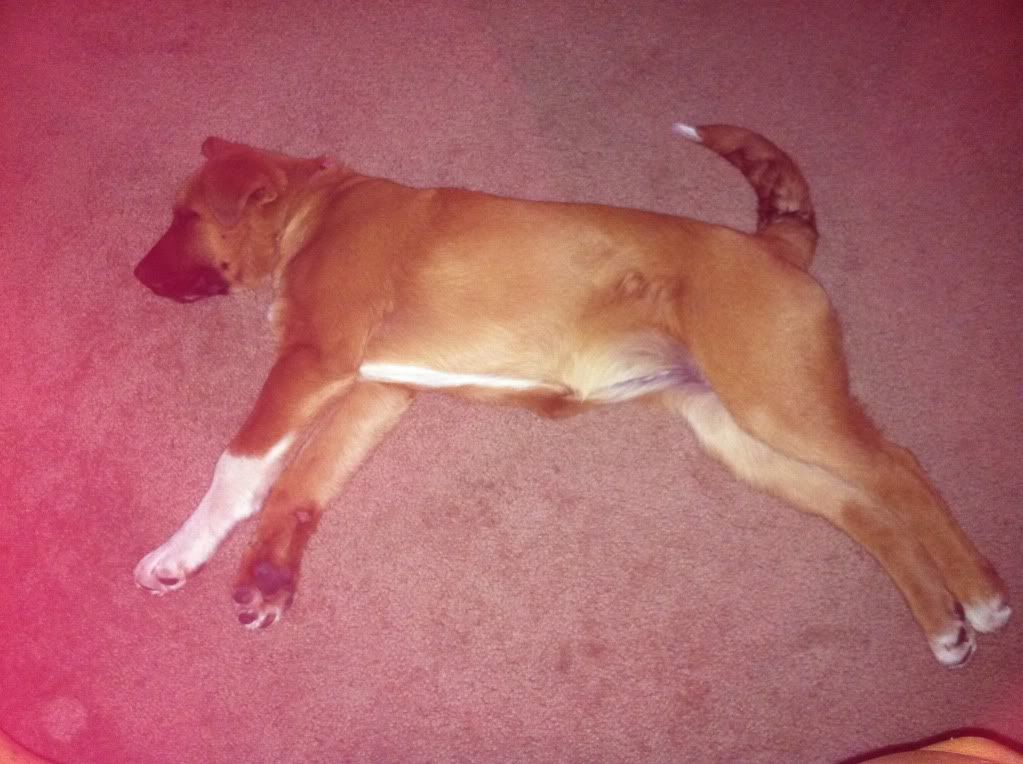 She better not fart or Cash is a goner!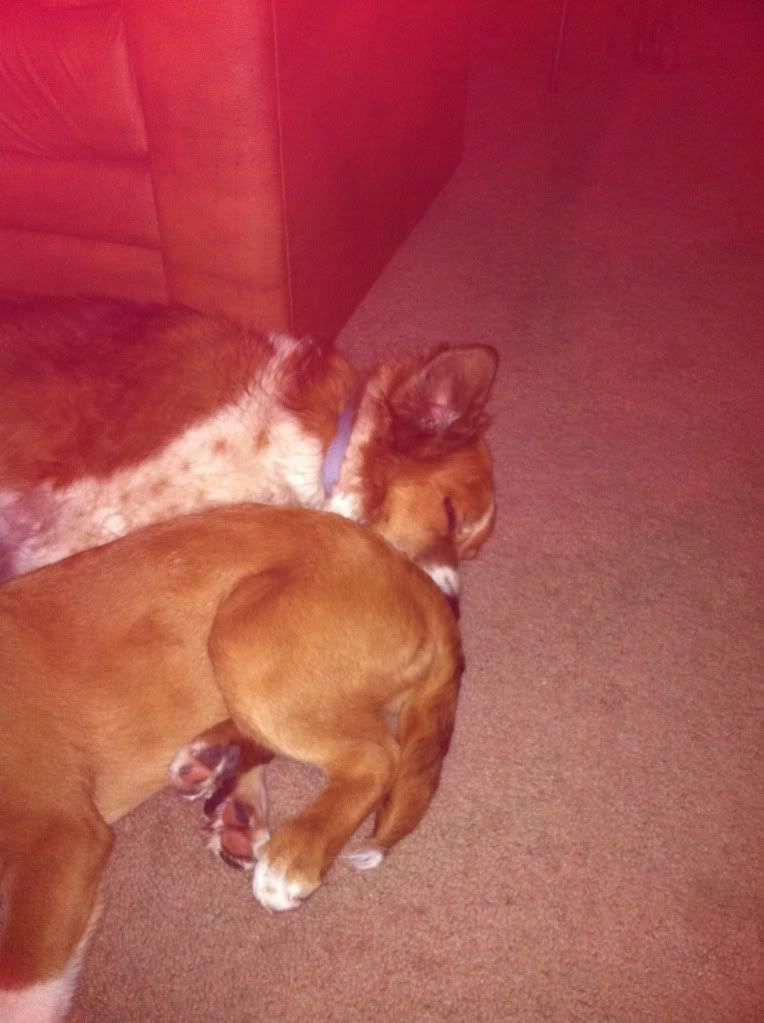 Playing with Daddy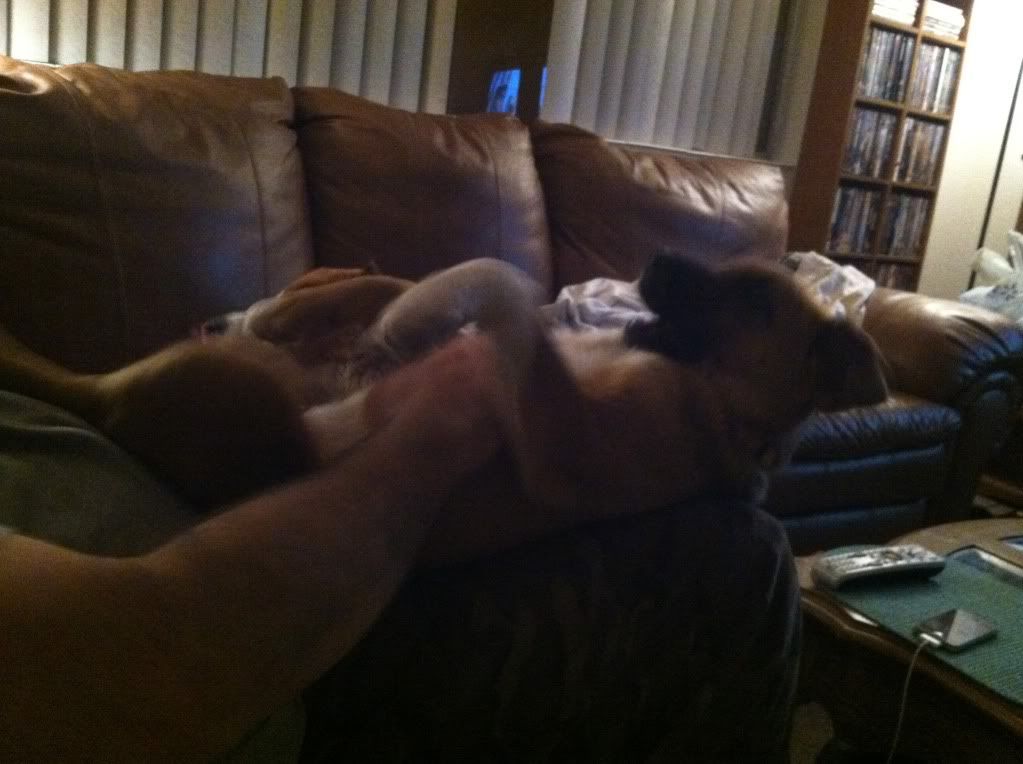 Loves her big brother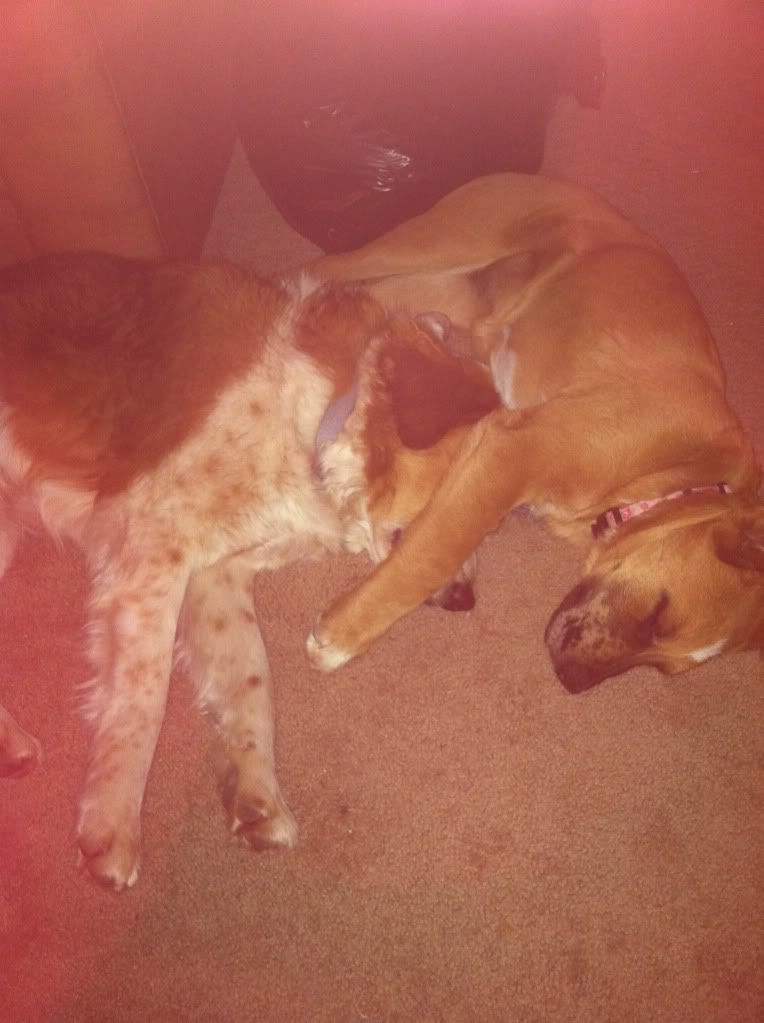 Shows pretty well how huge she is...keep in mind she's only 4-months-old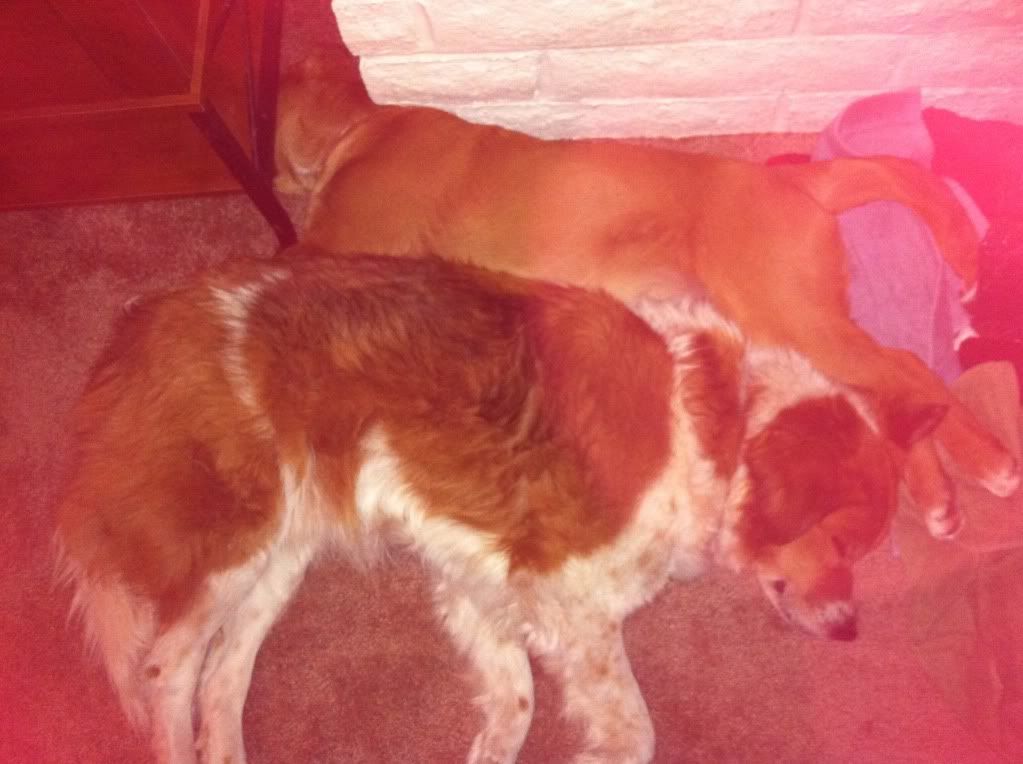 Yes, she's chewing on Cash's ear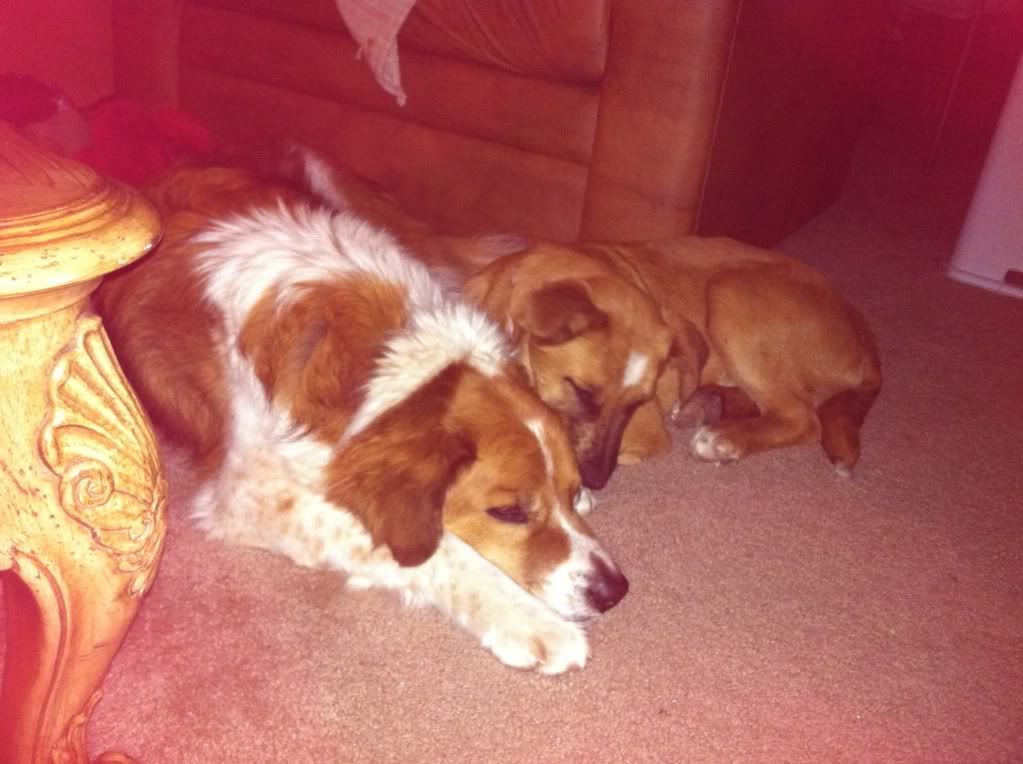 On our hike yesterday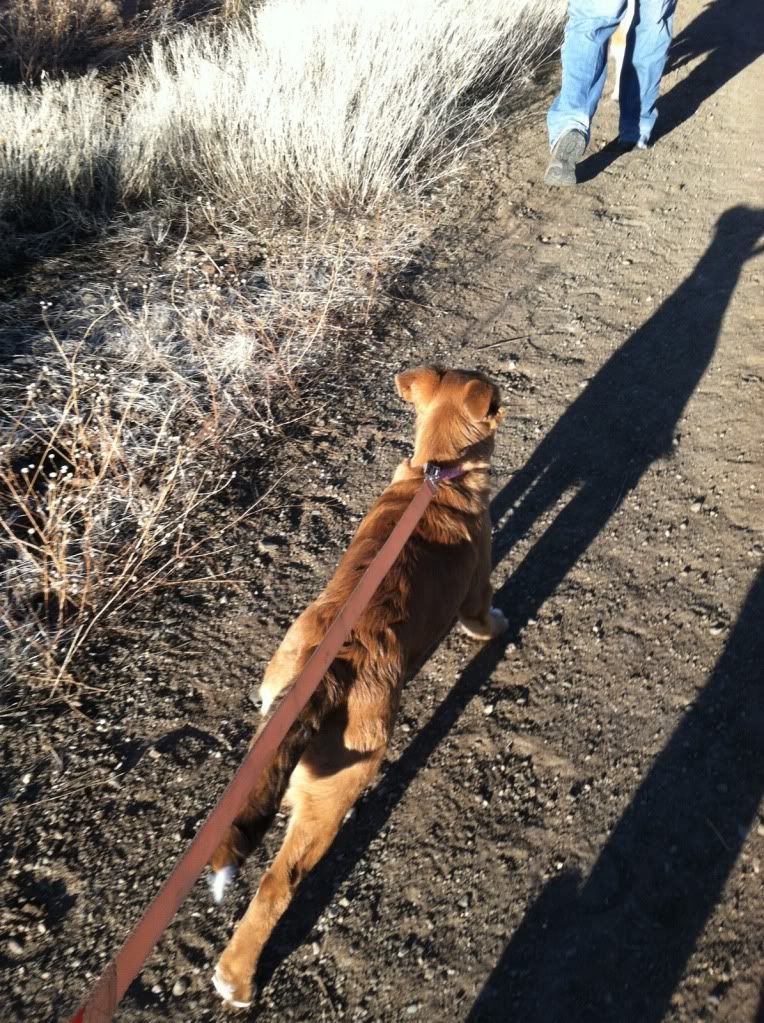 Posted via Mobile Device
Just a funny Abby story.
Last night when I got home, Abby was trying to jump into the huge (15+ feet tall) evergreen trees (I think they're some sort of juniper) in front of the house. She was after the birds that roost in the tops of the trees. She's turning into quite the little (wanna-be) hunter. If she's sees a bunny on the other side of the fence, she paces the fence staring at it until the bunny leaves.
As for her training...she's 100% on sit (even at a distance of up to 15 feet!), she's got a 90% recall, and she's about 75% on down. We're still struggling with leash manners. Hers are nonexistent.
Oh! She got groomed for the first time a couple of weeks ago. The groomers were impressed with how well-behaved she was (they couldn't get her leash off to put her in the kennel and I was filling out some paperwork on the other side of the counter...I glanced up and said "Abby, sit" in a firm voice and she plunked her little butt down and didn't move until they put her in the kennel with Cash). They said she freaked when they went to bathe her, but considering she's only had a bath once, they weren't surprised.
Posted via Mobile Device
---
Last edited by DraftyAiresMum; 03-19-2013 at

02:15 PM

.