my baby has gone to rainbow bridge :(
---
My beautifull bubba has had to be P.T.S today at 4.15 uk time.she was 13 years old and got cancer in her leg. due to her age she could not have an op to remove the cancer.
At the moment i am totaly empty and so lost with out her. she has been in my life so long it feel like there is a big hole in my heart.
This is a picture of my beautifull baby.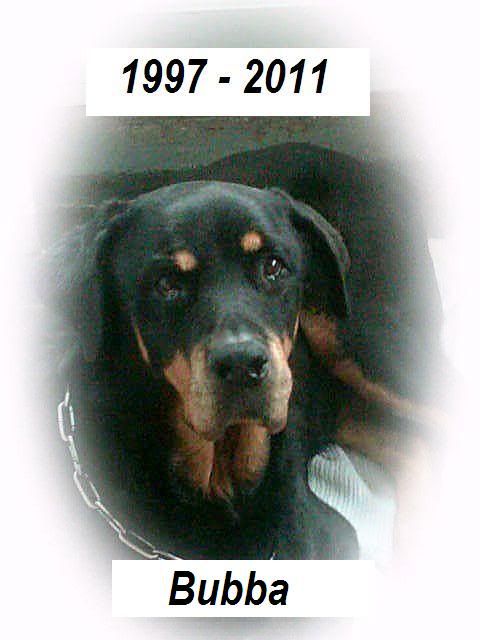 ---
Last edited by lokis mommy; 06-23-2011 at

01:12 PM

.
I'm so sorry for your loss. *hugs*
---
"Great spirits have always encountered violent opposition from mediocre minds."

I'm so sorry, but she isn't in pain any longer she is happily waiting for you at the rainbow bridge.
---
You are never better than anyone. Every rider has skills they need to improve. The only one you must compare yourself with, is you.
Green Broke
Join Date: Jun 2009
Location: Was in Ocala, Fl Now In West Union SC!
Posts: 3,175
• Horses:
1
I'm so sorry. :( I lost one a few weeks ago to cancer as well. I know how you feel.
---
My name is now my horses on a dor not my horse sonador
i still have to tell my children aged 8 and 7 and there have grown up with bubba and there are still at dance class so have no idea that there baby has gone forever.

i also have a very dippressed saint burnard too she has also been with bubba for 9 years.
she wont eat her food and it walking round the house looking for her.
going to the front door and crying cos she knows she went out of the door and didn't come back.
---
Last edited by lokis mommy; 06-23-2011 at

01:20 PM

.
It's so hard to lose them, and they leave such a space in our hearts when they go. The only thing worse is trying to imagine how life would have been without them.

She was a beautiful dog, I'm sorry she has gone.
I am missing our baby bubba loads I know shw will be watching over us and waiting
Posted via Mobile Device
I am so very sorry for you. She was a beautiful dog, if you have the strength remind your kids of all of the good times you had together and the goofy things she did.


I had to PTS my dog last October, it does hurt a little less as time passes, but the hole remains. I have a new puppy as my other dog was just so unhappy, and that new puppy has his own place in my heart, he did not remove the hole my Oscar left.

I so understand, and I am so very sorry.

This helped me, maybe it will you?


They say that memories are golden,
Well maybe that is true.
I never wanted memories
I only wanted you.

A million times I need you,
A million times I cried.
If love alone could have saved you,
You never would have died.

In life I loved you dearly,
In death I love you still.
In my heart you hold a place,
No one can ever fill.

If tears could build a stairway,
And heartache make a lane,
I'd walk that path to heaven,
And bring you back again.

Our family chain is broken,
And nothing seems the same.
But as God calls us one by one,
The chain will link again.
I am so sorry., I know you are hurting, HUGS to you...Susan
---
Horses are proof that God love's us and wants us to be happy!