My furry family
---
Since I don't have a horse to gush over, these are my furry family:
Kumar - a overzealous, crazy hound mix mutt. He's not quite 3 years old and he's my problem child, but the absolute love of my life <3 He's obsessed with me and I'd take him anywhere and everywhere if I could.
Felix - we always joke that his mom was a beagle and his dad was a deer (he sounds like a beagle, but looks like no dog I've ever seen - he has a super long neck, long legs, and he's completely ADHD). He is my mom's dog, but he loves everyone equally and loves to give kisses.
Licorice - Also my mom's dog, but I babysit him consistently. He's a rat terrier mix, almost 4 years old. We adopted him from the kill shelter a couple of years ago, where he was very neglected and terrified. He is now a confident, strong 50lbs of spoiled dog!
Cleo - My first and only cat. She's about 9 months old. She was abandoned in front of my job at 3 weeks old and I fostered her... of course, fostering turned into adopting. She's a bundle of crazy and she loves to play-bite me constantly, but I love her silly self. She thinks Kumar is her dad and follows him around.
Templeton, Fievel (RIP), Percy (RIP) - These guys were my three pet rats. Templeton is my only surviving boy and we miss his brothers greatly! They were expensive and time-consuming and seriously some of the best animals I've ever met <3
Prince Rupert - My hamster :) I adopted him about a year ago from the shelter, where it had spent the first 8 months of his life. He's the sweetest, friendliest hamster.
If anyone is interested in pictures, I can put some up
Of course we want pics!!
Posted via Mobile Device
Here's Kumar.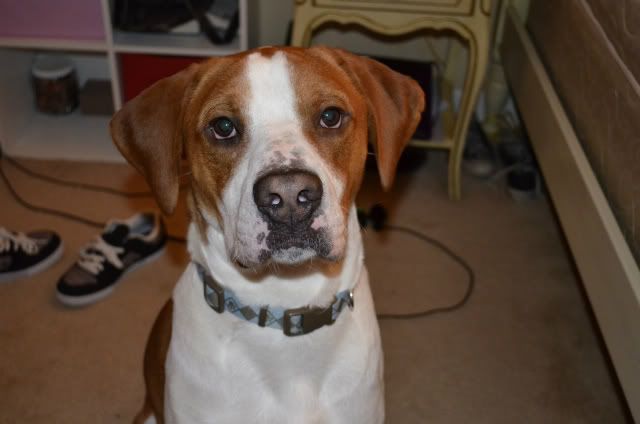 Felix:
Licorice:
Cleo:
Templeton:
Fievel:
Percy:
Prince Rupert:
Imma come steal Cleo!! How adorable is she?!?!?!
Posted via Mobile Device