my "horse"
---
This is Samson aka Sammie, Sam, Sambone, Slimeson...etc! He has stolen my heart!! He is a harlequin Great Dane and is about 2 1/2. Enjoy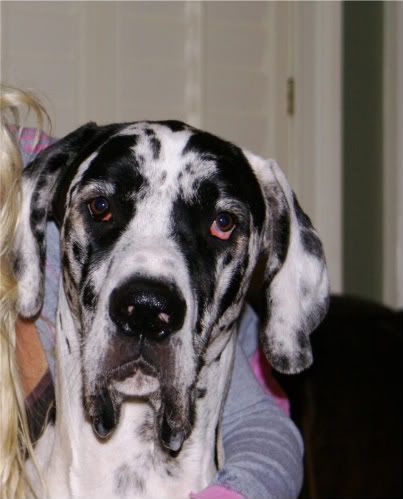 as a pup with my other two babes Moose & Belle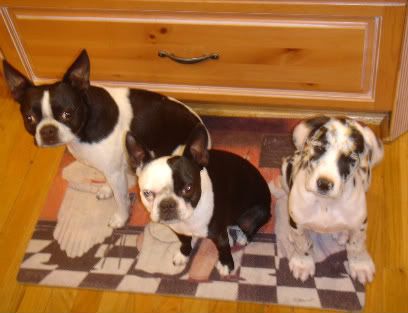 awww he's so cute!! i love his coloring
Are your two other babies full grown boston's?? They must wonder what happened to there little puppy friend!
since you have so many you can send Sampson my way. LOL

nice puppies
---
I am concerned for the security of our great Nation; not so much because of any threat from without, but because of the insidious forces working from within.
Douglas MacArthur
i have always wanted a Great Dane! he is too cute!
---
12 days until Twiztid ( i get to see my Jamie) then two months until graduation.
thanks
Yes, my Boston's are both full grown in that pic and I think they DID keep wondering why he kept growing, growing, and growing!
The bad part is that Samson thinks he is a Boston so he tries to sit in your lap and play with the other guys but ends up batting them across the room with his paw
thanks again for the comments!
He's so adorable!!! I love his coloring, too.
He is so regal!
---
Someone stole my %&#*@&% Carrot!
i love dane's!!! what a sweeeeeeet face he has!!!
---
On The 6th day god Created The Quarter Horse...One The 7th he Painted All The Good Ones---
*trisha<3
i knew when i read the title it was going to be a great dane! ive got a 3 year old fawn great dane and hes great! there so loveable
---