My new kitten!
---
So, a few months ago I lost my first cat. It was horrible. That is something I would never wish on anyone. Recently, I got a kitten! She is so cute! Everyone who sees her loves her. I even got to name her! Her name Is Nylah. She is a part Siamese and part something else. She has blue eyes and is so sweet and playful. I will put better pictures up of her later.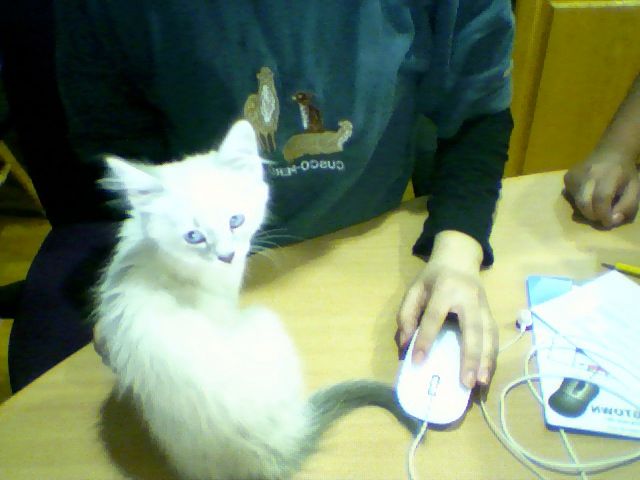 ---
I may seem small, but if you mess with my horse, I will break out a level of crazy that will make your nightmares seem like a happy place.
She's beautiful! Her eyes are just gorgeous.
Posted via Mobile Device
Super cute :)
---
"Strength is the ability to use a muscle without tension"

I have 2 kitties that look just like her, blue eyes and all =) enjoy her!
Green Broke
Join Date: Jan 2010
Location: south of nowhere, north of nothing
Posts: 4,643
• Horses:
6
those eyes!!!!

I'm not big on cats but sometimes there's just that special one that will melt your heart.

congrats on the cutie!
She's adorable! I can already see that she is a very big "helper" around the house.
---
"And somewhere in the northwoods darkness a creature walks upright. And the best advice you may ever get is: Don't go out at night..."
Awww how cute!!
---
Being horseless is the pits!!
Aren't kitten so cute?!? I am taking our two in to get fixed this morning.