my once little kitten is becoming such a big boy :(
---
Why can't my kitten just stay small :( lOll. He's getting so big and would you believe he's only 3 1/2 months old?

Ohhh, have you ever seen a cat play fetch? Well, I have a video of my cat playing fetch and I have pictures from my cat as a kitten and till now. :(




I have more photos that I will upload in the next post :)
I don't know anything about his parents. I've heard his father is either a tiger cat or a bengal cat. I think his mother is a tabby. As far as I'm concerned his mother is a hooker. lOll. she goes out into the woods and just hunts for a new hubby. His siblings were all different colors so, I don't know what he is so, I couldn't really tell you guys because I don't even know. He's a sweetheart though. and he's only 3 1/2 months old.
The rest of the 3 pics... well enjoy :)
He's cute
---
"On hyviä vuosia, kauniita muistoja, mutta kuitenkaan, en saata unohtaa,
Että koskaan en ole yksin, varjo seuraa onneain.
Vaikka myrsky hetkeksi tyyntyykin, varjo seuraa onneain.
Ja pian taas uusin hönkäyksin, varjo seuraa onneain.
Hei tuu mun luo, pieneksi hetkeksi. Puhutaan, varjoni, valkoiseksi enkeliksi."
Pelle Miljoona - Varjo seuraa onneain

Green Broke
Join Date: Dec 2010
Location: At The End Of That Rainbow To Yer Left
Posts: 3,171
• Horses:
4
what a cutie~~~~~~~~~~~~~~~~~~~~~~~~~~
---
If you want a stable friendship, get a horse.
thanks:) he's such a little devil.... wrecks everything in the house... plays fetch.. I swear he's part dog
He is the spittin' image of my part Bengal boy, Oscar. Oscar is getting old now, but when he was young he could jump straight into the air close to five feet from a dead standstill. Does your boy like water? Oscar had some interest, but not as much as many Bengals do.
Our new cat, Elvis, is a tuxedo polydactyl guy. He has got to be the dumbest cat I have ever met. My husband hates him and says, "he's got the IQ of a rake!" lol!!!!
But, he played fetch , like your kitty. I would through his ball (coincidentally, the same kind) down the stairs to the basement, and Elvis would LAUNCH himself into the air , down the stair without being able to see where he was going to land and he'd bring it back up the stairs for another go.
Somewhere along the way he forgot how to play and no amount of encouraging can bring it back. He is dumb as a rock, but I love them both.
Yearling
Join Date: Aug 2010
Location: Gold Coast, Queensland, Australia
Posts: 926
• Horses:
3
Oh his grown! I remember a thread when he was little!! =) still as cute as a button!

I just found out today my little "he" kitten Bugsy is now most likley a "she" kittenn :/ lol the joys!
---
The Perfect Day-
Going to bed with a Dream
and waking up with a Purpose!
aw he is very cute!
i have a kitty called Brendan and trust me, your kitty is going to get a lot bigger!
but he will still be cute
---
Feeling down? Saddle up!
Hes gorgeous, probably the Bengal part of him!! Bengals are so beautiful. And yes they so grow quick, alit like puppies!
Posted via Mobile Device
Doesn't it suck when they grow up? But there are benefits too, they are no longer climbing everything including curtains or house plants, but they are not as cute.
I have a little guy that I hand raised, as I had a feral cat colony outside my house and I would grab the little ones and rehome them or catch the adults (fat chance) and neuter them.
Anyway, I found my guy at a day old trying to nurse off his dead mom. I bottle fed him every few hours and did more laundry than I ever want to do again as at that age they just go when they need to, so I went through towels at a massive rate.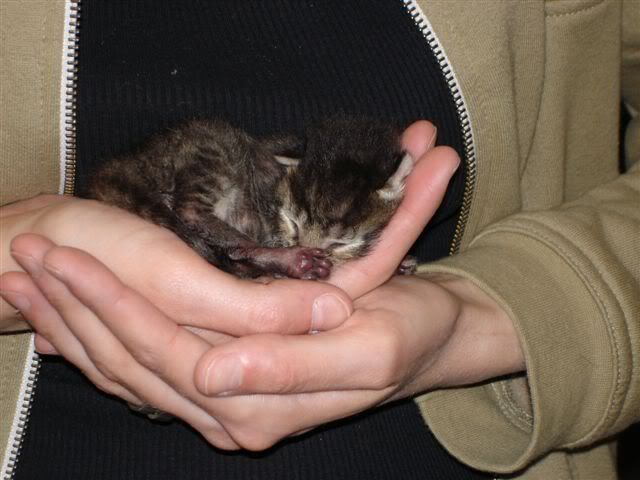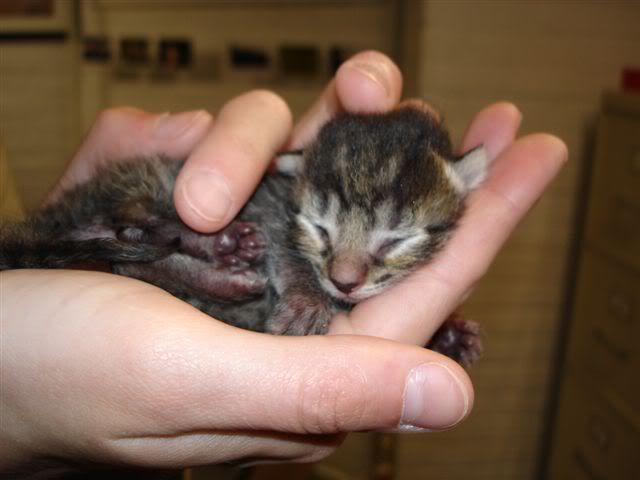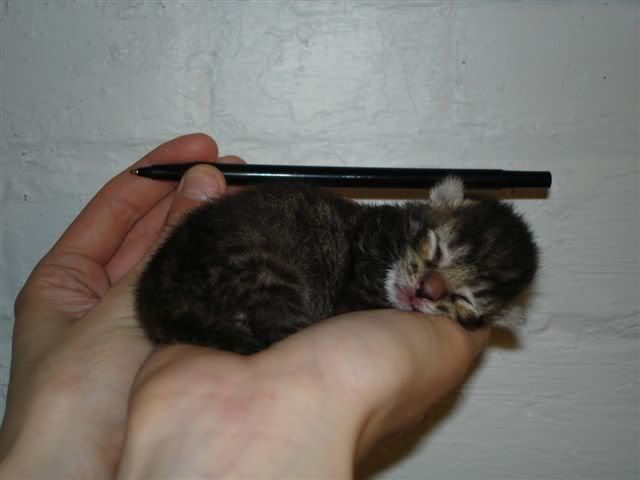 This is how I raised him (I might be a little nuts)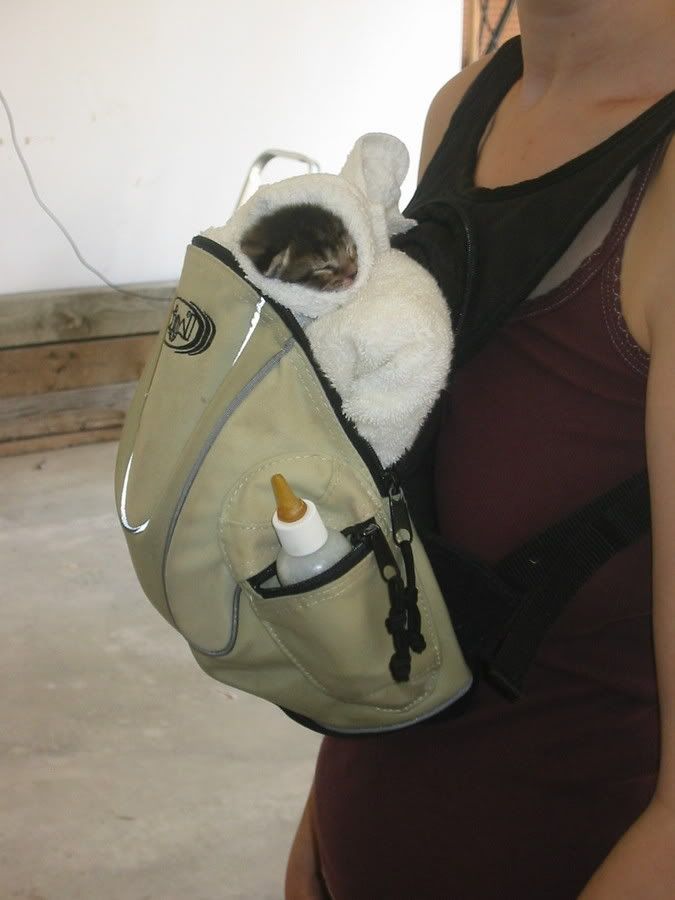 And welcome to his full bratty spoiled rear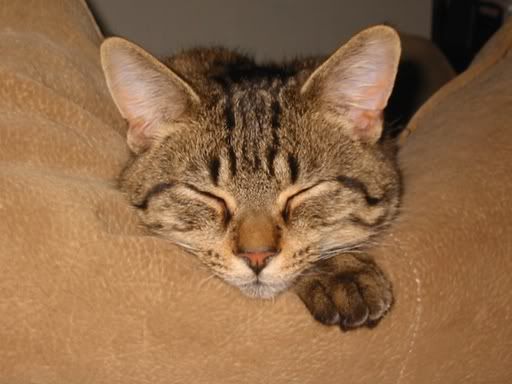 ---
Last edited by AlexS; 01-29-2011 at

04:15 AM

.