My Other Pets
---
So aside from my horses I have many other pets.
I have two dogs, Jake and Dane. We bought Jake after my other dog Jake passed away. I grew up with the original Jake since I was a couple years old and loved him to death. They both are the same color and apparently it's like a tradition to have one named Jake. The new Jake doesn't have a whole lot of brains but I love him that way. We don't think he is purebred even though the people said he was, but that really doesn't matter to me. He was bought as a companion for Dakota(the original Jake's brother). Dakota couldn't take it without my old Jake and had to be put down almost 6 months later. Then we bought Kaiya, a beautiful golden Collie puppy. I loved her to death! She was so sweet and her lack of brains made her unique. If you'd start to leave her she would sit down, turn her head to the side and have this adorable cute "What? Where are you going silly?" look on her face. The neighbors complained to the police that her bark was disturbing them and of course since my mom didn't like the dog she jumped at this opportunity to sell her. I never even got to say goodbye. After her we bought Dane Cook, a registered or was supposed to be, Sheltie pup. We got ripped off on the papers this year because the parents DNA was tested or something and didn't match what the papers said. We could get our money back on him possibly but whatever. He isn't the brightest dog either. He won't walk on a leash, nor come to you, but he is really friendly and makes a good buddy for Jake.
Jake, my first dog, R.I.P.-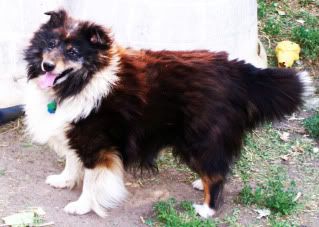 Dakota, Jake's best friend and brother, R.I.P.-
Jake, my second Jake-
Kaiya, miss you girl!-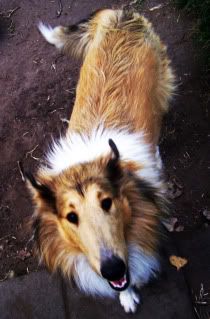 Dane Cook, he is much bigger now-
I also have 3 cats. We've owned Roxi and Cowboy since I was little. Then in September of 06(I think it's that year) my mother and brother found a kitten in the middle of a country road that had been hit by a car. She knew the car behind her wouldn't see it and run over it so she stopped and picked the kitten up. It was having seizures in the back of the car. She brought it back home where my friend and I were playing. It had 2 more seizures then never again. My friend and I nursed it with an eye dropper and milk and till it could get itself around and start doing things on its own. Today he is a happy and healthy not to mention arny as can be, cat. We are glad we didn't take him to the humane society because they would have put him to sleep. The only thing that he really got out of the accident was some missing lower teeth and sometimes his hip makes popping sounds but this doesn't stop him at all. I think he has brain damage too lol. We named him Black Jack except I usually call him Jackie B. or Jaque-ius. No idea why...I just do.
Roxie, the calico, and Cowboy, the siamese-
Jack-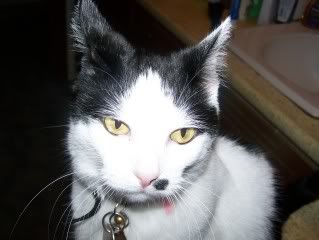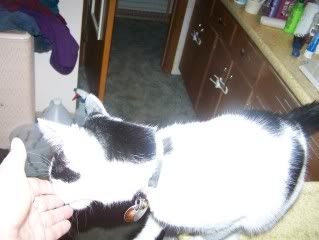 And then, a lot of people know, I breed rats, rabbits, and mice so I won't bother posting pictures of them. They are on other threads. Except here is a cute photo of rat babies-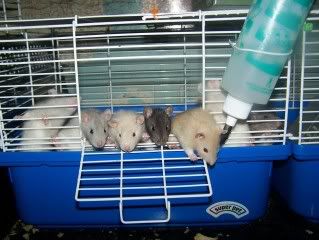 My only pet rabbit, Daily, the story of her is on the Rabbit thread-
I have also owned many other pets as well as a Gecko. We have many many fish but I hate them. I hope to get a snake soon but I am still trying to persuay my parents. I am possibly getting a sugar glider pair soon too.
---
"Blame it on my wild heart."



Similar Threads
Thread
Thread Starter
Forum
Replies
Last Post
Your other pets!

zanyoutthere

Other Pets

45

07-16-2009

12:39 PM

My Other Pets!!!!!!

morganshow11

General Off Topic Discussion

2

01-31-2009

07:48 AM

My pets!

omgpink

General Off Topic Discussion

5

08-24-2008

12:46 PM

other pets!!!

bee

General Off Topic Discussion

49

07-22-2008

12:32 AM

What other pets so you own?

mynameisntlola

General Off Topic Discussion

59

05-09-2007

04:26 PM