Teen Forum Moderator
Join Date: Dec 2010
Location: South East Texas
Posts: 7,157
• Horses:
2
Need Prayers and Publicity- found Emanciated Dog
---
I must be some sort of dog magnet. First Bailey, our senior daschund mix, then Connor, our VERY expensive Luxating Patella/Wobblers puppy, and now this poor, beautiful dear.
I was walking Connor yesterday when he followed us home, and I just couldn't turn him down. He is Pit Bull Terrier and is
extremely
emanciated to the point where I honestly don't know how he's standing. Pictures don't do justice. I can see every bone in his body. Rib cage, tail head, spine, shoulder blades, hips... everything. He has thick callouses on all of his legs and belly from laying down, leading me to believe that he's been thin for a very long time. He also has a typical 'pit bull' belt collar on, but it literally hangs off of him. He's obviously lost a lot of weight since having it put on. He's 25 pounds, I weighed him today. I think he should be atleast 50.
I dont know his age but he appears to be fairly young. VERY sweet and submissive around others dogs so far, just slightly timid. I can't find any shelters that are willing to take him except for the Humane Association, and they'll only give him 1-2 weeks before PTS. He's so sweet and has obviously been through hell...I cant bear the thought of him being put down because of his breed.
Please guys, put him on your facebooks. Tell your co workers, tell your relatives. If you know ANYONE in Texas that might be interested, let me know. I would take him in myself but Connor's therapy and vet bills already have me struggling. I simply cannot take him . He is not neutered.
We're calling him Robbie and he desperately needs your prayers.
Pictured with another stray that he has been running around with. Also thin but not critical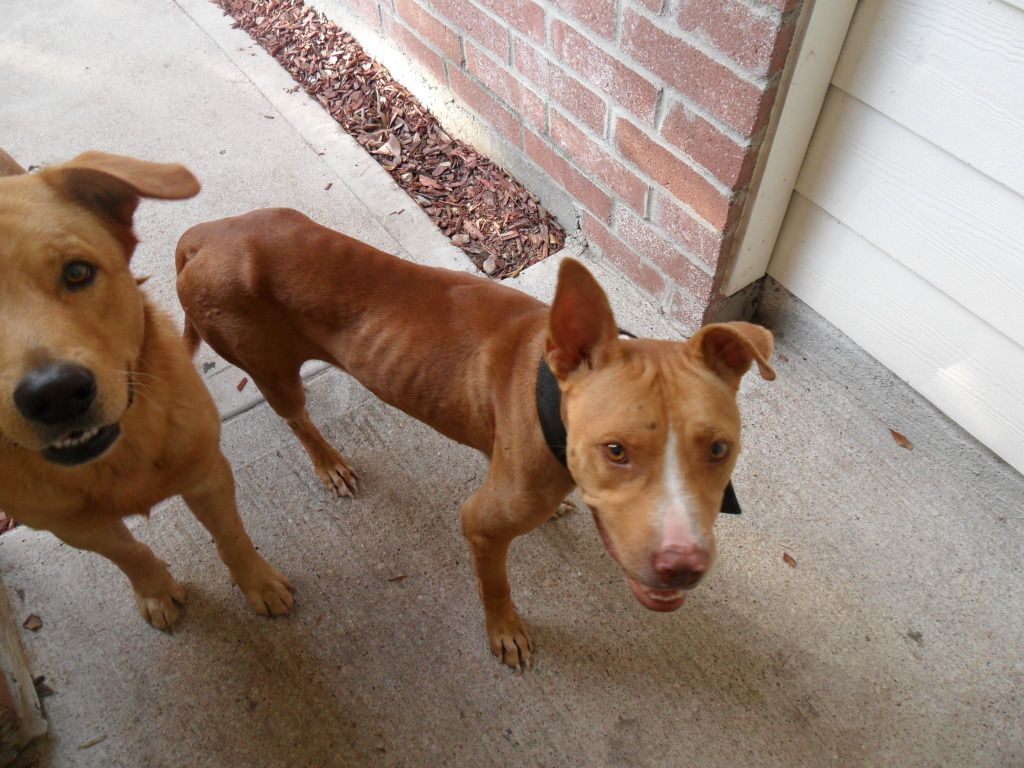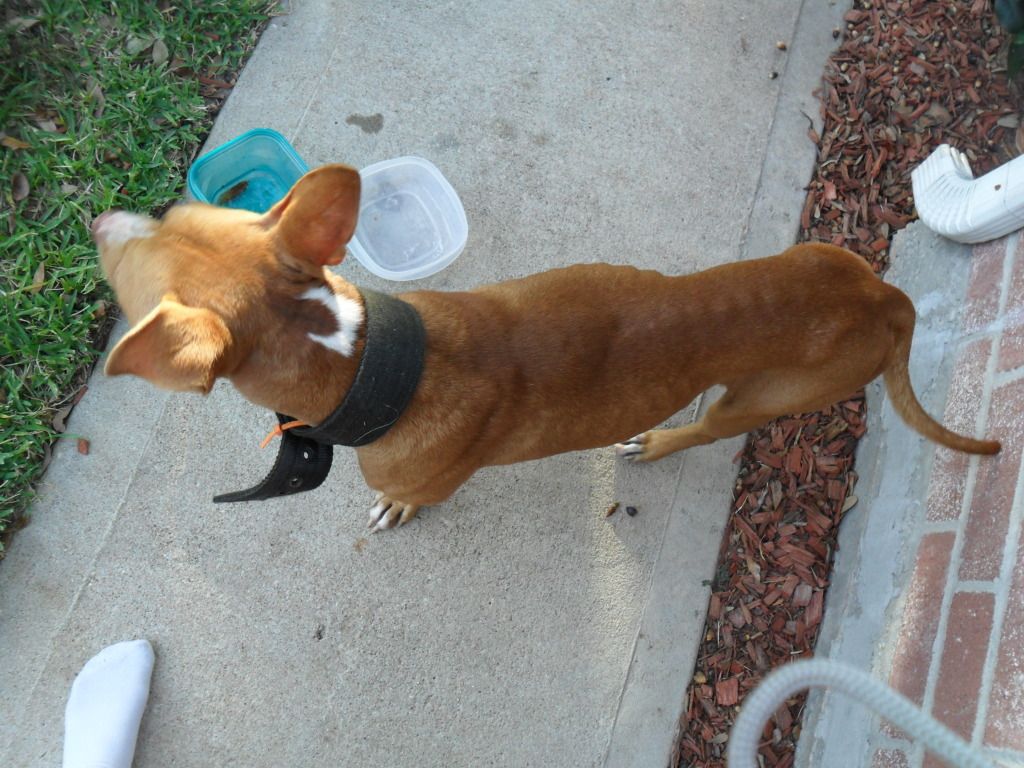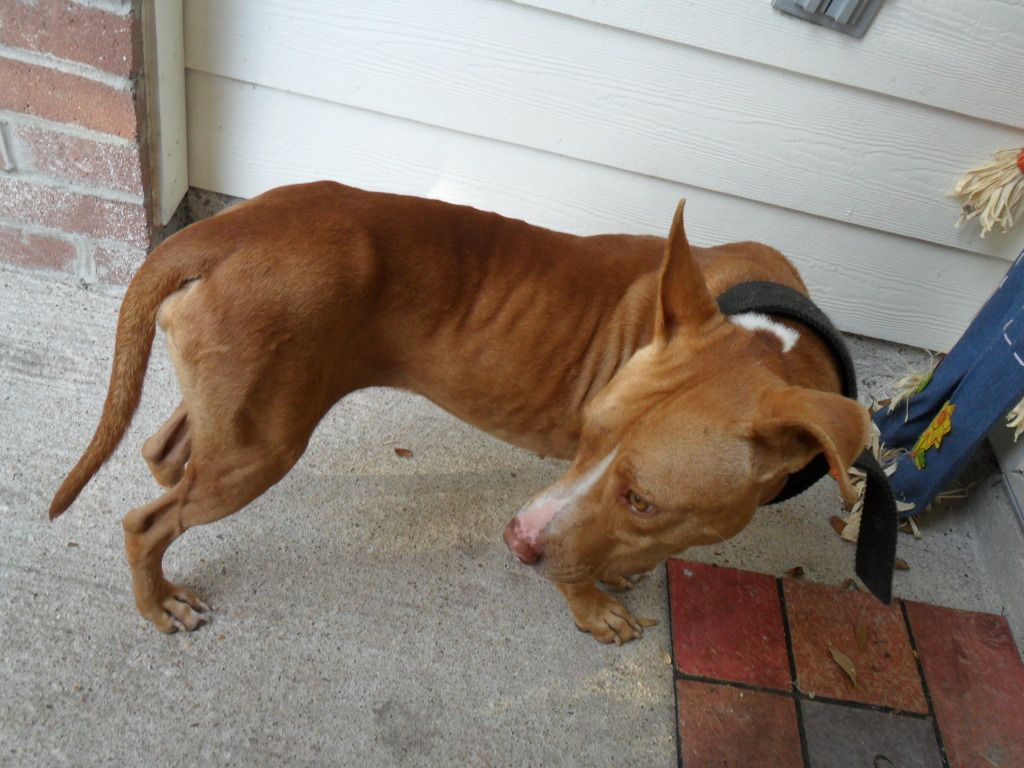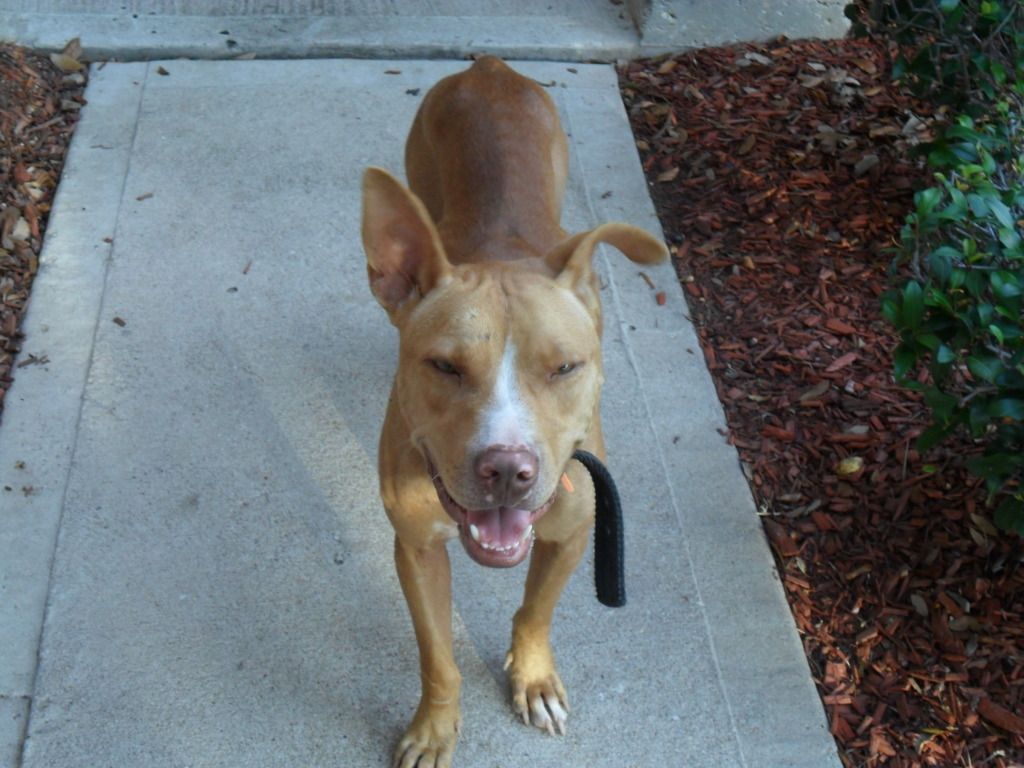 ---
Everyone in your life is meant to
be in your journey, but not all of
them are meant to stay till the end.
I'm sorry, I'm in the UK. So i'm certainly not close to Texas at all. But I just wanted to let you know that I am praying for this dog. God bless for not turning him down. Have you considered putting ad's out in case there is someone looking for him? Just a thought.
---
Last edited by wildandfree; 10-26-2012 at

02:35 PM

.
What a sin! Sorry I am not much help.. If I was in Texas I would take him in a heart beat, I am a huge pitty lover!
My prayers are with you.
There are pit bull rescues everywhere. Go in and talk to the humane society, they can probably set you up with a few people and places to contact. It is not uncommon for people to drive quite a ways for a dog. I work at a shelter, we had someone drive two and a half hours one way to pick up a Doberman girl for a purebred rescue. Good luck!
---
"Great spirits have always encountered violent opposition from mediocre minds."

Teen Forum Moderator
Join Date: Dec 2010
Location: South East Texas
Posts: 7,157
• Horses:
2
Thank you guys.

Riccilove- I've contacted 5 different Pit Bull rescues and 4 normal shelters, but none could take him. He also has ads on 5 websites and the vets clinic already. Half of them are going under because there have been zero funds and tons of dogs turning up...the economy is hurting more than just the horse world unfortunately :/

I contacted rescues as far as 3 hours away from me, still no success.

HOWEVER, I do have good news :) we have a friend who has had Pit Bulls all of his life (over 35 years) and his Bull recently had to be put down. Originally this man had decided that he was done with dogs because he hated to say goodbye, but he saw a picture of Robbie on my facebook and just knew that he had to help the poor guy. He's willing to take Robbie, get him to the vet, put some (a lot) of weight on him, get him neutered, and send him to obedience training. He pampers his dogs and consisters them to be his children, so this really would be the perfect home for Robbie. The only catch is that he needs Robbie to be professionally temperment tested because he frequently has visitors (he is a councelor at our church) that have younger children and doesnt want an accident. Robbie will be tested on Monday and if he passes, will be going to his new home!

Prayers and fingers crossed, guys!
---
Everyone in your life is meant to
be in your journey, but not all of
them are meant to stay till the end.
A ray of sunshine! Hope it works out .
Similar Threads
Thread
Thread Starter
Forum
Replies
Last Post
Need prayers

DraftyAiresMum

General Off Topic Discussion

32

11-07-2012

05:28 PM

Please put mom in your prayers.

Honeysuga

Horse Talk

20

12-12-2009

05:20 AM

In Need of Prayers

4EverPainted

General Off Topic Discussion

19

11-13-2008

08:20 PM

Prayers please!

appylover31803

General Off Topic Discussion

21

10-17-2008

01:34 PM