Haha! I never knew there was a blue tick mascot! And I was a Vol on my pee wee football team when I was probably 5. Only girl on the team. ;)
Posted via Mobile Device
Quote:
The two bolded statements seem to be the root of the issue - if you are doing this as a way to "make money" you would not qualify for 501C status. Do you mean to say you re-home them, or are you selling the dogs at the end of your work?
THIS.
If you're doing it to rescue dogs, you can (and should) go for 501(c)3 status.
If you are doing it to make money, you're technically a "flipper" and won't be well received by the dog community.
It sounds like you're heart is in the right place, though. I'd work towards being a rescue, not a flipper. There's little money to be made in animals.
Posted via Mobile Device
The way I see it, flippers are the people who take money dogs, great Danes, small and fluffy things, purebreds, either for free or a few dollars, and resell them for hundreds of dollars.While I do pick and choose which ones I take, that isn't how I go about it. There have been plenty of dogs I could have held out for top dollar for, but that isn't my angle.

And I disagree about there being little money in animals. The horse market may be in the crapper but I owned a pet store and made a killing in animals. I sold exotics and interesting dog/cat supplies, and my own dogs were my best models. Across the way from me was a man that dealt in only high end dog accessories. You want to drop a few hundred bucks on a wedding dress for a dog, you went to him. You needed a life jacket or a backpack for your dog, you came to me. I sold thousand dollar birds, bred my own chinchillas and sugar gliders to avoid poor quality/shipping stress, and I could help people find a reputable breeder for about any type of dog their little heart desired. There's tons of money in animals if you know where to look.
Posted via Mobile Device
Day Three/Four
Still took him for a walk, this time in his flat collar but kept a second leash on the chain, just in case he tried to back out. His recall is improved but I don't want to chase him down the road.
But I have been working on crating him. He likes to bay when he's confined and the only cure is to wait it out. Thank goodness the neighbors are far. He bayed for about an hour and a half. Once he settled for 10 minutes he was let out. Later on, he was put in a crate again and bayed for about 15 minutes, quiet for 10 minutes, let out.
He only jumped up on me once yesterday!
Progress. And just to show how big he is, I am about 5'9.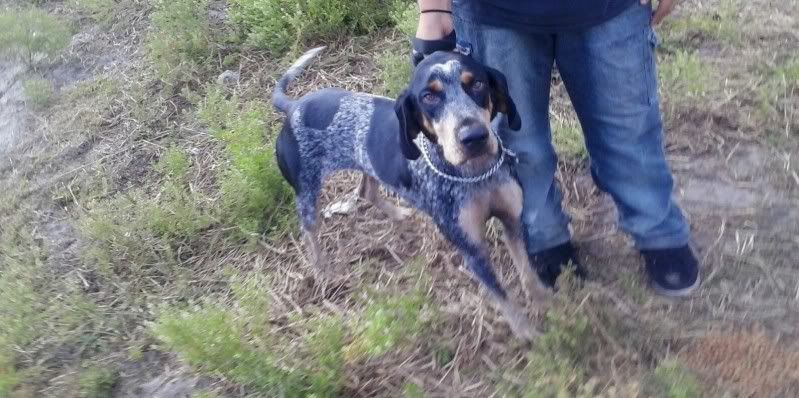 Posted via Mobile Device
What about spaying or neutering? I work at a shelter and see lots of purebred dogs, especially hounds!
This boy is already neutered but if they aren't, they get a voucher to be fixed, or they are dropped off at the vets after they pay the adoption fee and want to take it home, and they pick them up there. In the area I lived before, they fixed pit bull and pit bull mixes (or whatever even looks remotely bully) for free so that definitely helped.

There have been a few that I didn't have snipped. I don't see spaying/neutering as a black and white issue like government shelters seem to.
Posted via Mobile Device
My coonhound looks exactly like him and if he don't wana do something hell **** sure back out of a collar. Then run the neighborhood for hours barking at things -_-
Posted via Mobile Device
Haha, they are too smart for their own good.
Posted via Mobile Device
I think mine may most definitely be 'special' he's just got that way about him. Maybe lack of oxygen when he was born? Lmao I'm not sure but he definitely isn't fully 'there'.
Posted via Mobile Device
He seems to pick things up but has the attention span of a flea if he doesn't get to rub around first. I wouldn't call him the brightest bulb in the box but I wouldn't say he's dumb. You just got lucky with a 'special' guy, lol.
Posted via Mobile Device