new little girl needs a name!
---
So on Sunday on my way to the store, I see a guy trying to catch a stray dog in my neighborhood. She was scared of him and wouldn't let him catch her, but as soon as I got out of my car and started talking to her, she ran right up to me. Today I called them asking if they had ever found her home and they said no. I offered to take in the dog to try to find her a home but she may just end up staying here :)
I think she might be some kind of Whippet mix because of how small and slender she is, and her brindle coloring is found in Whippets. As soon as I brought her home my dad wanted me to bring her to him in bed, and she cuddled right up with him. She's also spend a lot of time curled up with my mom or my sister, so they're all falling in love with her!
So her personality: she's a little shy and has kept her tail between her legs but wags it as soon as you start talking to her or loving on her. She's very much a "lap dog" always wanting to be cuddled up with you. She loves to lightly put her front feet on you to lick you, too.
Now...
Help me figure out a good name for her! :)
I only have these 2 pictures right now but will get more. I want something that's kind of unique, like her. No normal human names :)
Also, does anyone have any idea about her breed? I assume Whippet mix but I have no way of knowing for sure. She is very small, maybe 18" tall.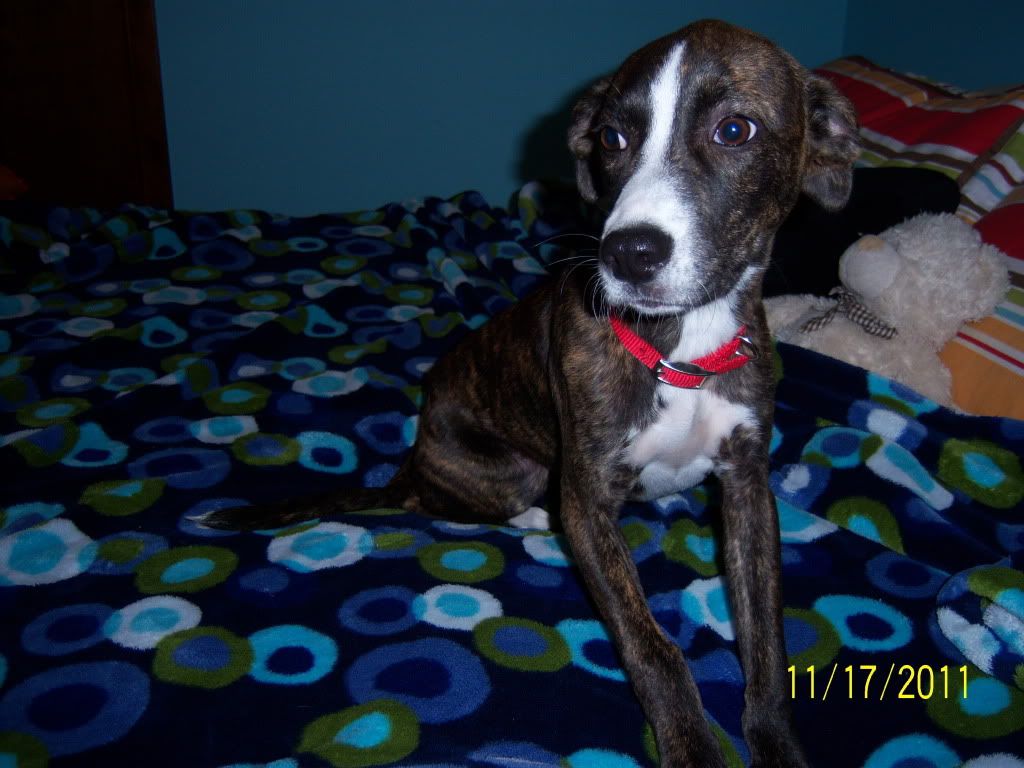 P.S. Sorry this post ended up being kinda long and that these pictures are huge!
Is she just a puppy? She looks like she has some growing to do...

She looks like a:
Charlotte
Dancer
Ruben
Chance (you did give her a second chance)
Posted via Mobile Device
Super cute! Stella. Shy Girl. Sissy. Sammy
I like Stella and Georgia (I am in GA so that would work:)). Ruben is also a cute name. Charlotte also would fit her, but Char would be short for that and I already work with a horse who's nickname is Char (short for Chardonnay).

SarahAnn - I don't know if she's a puppy or not.. I think she's a Whippet mix, and if she is then she may be full grown or at least close to it. She doesn't act like a puppy playing with things or chewing on anything, but I don't know if that has to do with the fact that I think she's been a stray for a while.
Anyone else? My mom is thinking of just naming her Brindle since that's what color she is... I need some more ideas to run past my parents! :)

She is getting more and more playful and brave, today she actually tried to play with 2 of my 3 indoor cats and they were teasing her the whole time. And today she wasn't afraid of our 2 outside dogs so she may end up with them pretty soon instead of being an inside dog!
Her coloring is why I said Ruben. She is the color of marble Rye, which is what they use to make the Ruben sandwich :)

What about Roxy?
Nike? Chevy?
Dory?
Posted via Mobile Device
Ahh that makes sense! Don't think my dad would allow Chevy.. He's a Ford guy haha. I like Dory but it makes me think of the Dory from Finding Nemo and her personality doesn't fit it..

My boyfriend has started calling her Daisy, but I don't know yet about it.. I think it kinda fits her
OH, I like Daisy! That's perfect.
She almos looks like she has a tiny bit of pitbull. I mean that brindle color is common in pitbulls.