New pet, needs name.
---
So I decided after much deliberation that I would buy myself a ferret.
She is about 2-3 years old, a rescue. But the name she was given is the same as mine, so it can't stay. :P

Opinions on names?
I've been thinking Mika, but I want more names to consider before I name her. :)

Being help for me: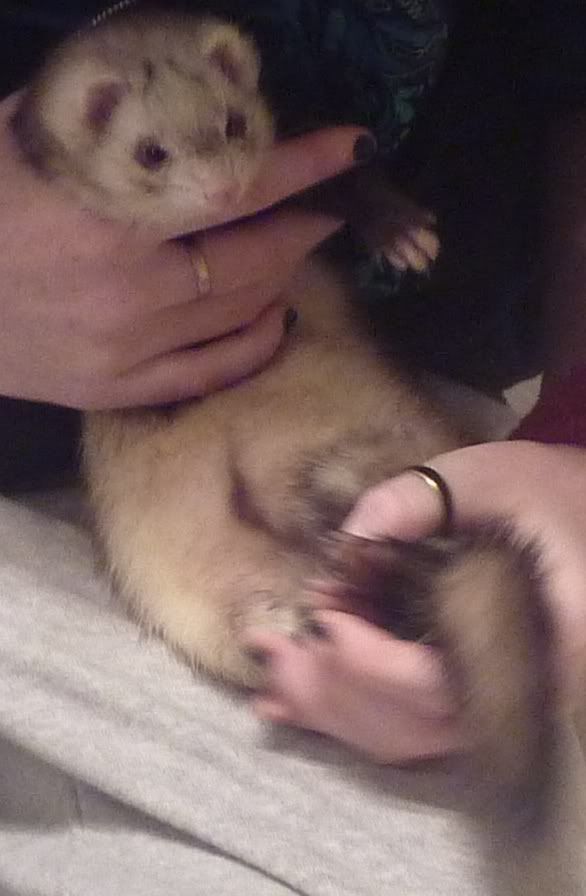 Sorry if the pictures are big.
---
It is not enough for a man to know how to ride; he must know how to fall.
What's your other ferret's name?

She looks so floofy and cuddly <3 I love ferrets.
---
"Sit tall in the saddle, hold your head up high. Keep your eyes fixed where the trail meets the sky. And live like you ain't afraid to die...don't be scared, jut enjoy the ride." - Chris LeDoux
She's adorable! we adopted 2 today both boys their names were "PeePee and Phil" ::rolls eyes:: lol now they are Spazz and Gimpy( he has a bad hind leg)
---
Courage is being scared to death but saddling up anyway~~John Wayne
Awh she looks like a mika! I have two ferrets myself and they are the coolest little things. My white one(whitee) is super cuddly and loves socks. My brown one(bear) is a total spaz! Haha they are so funny!
---
defienatly mika. thats such a cute name!
---
There is one principle that should never be abandoned, namely, that the rider must first learn to control himself before he can control his horse. This is the basic, most important principle to be preserved in equitation - Alois Podhajsky
Thanks guys, we decided on 'Simika' with 'Simi' AND 'Mika' for short. Haha.
She's already learning her name, and how to escape, haha.



---
It is not enough for a man to know how to ride; he must know how to fall.