These are my little babies :) They come a close second to Beau (cob X)
I've had piggies since i was 3 (i'm 18 now, so quite a while). I used to show them and these are some of my 'favourites' (i know you're not suppost to have favourites but i can't help it) that i had/still have :) I've only got 5 now, but love them to pieces!
This is Truffle, a golden and white abyssinian X , who we had pts aged 7 1/2 last year. Her mum was pregnant when we got her, so we ended up with truffle, our little ball of fluff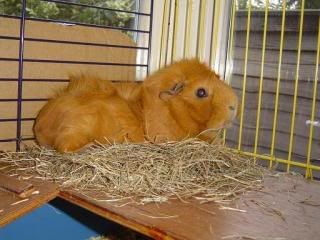 Truffle 'kissing' Inca, when inca was a baby!
This is Inca (also known as stinky-inky), a 3 y/o black himalayan sow, who's really cute, but them i'm bias!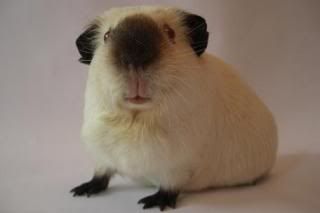 This is 'Arry (or his full name... Sir Reginald Harold Smutlee, Lord of Barryshire) who again is a black himalayan and he's neutered and spends his life happily with 4 ladys
'arry and Inca
This is Solo (but known as soulsby-ann), my all time favourite
, shes a 2 year old chocolate dalmation sow (who only has 1 spot!), she came from my best friend and recently had an ovariohysterectomy because she had ovarian cysts, so she needs lots of sympathy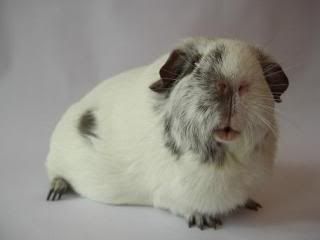 This is 'CloverFields' or clovie, or lil mo, or bargain pig. She was 'reduced to clear' in a pet shop so i just had to have her. Shes a 2 year old buff english crested sow!
This is Oreo, Solo's nephew! Oreo and 'Arry were just meant to be staying with me when their owner was on holiday, but she never came for them, so I was left with Oreo, Harry and 4 others!! The photo is of him on his way to his new home!
Finally this is 'FelicityWishes' or pee wee or pickwick, shes out of a slate roan X beige, so she's ended up as a light slate, but we love her anyway
and a final photo, just because it's cute.. soly and inks
This was the day after soly's operation, licking tomato juice off inky's chin!
xxx
p.s sorry for the photo overload!
Aw, wow! They're all so adorable! I especially love himis.
Murphie from this evening:
Her dewlap is getting big!
I love GPs! We don't have any at the moment, but they are one of my favorite small furries - the noises they make and their personalities are just too sweet!
The himis are great - remind me of Raj and Tuptim, my siamese.
I've had guinea pigs as long as I can remember! Right now I only have the one, an American guy thats red and white. His name is Rusty. :)
i have 3 teddybear ones, they are like little round balls of fluffy haha, weird way to discribe them but its true!