Our dogs...
---
We have several small dogs, as well as a couple cats and 3 hamsters...lol. Our dogs have came from various states and breeders, and a couple were given to us. I thought I'd give you all a peek at my other loves...
Radar
--5 year old Choco & Tan Chihuahua--he came to us while we were in Arizona a few years ago. He came from a very small breeder in Seligman, Arizona.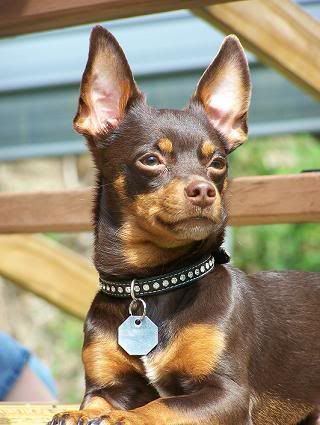 Rebel--
1 year old AKC Merle Chihuahua--he came to us from a breeder/friend in Erie, PA. It took me over 3 years to find my perfect Merle Chihuahua. He is my pride and joy!
Rowdy--
4 month old, AKC/CKC Chihuahua--he came from a breeder/friend in Conneaut, OH. We waited months for his litter to be born, we're so lucky to have him. He was given to us as an Easter gift.
Jazmyn
--6 month old, CKC Fawn Merle Chihuahua--she came home with us with Rowdy. After my husband met her, it was love at first sight. She got attached quickly, and we hated leaving her behind. So, we decided she'd just come home with us!
Teddy
--3 year old "Jack-a-Poo"--he is a Jack Russell / Poodle mix. He came from an elderly couple that lives nearby. He's such a sweet and spunky little man!
Peavey
--Double Dapple Dachshund--he came to us from a friend. We fell in love with him when he was a pup, but she wouldn't let us take him. After a while she chained him up outside and neglected him. We asked if she'd just let us take him home and she agreed since she didn't want him anymore.
SandyJo
--10 year old Mini Dachshund--Sandy is my dachshund of 10 years. I'm the only owner she's ever had. She was my very first dog and was given to me by a family friend.
awhhhh! They are so cute!
---
When God Made Horses, He Painted The Good Ones.
"All I pay my psychiatrist is the cost of feed and hay, and he'll listen to me any day."

sooo cute
---
i have my bloodhound & my horses what more can a girl ask for?
Banned
Join Date: Dec 2008
Location: At my house, or stable, duh!(Michigan)
Posts: 2,479
• Horses:
3
I love Radar. And Rowdy has the same name as my horse!
You have quite the wolf pack there!! ♥
They all look happy and well cared for and loved! However I think Teddy wants to live in Maine, can see it in his eyes. I'd be very happy to help you out there!
Quote:
However I think Teddy wants to live in Maine, can see it in his eyes. I'd be very happy to help you out there!
No, no, he didn't say Maine, he said
Michigan
! You just misunderstood.
Really, they're all adorable and I'm partial to small dogs, especially poodle-y ones.
---
Stella - sweet, timid, elegant, lovely, lively, amazing
Luna - large, unattractive, naughty, adored

Similar Threads
Thread
Thread Starter
Forum
Replies
Last Post
Two dogs

horsepainter

Other Pets

1

06-10-2009

08:43 PM

Meet my dogs

Peggysue

Other Pets

5

02-27-2009

02:16 PM

Dogs?

firemom1

General Off Topic Discussion

15

07-21-2008

03:20 PM

new use for dogs

horseywanderer

General Off Topic Discussion

7

05-19-2007

05:38 AM