Saydie, Zeus and Yager
---
"The horse you get off is not the same as the horse you got on; it is your job as a rider to ensure that as often as possible the change is for the better."
I love to see everyone's dogs! Foxy, your black dog reminds me of my childhood dog named Pepper.
Well, this is our old man, Bear (border collie/husky). My husband and I were still dating when we got him. He's 14: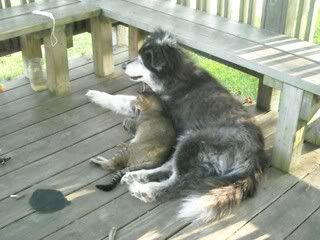 This is my husband's bird dog Ace (German shorthaired pointer):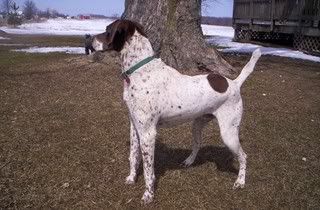 These are my pride and joy, Opal and Jasper. They're shih tzu/poodle mixes. Opal is almost 2:
Jasper is 8 months, but younger in these pics:
Jasper's baby pic:
Oh yeah, our crazy dog loving cat in the pictures is Magnum.
---
Stella - sweet, timid, elegant, lovely, lively, amazing
Luna - large, unattractive, naughty, adored

This is Ginger, a 4 year old Golden Retriever. She's my girlie.
---
Valerie
Ruby - Appendix QH - my life
Everyone who has a boxer - LUCKY! I'm trying to get my parents to get me a boxer!

I'll post a picture of my beagle once I get home.
awwww everyone has such cute doggies!!!
---
3 barrels , 2 hearts & 1 passion
This is
BIS=best in show . . . ch= champion . . . cdx=Companion Dog Excellent (AKC Obedience Title) . . . akc= american kenel club
---
-L'eggo My Eggo "Eggo" - 9 yr Belgian Draft X Quarter Horse Gelding
-Frequent Flyer "Jett"- 9yr Belgian Sporthorse
-Dusty Doc Lou "Dusty" - R.I.P
this is Chopper. hes a Basenji. he bit my mom pretty bad and was aggressive with food and if you tried to pick him up while he was sleeping he'd bite, sooo we gave him to the rescue
we had him for about 3 years.
this is Sparky (black and tan) , technically by brothers dog but i steal him
we were looking for a replacement dog (only 1!) when we got rid of Chopper and these too couldn't be separated so thats how we ended up with Sparky (mini Dachshund) and Sampson (Tweener Dachshund, Red dapple)
then one day me and my dad were going to a pet store to LOOK and we decided to buy Buddy because he was in a change that was way to small for him and had puss balls filled with blood and other nasty stuff on his elbows from only being able to lay down on the concrete floor of his cage.
now hes about 3 and they only live until like 8
AWwwww a Dachshund!!! omg im in love! :)
---
3 barrels , 2 hearts & 1 passion
lol there a pain in the butt!