Awww, this makes me miss my piggies!
I used to have 4 but I had to find them new homes for when I go away to college and the right people were suddenly there instead of waiting until the last minute like I would have liked. =P
3 of them are "Peruvian"s and the last one is an "American"
Here are pictures:
Dexter, the neutered boy who was everybody's favorite, not mine, but he was way cute. He now lives with Smores and Midnight about 15 minutes away from me.
Holly, the mom of Dexter and Midnight (she was unexpectedly preggo when I got her.) She now lives about 45 minutes away from me with a neutered boy piggie in a house where they can give her the one on one attention she wants...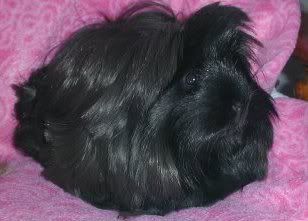 Midnight! She was kinda strange but love-able and super cute. She now lives with Dexter and Smores
And Smores! She turned 7 on Saturday. 0_o You'd never know she was that old at all, she still popcorns and everything. She sleeps more but who wouldn't when you're pretty much 90? She is also the queen of facial expressions:
Here's "Leave me alone. Can't you see I'm eating???!!??"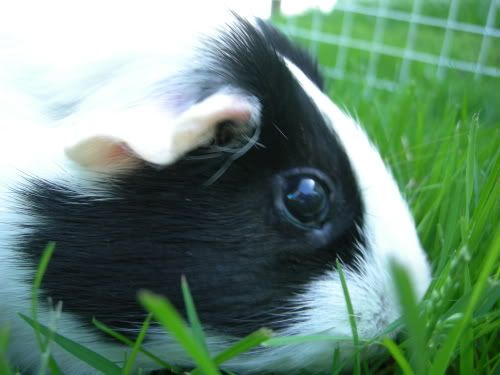 And here's "Huh?...did I miss something again?"
---
Fabio - 13 year old Arabian/Lipizzan gelding

~
Rest peacefully, Lacey.

OH MY GOODNESS! I LOOOVE long haired piggies!
What adorable piggies Wallaby
My two girls are rather spoilt and on nice days get to go out in a hutch on the lawn then at night come inside in a cage and for lots of lap time
But yesterday afternoon when I was bringing them in, I use a little carry cage to bring them back and forth, I got Snufkin into the carry cage but Muffin was squirming heaps and I dropped her! She made a dash for the neighbours fence where we have these huge bushes, I did this mad dive for her and caught her! Phew. Lucky the dogs where in my dads office, we have two dobbies, one who would love to chase a piggy in the bushes
Muffin sure had my heart doing back flips! She is just so squirmy and slippery haha. She was fine though and is back out today in the hutch.
Yikes! Good thing you caught her. I'm not too sure how a piggy would do in the wild ;)