Pit Bulls & other 'aggressive' breeds
---
Just saw that thread about the Pitties and the poor pony.. Sad story. Anyways, I saw that there were a lot of people with Pitts of their own.

So, post pics of your 'scary' dogs and tell stories!


Here's my dog, Tipsey. When we brought her home after adopting her from the pound(2 years ago) my next door neighbor came up to ask about her. She was petting her, giving her treats, and really liking her. Then I said she was a pit mix. My neighbor then called her a terrorist and started worrying that Tips was going to eat her little Min Pin... Seriously? We adopted a GS at the same time. Obviously she didn't kill other dogs. But thats all behind us now. During summer I made my neighbor walk her dog with me when I walked mine. She loves her now! :)
Without further adu, here is little Miss Tipsey! The puppies in the pics are about 3 months old in the picture, we took them in around December. :)
---
I LOVE your brindle guy..So cute.
This is my Chloe, I'm sure most of the forum know her story so I won't get into it..I've had her for two years now and love her to death..She's been the best dog I've ever had and I don't know what I would do without her.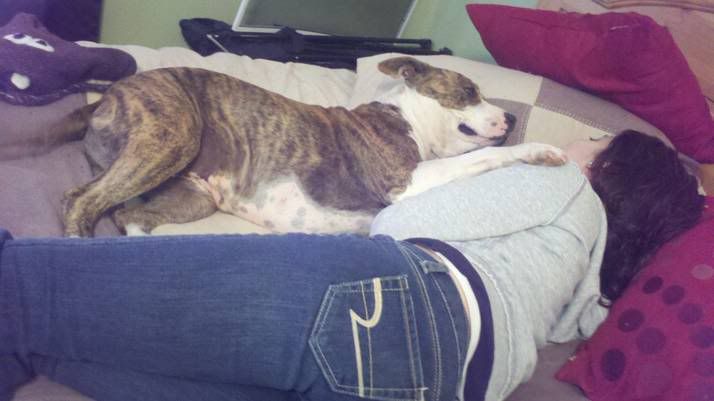 ---
I am Sparkly Meanie Doodie Head and I approve this message!
Our brindle girls are so scary looking! Hahaha Chloe's super adorable!
---
Vicious!! lol Thank you! She's a sweetheart..
---
I am Sparkly Meanie Doodie Head and I approve this message!
ahhh love your pitties :)
heres my boy rowan. a 13 year old ggreat dane pit mix possible some austrailian shepherd bc of his eyes.
i was volunteering at a rehabitilation rescue for aggressive dogs... and found this guy. 3 years old broken leg missing teeth all cut up..
the vet was amazing. he saved his leg. had to pull most of the broken teeth and cleared up his ear infection from constantly being hit in the head with a broom stick. (broom stick is the guess as it was right next to the dogs cages when the spca found them.
he was also used as a fighting dog until his leg broke we found out and then since he was not worth getting vetted they started using his as a bait dog.. he hates other dogs and will never trust them. which is understandable for him and loves cats and chickens....not so much the horses lol
without further ado Rowan the best babysitter in the world :)
as you see i love my big aggressive pitty mix :) he is my prince charming
I don't have a pitty, but actually yesterday met my first pittbulls - two at once - very scary especially as they were only about seven/eight weeks old. Went into a pet shop to buy a bed for my cat and met the little guys. I assume they were the lady who were working there's pups, they were running loose, not for sale. They were the friendliest little puppies. Still kinda mousy in colour, but I assume that will get darker as they mature ? Had these two perfect matching white breasts.
So. Ute, I just wanted to steal them!
This is Daisy, my 5 year old American Bulldog. I got her as a 5 week old puppy and she has grown into the best babysitter.
she's not exactly dog friendly. She used to be but for some reason has gotten nastier and nastier towards other dogs. When we first moved into our house she broke out of our backyard and attacked two senior dogs being walked. Apparently there was no actual biting, just a lot of jumping and snarling. I wasn't home at the time, but had to make the long walk to the neighbors house to apologies.
I don't have a picture but my brother used to own a pit/lab mix that did bite someone and had do be put to sleep. He was a funny dog though. My brother had a big birthday bash when I was about 17, just visiting for the summer. I crashed before everyone else, as it was just a lot of drinking and acting stupid. Before I even opened my eyes the next morning I could feel there was a body laying next to me. I had my back to them and was terrified to turn around to see which one of my brothers drunken idiot friends crashed in my bed. It was the doggy snoring that gave him away. I spun around relieved to see Mickey's big butt, head on the pillow and everything. He had a big lab body, it felt very human to me.
My doberman girl. I got her at 12 weeks and have trained her completely myself one of the best dogs I've known and definitely couldn't ever hurt a fly haha a neighbor of mine was deathly afraid of dobes due to an attack at some point but we convinced him to pet teagan and within 10 minutes he was loving her. She is now turning 3 this june.Also Included is my best friends pitty elvis sweetest boy ever he is my main squeeze haha. Whenever I go over and visit if I don't sit down and completely love on him for atleast 5 minutes he will 'grab' my legs or run circles around me haha hes 2 this year I believe.
also met this sweet little girl running around my old house took her to the vet clinic they contacted her owners who came and got her but she has continually gotten out and returned to our old home. So the people leasing contacted my mom and the owners and have taken her in as their own hah.
---
just a small town girl with a big town dream :]
Your dogs are ALL SO CUTE!!

I have a scary English cocker. A very terrifying beast. The slobber that flings from his jowls will burn your skin! lol.

Nice photos everyone.
So scary looking! Whisper22, why would you let a poor, defenseless child sleep near that MAN-EATER!?
---