lol and these are suposed to be killers:)

choc noses arent too bad
Here is our new Pittie!!! Cant wait to get him home, he is such trouble already!
I LOVE the "scary breeds"
My cousin has a pitt and oh my goodness I love him.
He's appropriately named Lucifer. Because he is the cutest, sweetest, cuddliest dog ever! He is always making friends; human and animal friends. He's best friends with my cousins cat.
Here's a picture of the big dope
---
~ Hope is never light years away ~
Huskys are number four on the top ten most dangerous breed of dog. They have been known to kill small squeeky things, including human babies, on more than one occasion. So without further adue, here is my man eater:
I don't have my own horse, so I'll play on the dog thread. :) Here's a pic of me and my dane, Scarlett. She's 3.5yo now and is absolutely my best bud...she's hogging the whole couch as I type this.
I don't own any scary breeds...I own three Shetland Sheepdogs who are prone to running away and hiding when little children come over. (Generally as the little children run screaming towards the fluffy little dog...lol.)
Here are my little monsters: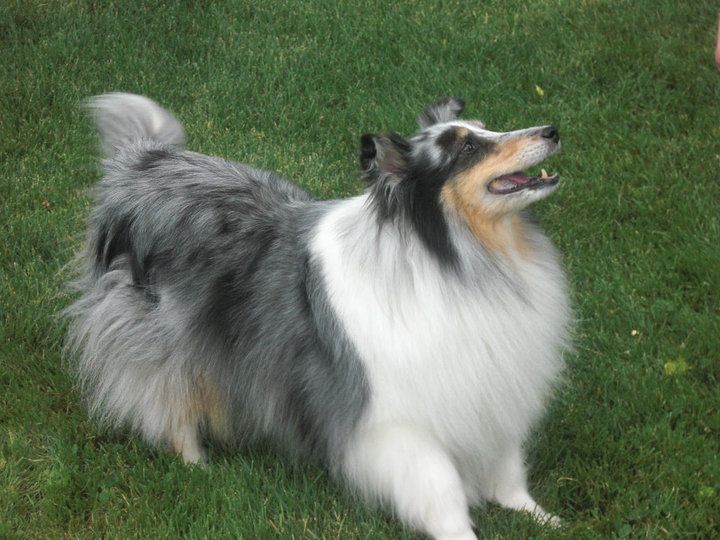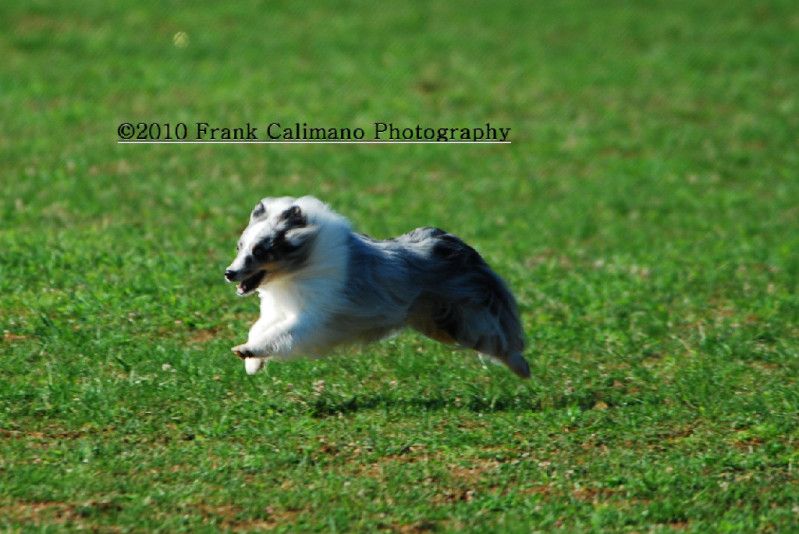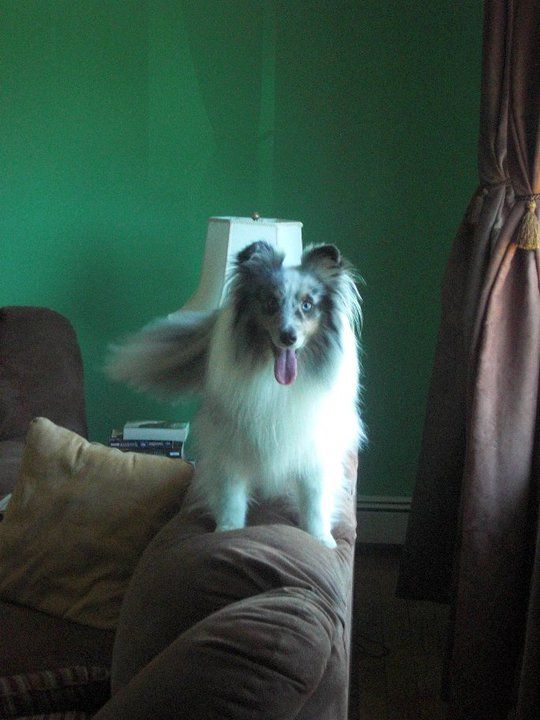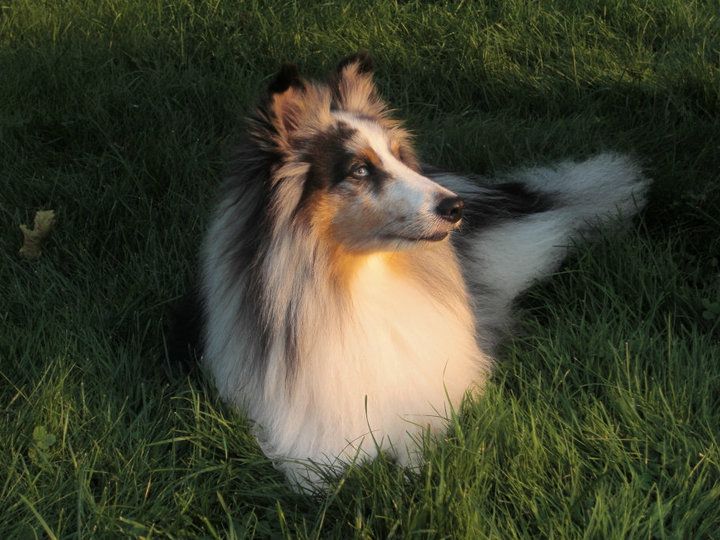 And a dog we have part of the year to train: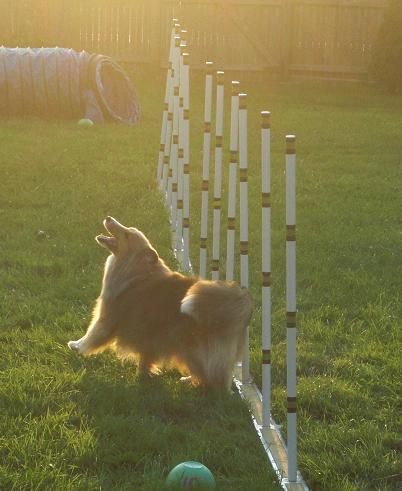 As I progress down this thread though its one continuous "Awww so cute!"
I have to say though I wouldn't trust any of my neighbors with the "scary breeds"...several of them have been known to watch and laugh as their dogs attacked or charged at someone (in one case attacking a 4 year old boy...)
Needless to say most of the "scary" dogs have been getting poisoned.
---
Do what you feel in your heart to be right- for you'll be criticized anyway. You'll be ****ed if you do, and ****ed if you don't. - Eleanor Roosevelt
Dogs and horses too for that matter are a reflection of their owners.

Mine just liked to eat posh from time to time.
Duke - a very individual character
---
Duke and the Tyres
Duke came into my life because a good friend told me that a TV soap opera star had a daughter, who had a boyfriend, who had a Bull Terrier, which was proving to be a problem dog. A week later the young owner of turned up at the local railway station with the dog in tow. Actually the dog had got off the train first and dragged the owner with him. My friend Dinnie and I laughed as we went over to introduce ourselves The dog, an absolutely magnificent specimen, nearly knocked us over as we got near. It jumped up, licked us and ran about like a thing possessed. The dog was so pleased to be off that noisy train and out in the countryside.

Din had a neutral training arena which he used for the horses but which we could use to introduce this yobbo to my two other dogs. We drove over to the house, parked up and got out to make things ready for the big introduction. Duke was left alone in Din's car whilst we went indoors. That was a big mistake to have made. Just five minutes or so later we came out to collect Duke and show him about. In the intervening five minutes he had destroyed the inside of my friend's car. No, it was not just a scratch here or there. The dog had completely and utterly ripped apart the seats, the backs of the seats, the head lining, the carpets. You name it, the upholstery was in shreds. A few weeks later, it cost almost a thousand pounds to repair that car. Duke had indeed made a grand entrance.

After some discussion I made a deal with the young man who was a bricklayer. I would pay the bill for repairing the car if he would build a brick wall for me in my garden. In addition I would take the dog on over the short term and try to find him a good home locally. I was well aware that the young man had already threatened to take Duke to the vet for euthanasia. Earlier on I had been shown a photograph of the animal and I had said previously on the phone: "no way - that dog is the most incredible specimen of a dog I have yet seen". Indeed he was. Over a month or so the deal worked out and I obtained a brick wall for my troubles. In the meantime, I found that Duke could live happily in my house alongside our dogs. Toos, my little Border terrier left Duke alone and Duke left Toos alone. Perko, my Rottweiler bitch, came to be Duke's mom. She bossed him about from the very beginning.

Now an English Staffordshire Bull Terrier is a recognised breed in the UK. There are paintings showing them back in the old days keeping the bull in check at country fairs. They were bred to be the game keeper's guard dog and the herder of the bull. As such the breed is fearless of animals but obedient to man. The breed is a relative of the English Bulldog but a lot lighter in stature and is also more agile and more energetic. It is also uncontrollably boisterous. I forgot to mention that this breed of dog has: ' a very muscular body supporting a massive head, a large tooth filled mouth and the neck of a mature python'. In fact the old fashioned Staffie is probably the foundation stock of the American Pit Bull Terrier but I did not know that at the time. I had been told he was a Staffie and it suited my purpose to carry on believing that description. A couple of years later, HM Government brought in the Dangerous Dogs Act and Duke and his breed suddenly became infamous. He was indeed 'one of them' as the front page of the gutter press was often keen to show.

After acquiring him I had placed a few adverts and had made a few home visits. Over a couple of months, I did not find a suitable home for him and the trouble was that I was getting fond of him. Then came the incident which led me to make a fateful decision.

Our house which offered magnificent views over 40 miles was located on a steep hillside. At the top end there was a patio but several levels down, some 50 feet below was the fence which closed off the woodland area of the garden. Up in the garage Duke had found a used tyre. Duke had dragged one out of the garage and had brought it round to the back garden. It was his best toy and he would run around carrying it in his mouth. One day when I was trying to get it off him, it came free and rolled down the slope into the stinging nettles at the bottom of the formal garden. Duke immediately charged off down after the tyre by jumping from level down to level in an amazingly exhibition of agility. The tyre only just beat him to the boundary fence. Duke sniffed around, found the tyre in the stinging nettles, picked it up in his mouth, held it out horizontally and climbed back up the hill. Most dogs can't lift a tyre let alone hold it horizontally. Once back at the top of the slope, Duke banged my leg with his toy. With difficulty I took it off him and then I deliberately rolled it down the hill again. Off flew Duke and back up came the tyre. He puffed a bit but the time taken was little more than for the first retrieval. To him this was a good game. So I did it again and off he went and back up came the tyre. The Boy was beginning to puff. So I did it again and guess what; back came the tyre and yet again my leg was bashed with the tyre which was still being clamped between his jaws. Few grown fit men, even by carrying the tyre with two hands, could have matched this feat of strength and stamina. The steep slope alone would have beaten them. It would have been cruel of me to send this game dog down the hill yet again. So this time, I tied the tyre up to a tree and it became, from then onwards, Duke's worry bead. Some folks need stress relievers and Duke needed a rubber tyre on which to tug, to chew and to tug on. Mother Nature had given him too much energy for any one dog to use up.

Suddenly I saw this creature in a new light. Game active dogs like him aren't found under gooseberry bushes and I should keep him. So I did look after him for many years. He got me into scrapes; he did some terrible things but he became the apple of my eye. I truly believe that if he had not found me, then he would not have made it into old age. In this modern world gamekeepers don't need canine guardians and cows are serviced by needles rather than bulls.

It is the human that has changed the rules of society, not the canine.
---
Last edited by xxBarry Godden; 05-02-2012 at

05:07 PM

.
There's a pit mix next door to me that concerns me because it wanders... lovely lovely dog, but he's entire, uncontained, and of a breed that is now synonymous with dog fighting.

Now, I wouldn't be bothered by this fact, except that my dog is a real hunter. I suspect she has strong ridgeback influence in her breeding (she is a mix, but I think her mum was ridgeback/mastiff and know nothing about her dad except that he must have been fairly smallish, as she herself is not a large dog), and the ridgeback breed was bred to hunt lions. She hunts everything from locusts to skinks, the neighbour's sheep, my horses...

...a hunting dog and a fighting dog together is not a good mix. On their own, they might be lovely, but two is a pack and that pack mentality is a dangerous thing.

I love pitbulls, AmBulldogs, staffies, you name it. I just don't like the idea of a fighting-breed dog in company with my hunting-breed girl.

Oh, by the way - I want an AmBulldog, or a Dane. Or a GS but only one that's had hip tests done. But my hunter will be long gone before I get another hunting-bred dog, and longer gone before I get a fighting-breed dog.
---
REGAL PRINCESS
And a photo of my girl, what do you guys think? Do you think I'm right? Ridgeback/mastiff/something smaller? I think she got the ridgeback build, the mastiff excess skin, and the size of something else...
---
REGAL PRINCESS