Awwe!
I just named that rat!
Sorry that he has to be put to sleep :(
Quote:
Originally Posted by
1dog3cats17rodents
View Post
Sorry, but I agree whipple. If you can't pay the bills, don't get the pet. At one point, I paid $400 in two months, and then the rat still needed to be put to sleep. I did not get another pet untill I had the money saved upagain, and I worked at odd jobs to keep a vet fund going for the other 12 I had at the time.
I'm going to assume you dont know the situation. I had got the rat as a feeder. I decided I could not use him as a feeder and ended up keeping him as a pet instead. I couldve tried finding a new home, but hes big, and he bites and if I posted on craigslist or kijiji someone would end up taking him as a feeder (I do not have time nor resouces to be checking out every possible home). I do have a savings but it is currently being used for rent. No savings, no rent, healthy rat, needs to be put down anyhow cuz we have no home.
I did not get him as a pet. That was never my intention. If I am going to get a pet I am going to have money for emergencies. WHICH I DID. But it is now being used for rent. Is this clear? Because it seems as though people think I went out and got this cute little rat for a pet and had no intention on keeping him healthy. Which is not the case.
He is going to a new home anyhow. I have found someone who doesnt care he bites, and they are willing to cover his vet fees and get him neutered. So Yogurt should be fine.
Here is a rat cage calculator for your use:
Ratty Corner Cage Calculator
Rats need at least 2ft of cubic space to be comfortable. I have 5 female ratties, one of which I just recently rescued.
If you can afford it, the BEST cage to get is a critter nation cage. I have the ferret nation cage - the only difference between the critter nation and the ferret nation is the spacing on the bars. The FN has 1" spacing (which is too large for little babies and small females) while the CN has 1/2" spacing. I had my FN before the CN came out. I'm very jealous to those who have it!
Now that I have time to post some piccies...
I used to have a ferret nation, but I HATED it! I couldn't use fleece because my newbie destroyed it so it was a mess. It was big and bulky, hard to decorate, and the mesh I used to cover it made it hard to wipe off.
I now have a Martin's cages New Englander 411 and I love it. It's big enough for 11, but I have three spoiled little girls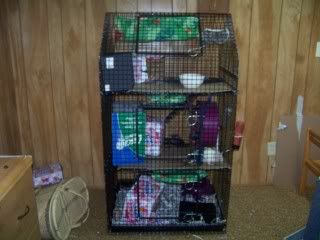 I have Pumpkin, my little doggie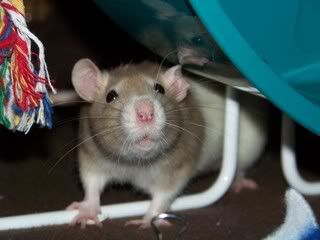 Cecile, her sister
Big Girlie, she doesn't like people, but we've come to an understanding