I talked tot he girl at the petstore (PetSmart) and she told me when I get my second rat that when you introduce them you need to do it on common ground, like in a bath tub or somewhere but NOT in his current home so that he is not dominant... I havent found a second one yet. When they sold me the first one they did not tell me he should have a friend. I actually had gone to get a guinea pig and they talked me into the rat instead...
---
"Be a best friend, tell the truth, and overuse I love you
Go to work, do your best, don't outsmart your common sense
Never let your prayin knees get lazy
And love like crazy"
I plan on doing that. But Yogurts head is getting weird. He's going crooked. I had that happen to a former rat of mine, Ethel. She was fine, just crooked. I think it's an old age thing.
So because he is not as able to run and jump and such I am trying to find an older rat, and not a baby that will drive him nuts. Its not easy though. I could go to a pet store, but I'd rather rescue.
The crooked head is a sign of an infection. If you catch it early, anitbiotics should help. The infection can be deadly, so I'd recommend vet ASAP! That also means you should wait on introducing a new rat.

Did I mention he's a cutie? I LOVE albinos!
I don't think he's very albino. You can't see it well in the picture, but he has pigmentation at the points.

I would love to take him to the vet, but I can't afford (yes I have checked everywhere i can possibly travel) the fee for the visit. The antibiotics I can afford though. I will see what I can do about it. Thank you so much, I had another rat have this happen and I had no idea. She was given to a friend before I found out and seemed to be fine for a few more months before she died. She was over 2 yrs at the point.

Anyhow, I'll see what I can do about getting antibiotics. Thanks!
Yours is adorable, I love the name Yogurt.
We just lost our Aroura to Phnomnia. She pretty much suffocated to death. No vet would help her - the poor thing. We had to watch her die. Rats are very prone to lung infections - so keep an eye out for that.
Be very careful to keep Yogurt out of any drafts. Make sure he gets vitamin/mineral drops in his water.
Lots of social time too :) Get him a large wheel - those huge plastic wheels you can get from PetSmart - my other rat Eclipse runs on hers continuously.
Aroura is on the left and Eclipse is on the right: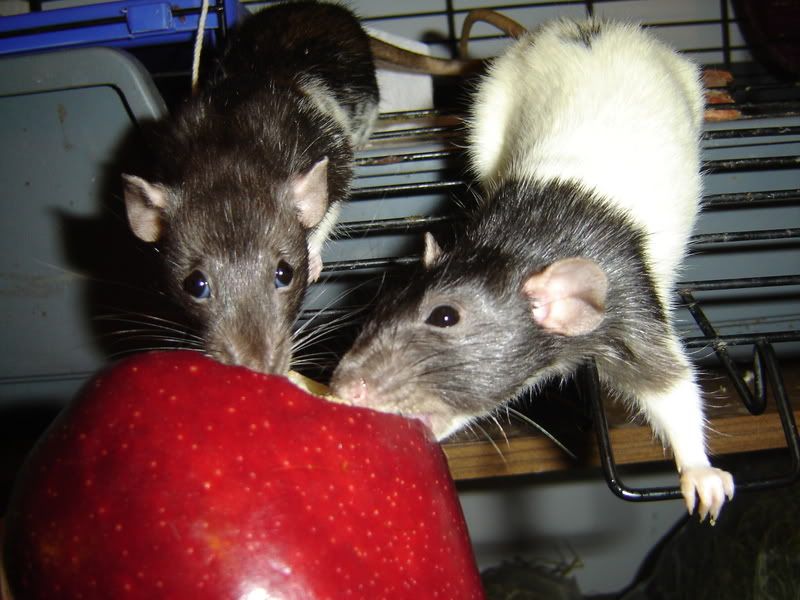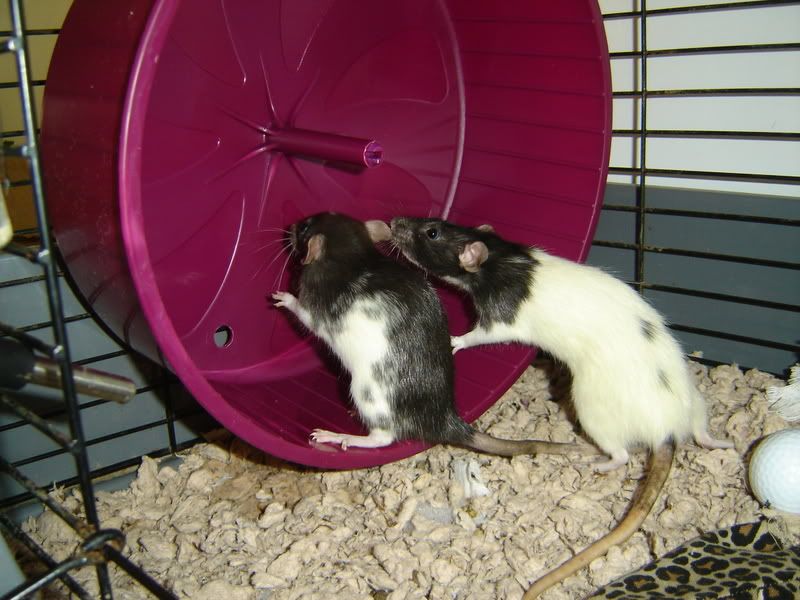 Eclipse is alone now, but we wont get another rat because it is too hard to say goodbye when they go.
Eclipse lives on Hubby's shoulder now that Aroura is gone.
Thats the exact same wheel Yogurt has, only his is blue.
Hopefully I can convince someone to give me a ride into Toronto and I can pick up a rat friend at the humane society for him. Otherwise he's gonna be alone for a bit longer.
HEY! My new one is blue. The burgundy one in the picture, they ended up chewing the knob part that keeps the wheel onto the turn table, off, so we had to get a new one to replace it.
Similar Threads
Thread
Thread Starter
Forum
Replies
Last Post
names!!!!!

morganshow11

Horse Breeds

4

12-23-2008

04:51 PM

what are the names?

Gingerrrrr

Horse Tack and Equipment

7

10-17-2008

03:01 PM

Names

HrsGrl323

Horse Talk

18

04-09-2008

12:07 AM

Names, again

.A.j.

Horse Talk

1

02-01-2008

12:34 PM

Names Again!

horse_luver4e

Horse Breeds

7

08-16-2007

08:51 PM