RIP Kelsey.
---
7/28/08 we had to put my dog down.
She was 15 years old, her kidneys were failing. I didn't want her to suffer and there wasn't anything the vet could do. So we said goodbye.
I'm so upset about this.....we got her as a puppy when I was one year old. I've grown up with her. I can't believe shes really gone. Ever corner I expect her to be there. but shes not. she'll never be there again. I know shes not suffering and shes happy now. It was her time and she lived a long happy life. Even knowing all that i still want her back to hold her once more, and its still very hard.
RIP Kelsey.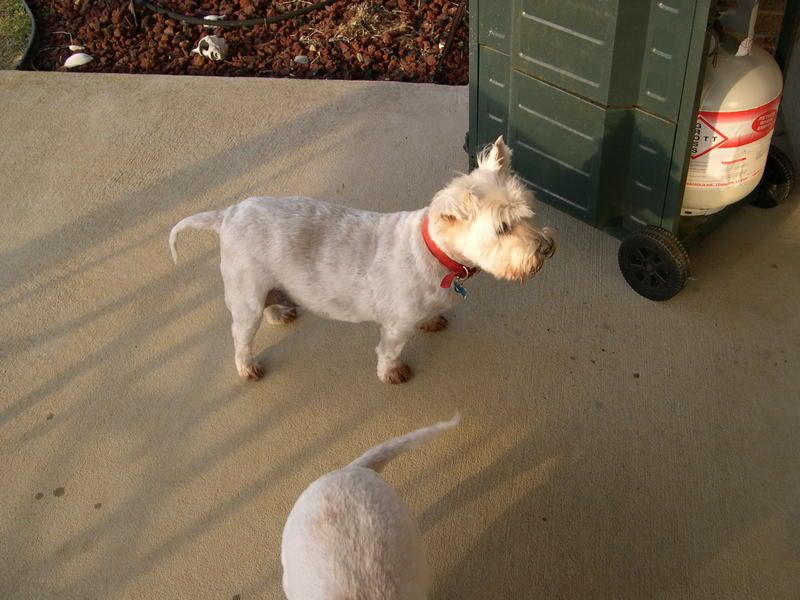 Kelsey is on the left
kelsey and Shelly, Kelsey is Shelly's mom.
Shelly isn't doing too well either...she keeps looking for her.
Kelsey is on the right.
Kelsey was not fat in anyway. She was just a big boned westie. Before we put her down, she lost a lot of weight. and her stomach was still just as big...but her hips were starting to stick out. Her weight was normal. She just looked big.
aww she's adorable!

so sad she had to go :(

rest in peace kelsey!
i totally feel the same. My dog Sheba that I had ever since she was 4weeks old finally dies about a year ago and she was 13. But i can promise it does get easier, and having another dog that was close to Kelsey will help.
---
"The horse you get off is not the same as the horse you got on; it is your job as a rider to ensure that as often as possible the change is for the better."
So sorry for your loss. It will get easier, it just takes time.
---
Stella - sweet, timid, elegant, lovely, lively, amazing
Luna - large, unattractive, naughty, adored

Awwh Stephh. <33 I know EXACTLY how you feel. My parents purchased a golden retriever, Lady, when I was one year old. Like you. She died 2 years ago at the age of 12. I miss her soo much. She was bred for obedience and man, that dog was definitely the perfect dog. She wouldn't do anything wrong. I love her and I miss her SO much. No dog can EVER replace her. I love Ginger with all my heart, but she's the naughtiest little sucker. Lady was perfect. And such a lady.

Hang in there. <33
---
Valerie
Ruby - Appendix QH - my life
Foal
Join Date: Jul 2008
Location: With her head in the clouds, just remembering.
Posts: 66
• Horses: 0
awww Steph I'm so sorry! I know how hard this is. Hang in there. I'm always here if you need to chat. <3

RIP Kelsey
---
<33Lauren and Gracie
"Why waste your short childhood life trying to be grown up?" -Jessica Forsyth, the girl who changed my life for the better<3
RIP Jessica Marie Forsyth, forever in my heart<3 best friends forever<333
awwww im soooo sorry to hear this she lived a long life for a dog

Rip :(
---
3 barrels , 2 hearts & 1 passion