Sad misconception?
---
I'm sure everyone has heard this at least once "horses terrify me!". You know, the people who assume that your over sized love bug is a giant man eater just waiting to stomp them to death. You wonder to yourself, how on earth could anyone be afraid of something that is so fascinating and beautiful? Yes, they can hurt you, and possibly kill you but so can dogs and cars.
I suppose that's my thoughts when it comes to tarantulas.
When you think of tarantulas, you squeal either because you think they are gross or just plain terrifying. What exactly is gross about them? They have 8 legs? Because their so large? The fangs?
Which is more terrifying, a 6" spider from a 6' persons point of view, or a 6' person from a 6" spiders point of view? LOL
A tarantulas venom, although it can be very potent in some species, is kind of like being stung by a bee. Granted, it hurts like heck when it happens, it may burn and swell but in a day your back to normal.
Lol they arn't looking for a way to attack you, much like your horse, but if you do something to scare it or something just plain stupid, then survival kicks in and your likely to get bit (or kicked or run down by a horse).
So anyway, these were once my babies. These are some of the better pics that I had taken. Really this is just a thread to show the pictures but I suppose after having owned them, I just dont understand peoples fear of them anymore.
I actually purchased a 6" tarantula as my first spider just to get over my fear. You think differently when something depends on you for life. Granted I had 6 clips on the cage and a cinder block because I was SOO terrified it might get out. After a couple of weeks of just watching it, feeding it, and watering it, you kind of realize that they arn't as scary as everyone tries to imprint into you. After you get over your fear, you think back and kind of laugh that you were THAT afraid of a bug!
Anyway, enough of that..here are some of my pictures =D. I unfortunately lost quite a few on my old computer =*(.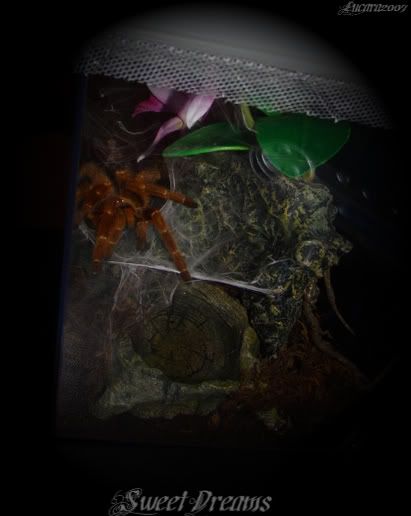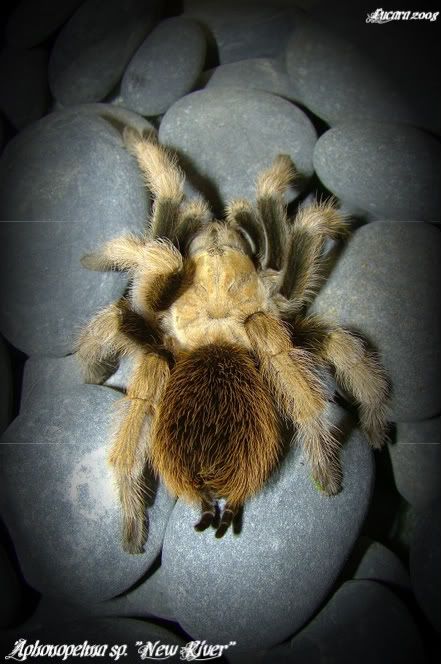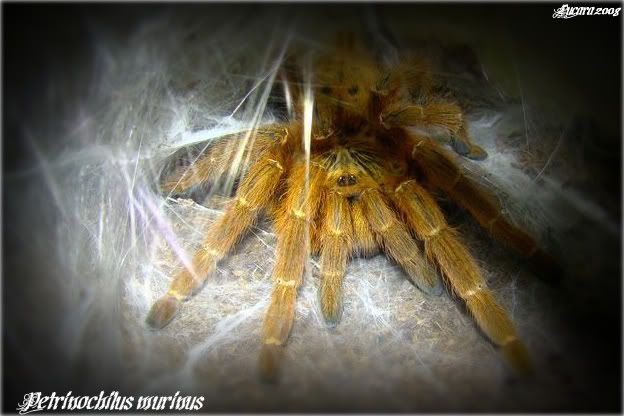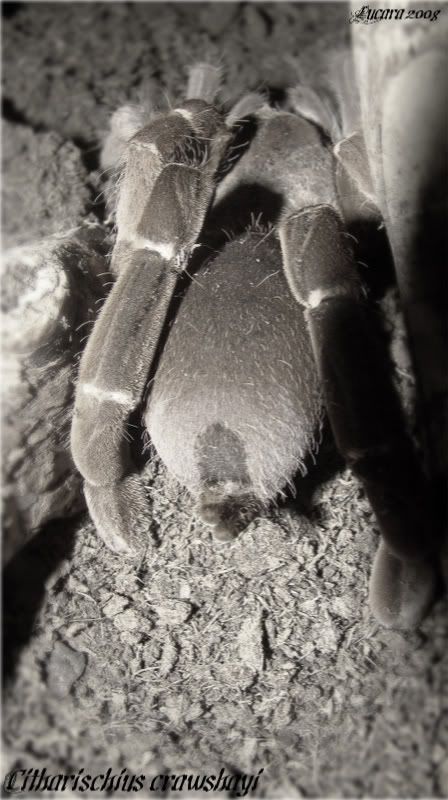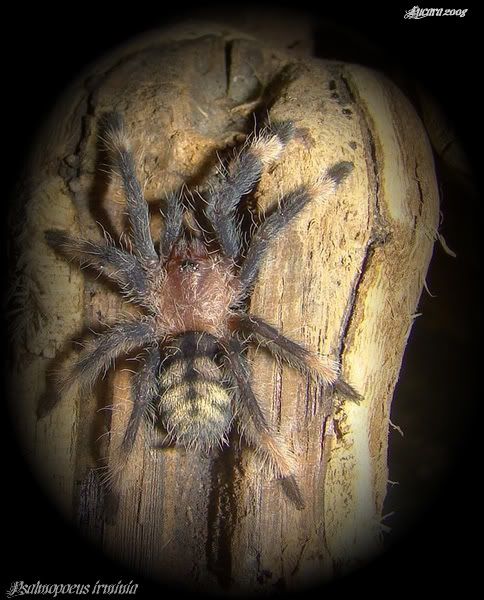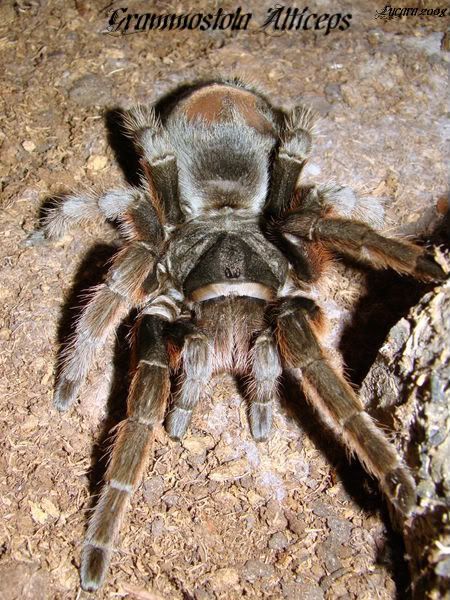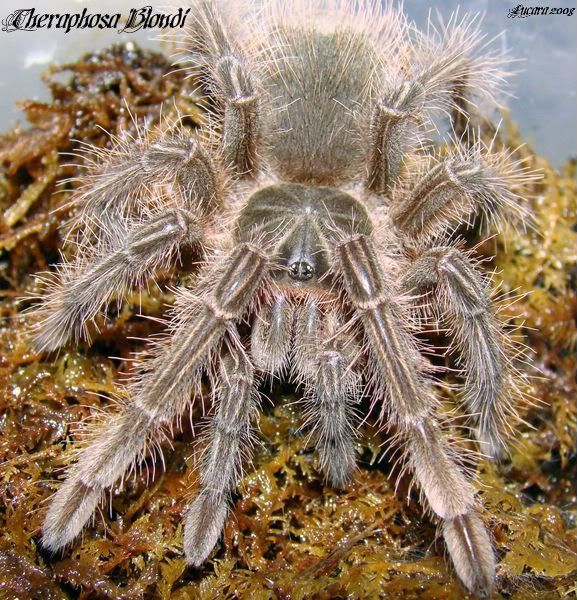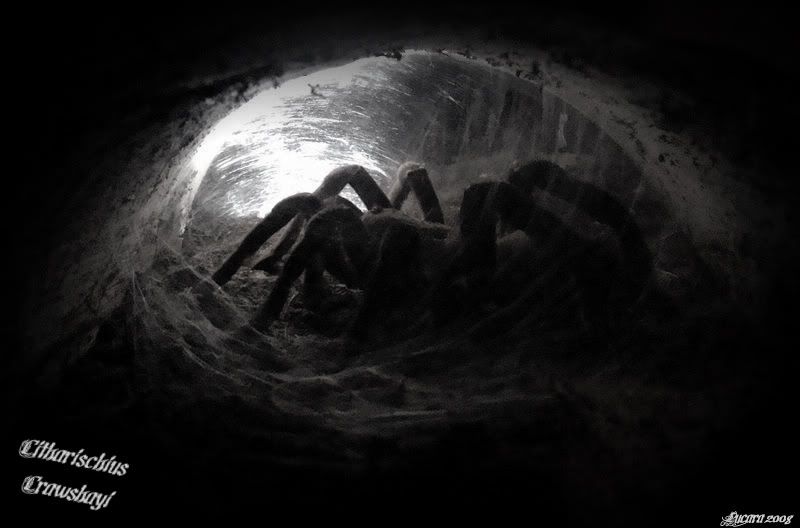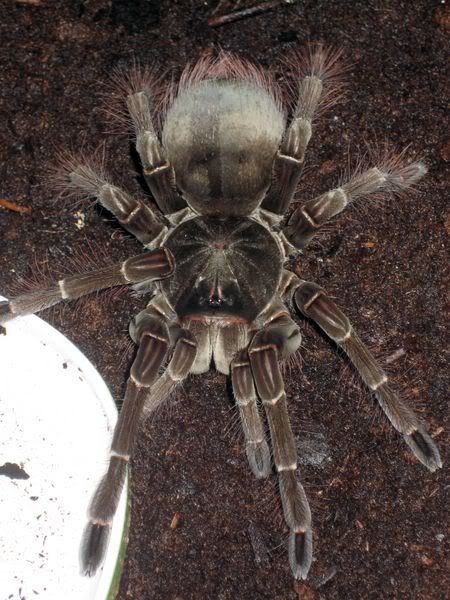 ---
Last edited by Lucara; 02-01-2009 at

10:47 AM

.
For a serious size difference.
Something this size
Can up being this size
They also change colors!
The Pumpkin baby coloring:
To a chocolatey brown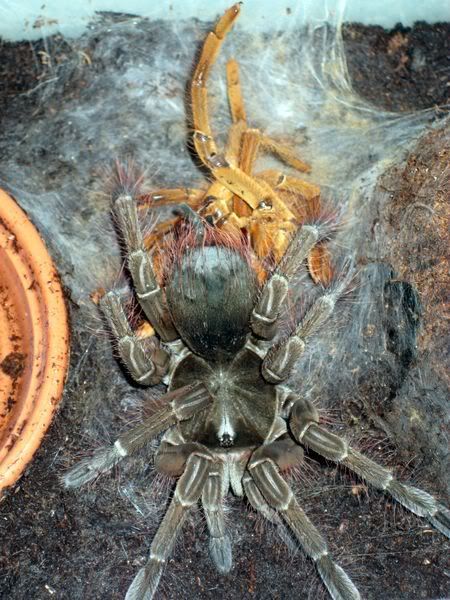 Threat poses.
Threat posing is a way for tarantulas to make themselves seem larger. If a predator were to come after them, they would raise themselves up, spread their legs out and try to seem more intimidating. Some species can even hiss (this took me QUITE a while to get used to). The threat pose is their final way of telling you to BACK OFF. Much like when a horse pins his ears and swings his butt at you!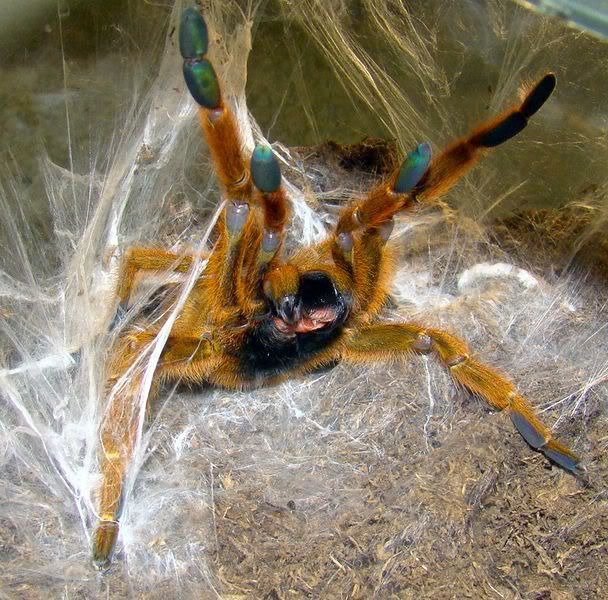 They eat and drink! =D Dinner time is always fun. =D Tarantulas will eat most instects and often other tarantulas in the wild. =D I just feed my crickets or roaches for the larger ones.
Drinking! The only tarantula I actually caught in the water dish!
Dinner time!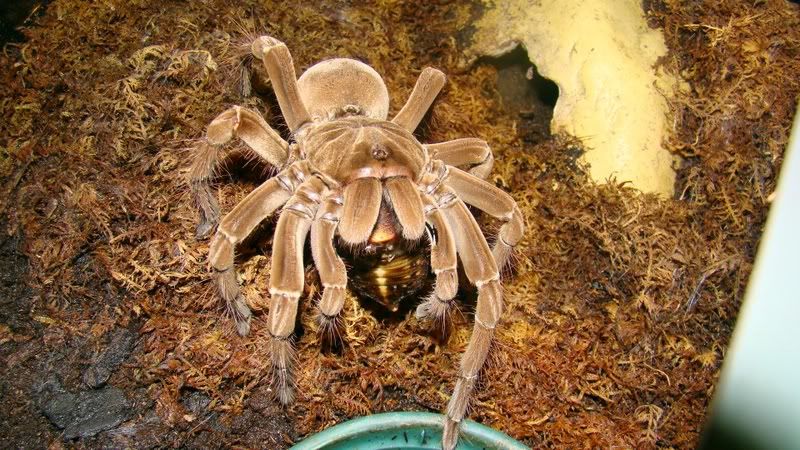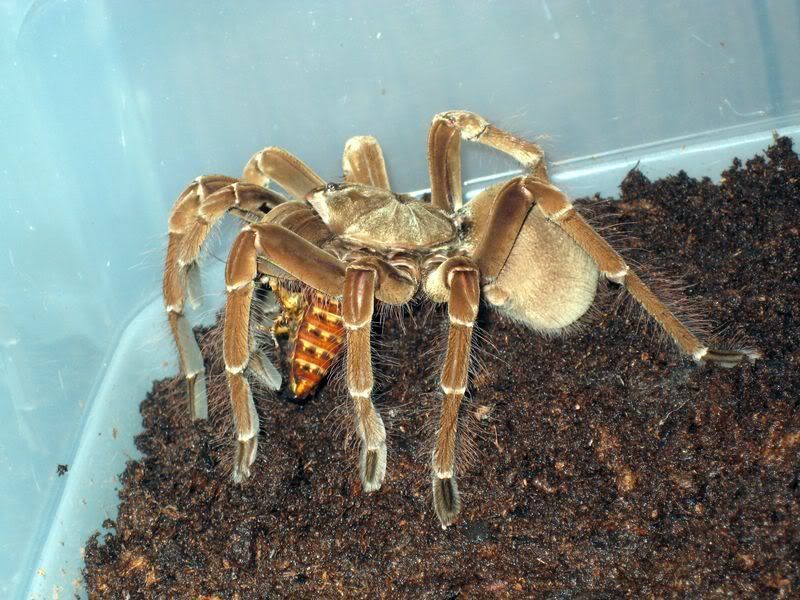 Molting:
Lets not forget molting! In order for a snake, or spider to get larger, they must first shed their outer skin. I honestly wonder how they fit in there since some tarantulas can grow a massive 2-3" with each molt!
Tarantulas will naturally build a web and flip themselves over to molt. THEY ARN'T DEAD!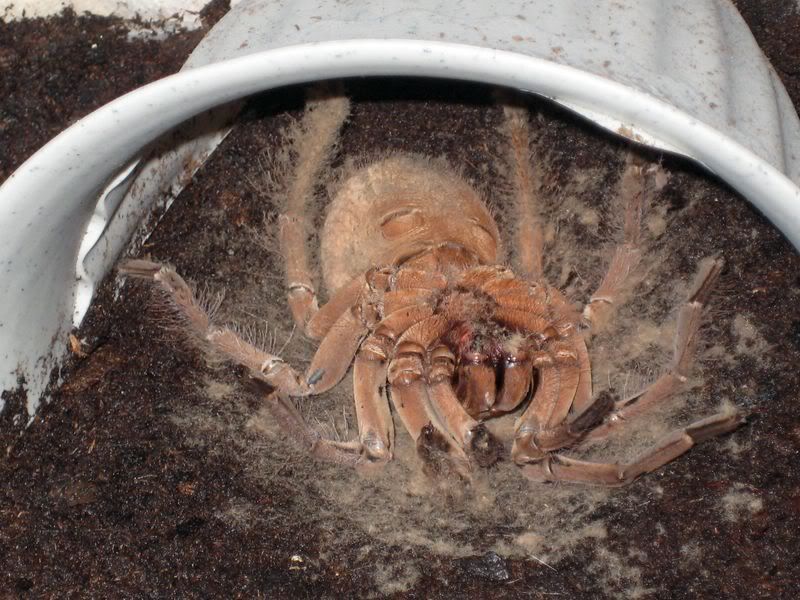 Then they have to slowly push the old skin off. This can take anywhere from just a few minutes to over 5hours depending on their size.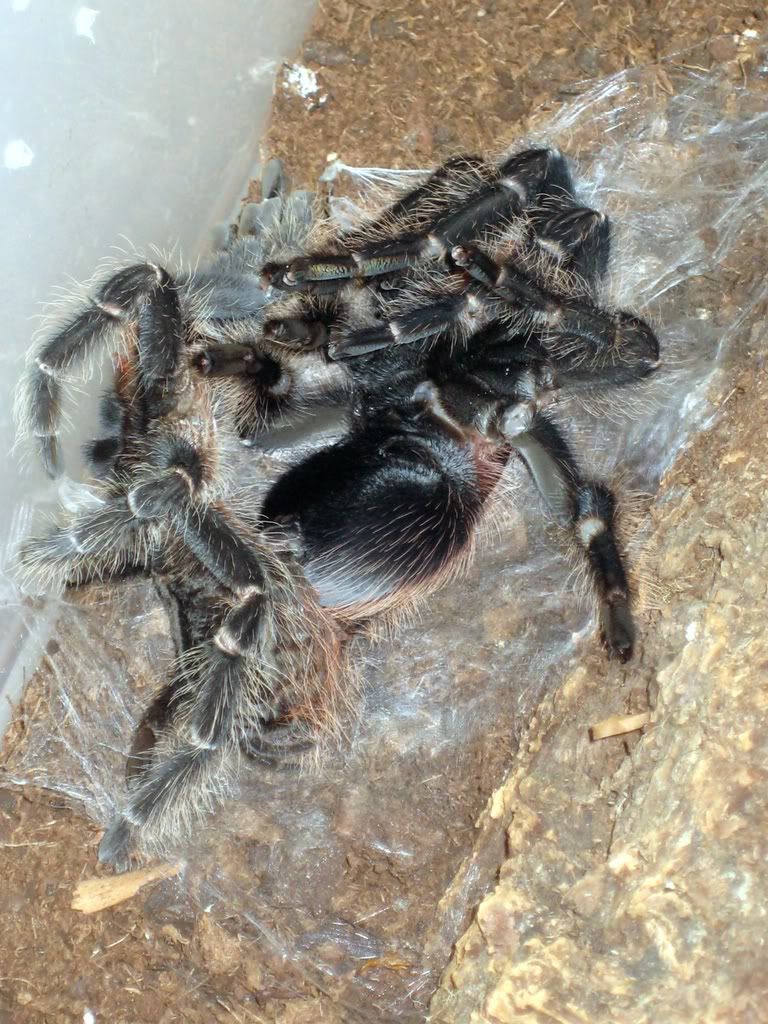 After which they will lay on their backs for a while in order to gain strength. They are extremely weak and fragile to the point of where they can barely even walk. It is important to never touch or disturb them for at least a day until they have had enough to time harden back up.
Notice the white fangs? They wont eat again until they harden and turn back to black.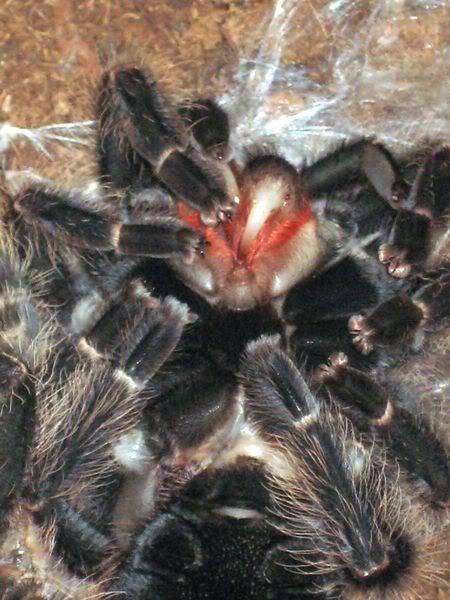 You can go from a scuzzy, scuffed up brown: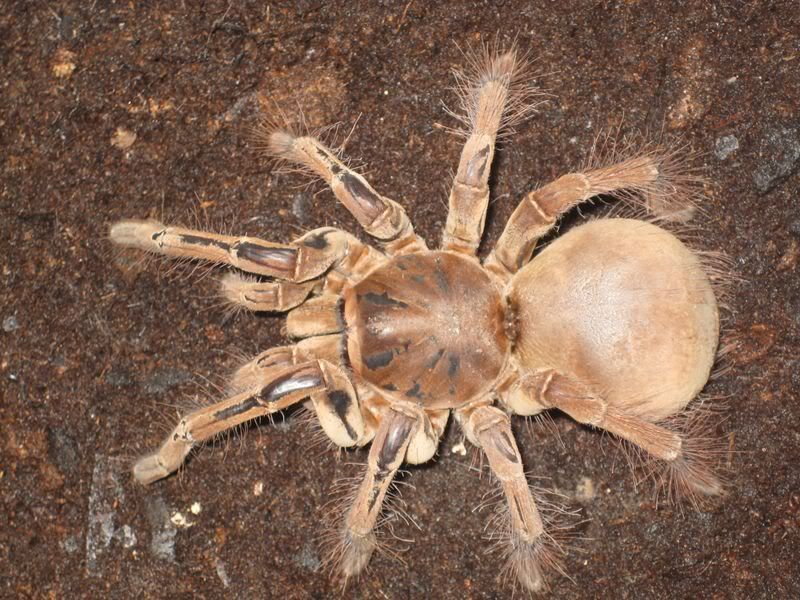 To an almost velvety black =D (I was so proud of this girl! She was my favorite)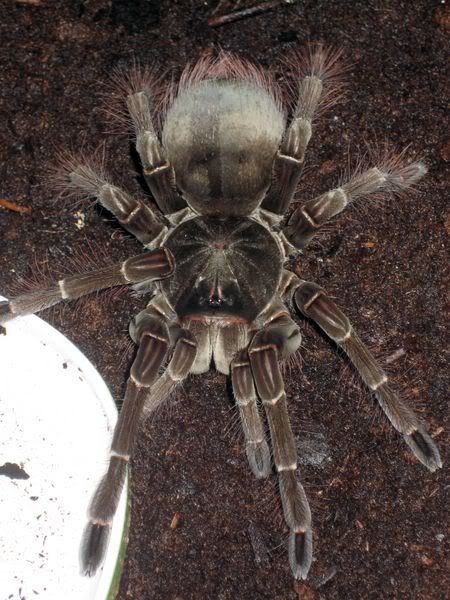 Thank-you Lucara, I always love learning something new, even if it creeps me out
. I guess it's just human nature to fear what you don't understand. They are very fascinating aren't they.
I love tarantulas :) We get them on our property in the fall and I love to talk to them haha ;) Hubby's afraid of them though ;)
Those are beautiful. I doubt I'd ever own one, but I'd love to see them in person again (the last time I was around 10 yrs old and scared of nothing!)
Hehe I'm glad I'm not the only one who likes them!
This is the one I REALLY want to get. Its a Poecilotheria rufilata. =D
I love how she looks like shes glaring at you! Isn't she wild looking?
I have to say that I have a HORRIBLE fear of spiders, so looking at this thread was extremely difficult for me! Just looking gave me the shivers, so this was a big step for me! I guess the reason I think they are gross is because they are pretty hideous, no offense. All those eyes, legs, and hair is just creepy and looks like something out of a science fiction movie. If I see a large spider, I FLIP out, and its just a reflex! I totally can't help it. For sure, they are fascinating, but I could never bring myself to own one as a pet. I'm that freaked out by them. I don't know if I'd even sleep at night! LOL!!! However, if some one else has them as a pet, I'll totally check it out through the glass and stuff. As long as I know that it can't "get" me. I sound like such a wuss. lol
---
~Katie

Mommy to Minnie, Lilly, and Tanner.
I think they are so awesome! I have always wanted to own one, my parents wont let me but when I move out in the near future I am definatly getting one. Can you handle them? Like pick them up and stuff?
---
♞ Horse Crazy. ☀ Animal Lover. ☺Jeremy Renner Obsessed. ✇ Photo Taker. ♫ Country Music Listener.
♥ Erotic Romance Reader. ✯ Witch.
Yep, people are deff afraid of what they don't understand. I don't understand spiders at all. I am okay with the non-poisonous and the non-fanged kinds but when you have a spider with bigger fangs than most rattlesnakes, that makes me nervous. I will stick with my cats, dogs, and horses. Thanks for sharing the pix though. I enjoy looking at them but don't want them anywhere near me.