Share your cats!!
---
You know those "Share your dog" threads? Well, here's one for the cats of the forum. :)
This is my guy, Booth.
He's currently about a year and 8 months old, and weighs 14 pounds (it's all muscle - terrifying).
I found him in the woods about a year and 7 months ago after he was dumped. He was 5 weeks old, alone, and in coyote invested woods. There's no way to know how long he was by himself but it was long enough for him to nearly starve to death. He didn't even weigh 5 ounces when I found him, poor baby!
He's crazy playful and VERY talkative. He even talks to himself.
Another funny thing about him, he sits and stand up on command. We're working on "Lay Down" but apparently laying down = playtime so it's a work in progress.
I'm pretty sure he has some Siamese blood (facial structure and talkative-ness!!) and obviously something longhaired, but there's no way to know for sure! He also has some of the roundest eyes I have ever seen, which is also interesting...
Less than a week after I found him, you can see how small he is compared to my hand! And I have pretty small hands!
Nowadays:
This is often what I come home to - "Hey, how's it going??"
He's a VERY playful guy. And he likes to spend the majority of his time on his back...in case you were wondering.
Share your kitties!!
---
Fabio - 13 year old Arabian/Lipizzan gelding

~
Rest peacefully, Lacey.

---
Here's a few of my kitties. First is Garrison he's my baby and will be 9 next year.
Garrison.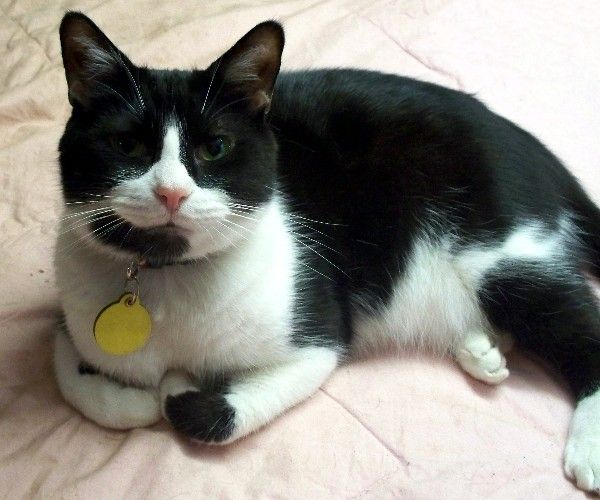 Morris, he's a rescue came to me skin and bones now he's fat and healthy.
Frank. He's 5.
Eddie, he's 10.
Mo aka Eddie jr. He's 3.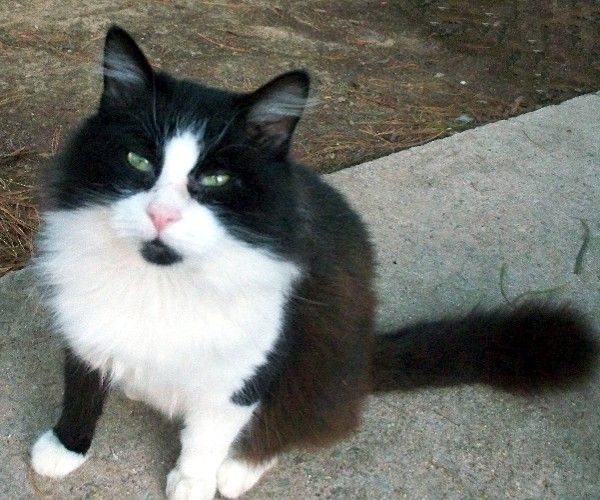 Tazz. Almost 1 year old.
Shadow. He'll be a year old next year.
---
Being horseless is the pits!!
---
Last edited by HorseLovinLady; 12-21-2011 at

04:47 AM

.
Green Broke
Join Date: Oct 2009
Location: Witbank, South Africa
Posts: 2,681
• Horses:
2
This is my 5 year old kitty Socks :) She wasn't very impressed with me the day I took these
SDC13998.jpg
SDC14010.jpg
---
Every girl wants their own LOVE STORY, I found mine... :)
We have Miley. A Cornish Rex we bought cheap due to her lack of hair :) Her full sister same litter was a show cat! Now I really like the lack of hair look lol..
Ours is a year old now, and living on the edge he's so rotten. (no worries, I've got his back, he's safe :) )
Green Broke
Join Date: Oct 2009
Location: Witbank, South Africa
Posts: 2,681
• Horses:
2
Gorgeous cats everyone. You gotta love them, they all have such unique and hilarious characters :)
---
Every girl wants their own LOVE STORY, I found mine... :)
This is our kitty Mickey we named her that cause of the M on her head it reminded us of the golden arches at McDonalds. We have alot of stray cats around our house and she was one of their kittens. When we first saw her she was hanging out at our neighbours house and I feel in love with her. She was friendly and would come to us and the neighbours told us to take her if we wanted her so we did one less stray. We had her vet checked, spayed, shots, ect and she is now a indoor cat fat and happy. She is kind of a b**** now she will come lay on your lap, but will bite if you pet her longer then 3 seconds, but we love her. Here are some pictures of her the first being when we first got her.
First day we got Mickey
And this is her today
subbing :) this will remind me to do this later :) pretty kittens/cats everyone
Okay, I have a LIST! Here we go!
Timmy-
Zuzu-
Timmy and Zuzu together. They are brother and sister.
Ava as a baby-
All grown up-
Zeus-
Mini-
Pagan-
and then the black and white is Jynx, and there are three new kittens that I don't have pics on this computer of. YOu can see one of them with Zeus in the last pic, though.
---
Proud owner of ~Mana: 6yo Arabian gelding~Pearl 13yo Arabian~Danzer 14yo Arabian mare~ Tiny mini filly
This is my Sam.
---
I am Sparkly Meanie Doodie Head and I approve this message!
Similar Threads
Thread
Thread Starter
Forum
Replies
Last Post
My cats are all annoying!

Citrus

Other Pets

15

04-26-2011

02:05 AM

Outside cats

NyHorseGal

Other Pets

1

08-31-2009

05:59 PM

Lol Cats

RedHawk

Jokes and Funnies

17

07-07-2009

11:03 PM

Bathing cats?

JustDressageIt

Other Pets

2

10-25-2008

10:31 PM

cats

holly787

Horse Artwork

2

01-30-2008

01:16 PM