Wanted To Share :)
---
OMMFG YAY!
I got an email 2 days ago from the lady that bought my Catelina Macaw, Sam, from me last February reading:
"Hi shay la …….could you call me at work tomorrow ….*her # here*…….I might have to find sam a new home ……so I need to talk to you ok . Please don't call the house .
Thank you
kelly"
8O
I sold Sam last Feb because I'd come to a rough patch with my long time boyfriend and had to suddenly move...my only option was to sell her. I found a lady that seemed to care and was willing to sign a contract that gave me first option to buy her back if things didn't work out. I didn't WANT to sell Sam...anyway, I'm just happy she called me first, proved not everyone ignores the honor system.
I emailed her back that night and she asked me to call her at work, so I did and she explained she was seperating from her husband and much like my original situation, was unable to take Sam. It was heart wrenching...she wasn't selling Sam back because she didn't want her or anything - broken home. So I hinted that I could have a truck there the next day to come pick her up and the plan was set, although she'd mentioned the weekend, I didn't want to wait!
So I called her around when she was getting off work to confirm and we headed over around 9 tonight! I was scared she'd bail like Cinder's owner did, but I found her home # in an old email and vaguely remembered where she lived so we set off. 1/4 of the way there she answered the home phone and all was good, got her address and carried on. First I hugged her and thanked her for honoring our contract. Felt sad taking Sam back, but the lady's other macaw, Emily, is to her what Sam is to me. Beautiful bird but loud and NEVER had her nails/beak trimmed in like 8-9 years. Anyway, Moki (bless her - BESTEST best friend ever) helped me cart the awkward cage down the lady's dark, winding stairs and take it and Sam out to the farm.
The farm's not IDEAL, but we plan to buy something in 6-ish months. My old room at the farm is clean and has room for her so that's "Sam's room" for now.
I find it ironic that for the last 3 months especially, I've mentioned a couple times that first thing on the to-do list after buying a house is to offer the lady double what she paid for Sam to give her back...this way was a little sooner, but half the price so making it work.
ANYWAY, Sam's safe at the farm :) Heading out after work tomorrow to do some stuff, ride, and visit Sam...still doesn't quite feel real! First thing on Sam's to-do list: trim her nails and beak since I was the last one to do it LAST January! Enjoy some old pictures of Sam, will have new ones this weekend!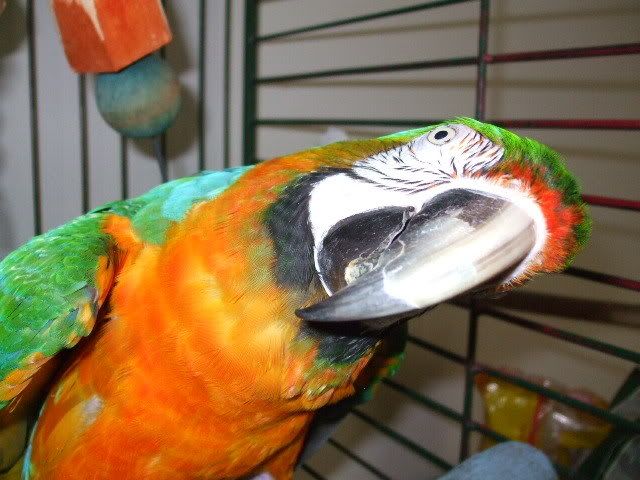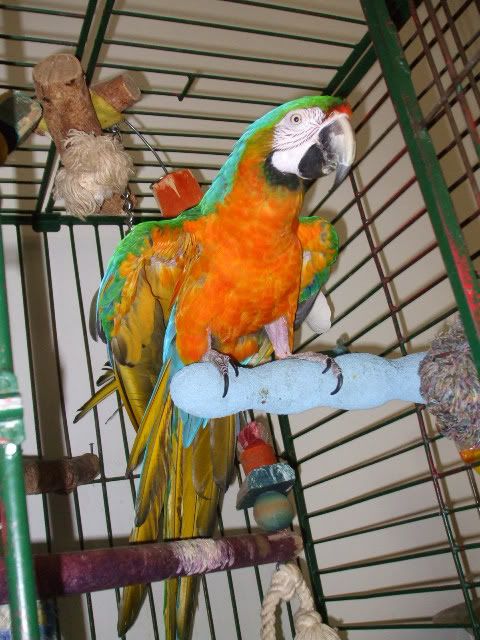 OMMFG YAY!
---
Never ride faster than your guardian angel can fly
haha I was reading that and thought you were talking about a horse for the whole of it untill you mentioned beautiful bird I was thinking not, then the pictures convinced me lol
I am a tad tired
He is a gorgeous bird BTW
---
http://www.horseforum.com/member-jou...-story-257826/
Check out my blog on here
Green Broke
Join Date: Dec 2010
Location: At The End Of That Rainbow To Yer Left
Posts: 3,171
• Horses:
4
gorgeous bird and wonderful story
---
If you want a stable friendship, get a horse.
He's so cute, I've got a Quaker Parrot, but she's a biittt smaller
Thanks! So happy to have her back...I didn't really have an option last year, and no time to hunt for a place that would accept her. I was ecstatic the lady contacted me first - I've had the honor system bite me before, not many value it anymore! The lady KNEW how much I love Sam though and just wanted stability for her, and a new owner might not give her that.

Sam is a good girl, awesome bird, but kinda cranky and only really likes a handful of people. :) Quakers are ADORABLE! I find the smaller the bird, the more shrill the screech! I'm ok with Sam's honk LOL!
---
Never ride faster than your guardian angel can fly