What kinda kitty?
---
I think the kitty my mom brought home is a Bengal. He Fits the discription perfectly. And he fits the personality description as well. What do yall think?
Head:
Rather large with rounded contours. Slightly longer than wide. Gently curves from forehead to bridge. High, prominent cheekbones. Full, broad muzzle. Large, broad nose with very slight concave curve. Pronounced jaws.
Eyes:
Large, oval, set wide apart, slanting slightly up toward the base of the ear. All colors permissible except blue and aquamarine. Blue in Seal Lynx Point Blues; yellow to green in Brown Tabbies; Blue-green in Seal Mink Tabbies.
Neck:
Long, thick, muscular, and powerful. Length in proportion to body.
Body:
Long, large, and powerful, but not oriental. Robust bone structure and powerful musculature.
Paw:
Medium in length, slightly longer in the back than in front. Strong, substantial bone structure. Large, round paws. Black pads.
Tail:
Medium in length, thick, tapering to a rounded tip.
Coat:
Short and fine. Thick, luxurious, and unusually soft to the touch. Colors and patterns include: - Spotted Tabby, with spots being black, chocolate, or cinnamon in color. Orange ground color is preferred. Black horizontal shoulder streaks and rings on the tail, with the tip being black. - Marbled Tabby, with broad oyster shell pattern on the flanks and butterfly markings at the shoulders. The coat of the "Snow Leopard" is white with spots and marbling ranging from red to black; blue eyes.
Fault:
Spots on body running together and forming stripes. Absence of black on tip of tail. Belly not spotted. Pink pads, or pads not all of the same color.
Strong, bold chin strap and mascara markings desirable. Necklaces can be broken or
unbroken. Belly must be patterned. Virtually white underside and belly highly desired.
This picture is not my cat, it is a bengal though.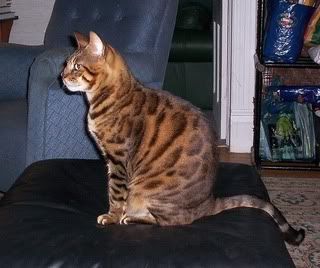 These pictures are my kitty. Could he be a bengal?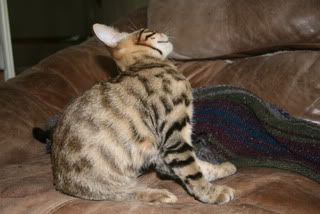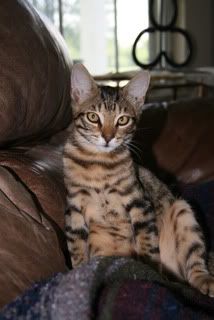 Sorry for the pic overload. But I wanted to make sure yall got all veiws.
---
When In Doubt Let Your Horse Do The Thinkin
Quote:
Originally Posted by spookychick13
What Lone said.
Similar Threads
Thread
Thread Starter
Forum
Replies
Last Post
New kitty needs a name!

Britt

General Off Topic Discussion

7

05-11-2009

11:59 AM

Poor kitty

WildHeartsCantBeBroken

Other Pets

1

02-13-2009

02:57 PM

My Kitty Kitty

sweetncute732

Horse Pictures

6

06-05-2008

07:13 PM

Kitty.

neigh

Horse Pictures

1

05-22-2007

04:05 PM

Kitty

smart_slider

Horse Pictures

2

01-30-2007

03:03 PM