I guess I would have to say that the strangest pet I've ever owned was a paralyzed mouse. I had him for almost two years before he died. I used to take him out of his cage and let him drag himself in circles on the floor for exercise. I think he loved me a lot because he never ran away (or maybe it was because he couldn't run away, since he was paralyzed... idk).
Quote:
omg appy luvr i wanna see the sphynx kitties!! i've always wanted a sphynx! xD
As requested, my girls Luna and Leia!
Praying mantis....Not the common chinese ones either, they were some teeny exotic things. Their latin name escapes me at the moment. More recently discovered, they didnt have a common name yet. Those were AWESOME! They ate fruit flies when full grown....
Grow a frog. A baby frog would come in the mail and they lived in a tank like fish. They were really gross and bred like no tomorrow. They eventually died but man, they were weird.
I also had a rat but I guess that's not strange anymore.
50 spiders? I run out of the room if there's one.
I don't that I have owned anything crazy. I have owned mice, guinea pigs, hamsters, bunnies. I've owned miniature horses, ponies, horses. We had cows to. Years ago we also had this turkey, chickens, dogs.
We have had all sorts of things
Although I've had the typical python or other exotic pet, I plan on getting a pair of "fainting goats" this spring:


The video is an example of fainting goads - not the ones I have on order - not exotic exactly but certainly different and amusing.
---
I'm not arguing with you, I'm just explaining why I'm right.

Nothing sucks more than that moment during an argument when you realize you're wrong.

It's not always what you say but what they hear.

I've had a ferret, rats, and several African Water Frogs.

The frogs were interesting, but unless you buy dwarfs, you have to keep getting a bigger tank for them because they grow like weeds.

They can also live anywhere from 10 to 15 years, although mine only lived to about 8.

I also had a goldfish who got MASSIVE and took up most of a 10 gallon aquarium. I had him almost 10 years.
Pigeons always find a way to me, I had a set of two I found as babies in a bucket by tennis courts. My mom, brother and aunt were playing tennis and didn't believe me when I said there were pigeons in a bucket!
We took them home, let them grow up then set them free.
Then we found our dearest Sally, one eyed pigeon with a tumor on her beak/between her eyes. My aunt found her under a tire...like ten+ years ago, she's still going strong!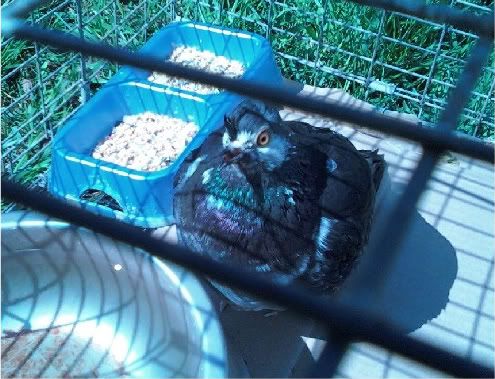 We had one, I can't remember if he was hurt or not but we eventually set him free, too. Then another one that was hurt, he got better and we set him free. Sally beat both of them up
---
passion is when you put more energy into something than is required to do it. it is more than just enthusiasm or excitement, passion is ambition that is materialized into action to put as much heart, mind, body and soul into something as is possible. // <3 starlite - dream - lady - georgia
Oh and I used to have toads when I was younger, I don't really know if those are strange though.
---
passion is when you put more energy into something than is required to do it. it is more than just enthusiasm or excitement, passion is ambition that is materialized into action to put as much heart, mind, body and soul into something as is possible. // <3 starlite - dream - lady - georgia