Birthday party suggestions for 6yo girl?
---
My daughter is turning 6 in less than 3 weeks - which means I need to plan a birthday party. She's been having parties at home for the last few years but now she wants to have it at one of the childrens play centers and in particular, the one all the kids from school are going to.
The price PER CHILD at these centers for a birthday party is €16
There are 15 girls in her class, about 5 boys she is friendly with, cousins and out of school friends - I'm looking at the guts of 30 kids she will be looking to invite - €480!! There is no way I can afford to pay that out for them to get to play in a ball bit and a few slides for 2 hours and eat some chicken nuggets and chips.
The last two years we hired in a clown/face painter. First year worked great, the clown was fantastic and the kids loved it. Second year it didn't hold their attention for longer than 10 min and even though from the same company, it was a bit of a disaster. I
could
bring the pony home for the day and let them ride, but don't want to as I don't trust the kids not to do something completely silly.
Suggestions would be very much appreciated, as I'm at a bit of a loss here.
---
Stop for a minute, open your mind, learn. You may not agree with what I say, I may not agree with what you say but we will both learn something new.
From what I've seen, parties escalate year to year. It can be quite a treadmill. At 6,I think a home party is still do-able.Games, cake & maybe ice cream. 30 kids-I would have other parents,a friend,or hire a teen-ager to help. Good luck!
At that age mine had a choice. Everyone they wanted to invite at home. Rented an inflatable bounce house, cake and piñata and party foods. For a party out you get 6 kids, their parents don't stay and no siblings unless the parent paid for them. Praise God for me my youngest is 9, she had two sleepover and we went to see Oz this past weekend. The son is 12 and he builds a fire in the yard and pitches a tent. The oldest is a teenage girl- who knows what they like, but I think this last time we took her and a friend to the movies and hibachi. It does get easier is what im saying.
Posted via Mobile Device
She has told me she was a horse themed party, a little part of me is delighted, another is thinkin "oh crap, what can I do for a horse themed party??" and she now wants to have it at home.

Hubby wants to have it at one of the play centers as he says it is too much hassle.... dont know why he's the one getting stressed when it'll be me taking care of things. He said we wouldn't need to invite to invite the cousins as we'd just go to his mothers for dinner - I look forward to those dinners like a bullet to the head, so not gonna happen.

I'm going to go ahead with her Horse party, any suggestions for activities/games/ANYTHING?? lol!
---
Stop for a minute, open your mind, learn. You may not agree with what I say, I may not agree with what you say but we will both learn something new.
I had a horse/farm theme party for my daughter when she was 6. On the invitations I asked all the kids to wear their jeans. I went to the dollar store and picked up enough bandanas for all the kids and chaperones, handed them out upon arrival.
I was lucky enough to have my horse boarded just down the road, and the BO was nice enough to hitch up the tractor to the hay wagon, and picked us all up for a hayride to the barn for a horse ride on my old reliable mount.
That may not be feasable for you, but you can buy some straw bales to put in your yard for the kids to play on.
See if you can borrow or rent some animals for a petting zoo, we had a few baby chicks we kept in a cage for an hour. Hire a teen or have an adult moniter the kids and animals for everyones safety.
Then we had the regular things, painting, crafts, games, cake etc.
Good luck
Every year it's the same thing that my daughter wants a horse bday party.. So one yr we did hay rides, apple bobbing, and we did potato sack races.. Kids loves it :) also I found this pic on Pinterest now she wants this lol.
would be really cute for pics.. This is her cake from last yr :)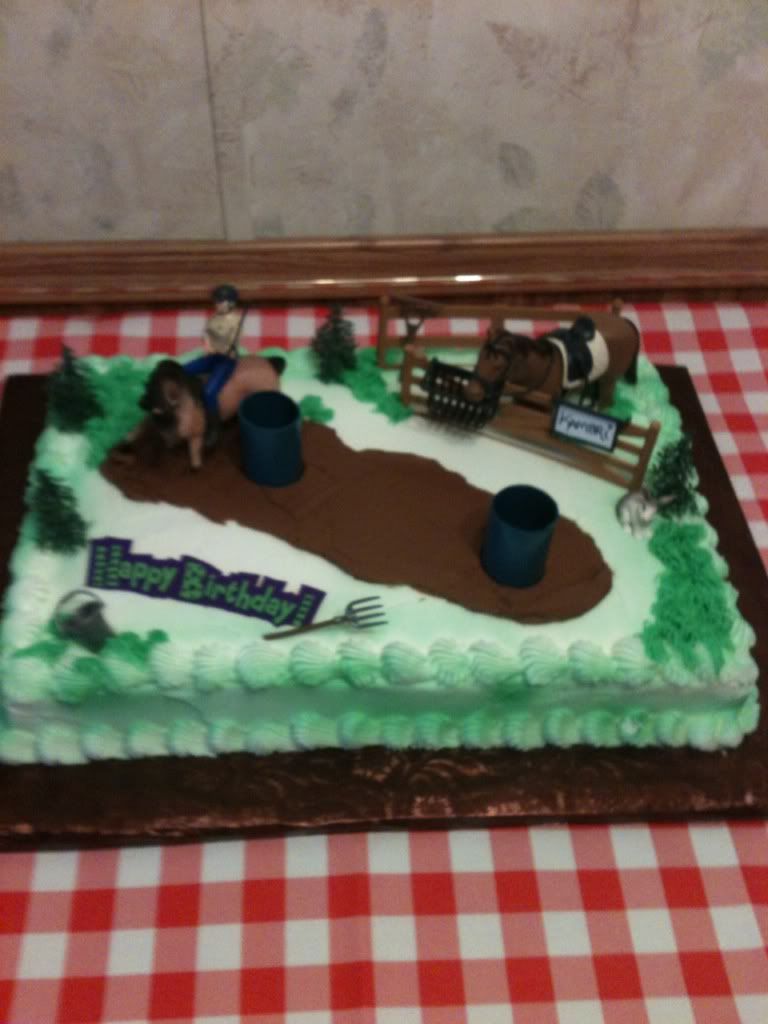 . Also seen invites that say WANTED at ..... Bday party :)
Posted via Mobile Device
Thanks for the suggestions!

So far our current plans are:

1) Paint and decorate old horseshoes (it helps knowing farriers) and make them into picture frames.

2) Decorate cowgirl hats. I'm going to buy lots of diamonds, feathers, ect and let the kids decorate them as they wish.

3) Possibly bringing our pony home, depending on if my friend is racing that day for work. She will bring the pony up for me and take charge (she has a Northern Irish accent, you wouldn't believe how fantastic it is at keeping kids in line!). The kids will all get two photos of them on the pony, one of which can go into their horseshoe picture frame.

4) Pin the tail on the pony :)

5) Bobbing for apples.

I'll def be taking some of your suggestions though and working it into the day! Thanks :)
---
Stop for a minute, open your mind, learn. You may not agree with what I say, I may not agree with what you say but we will both learn something new.