Trained
Join Date: Sep 2011
Location: Hour and a Half from Town!
Posts: 6,324
• Horses:
2
Only child parenting...
---
So I had a miracle baby. She also just about killed me, 11 lbs. and a few ounces, over 24 inches long! I was HUGE, the nurses told me they had never seen a bigger belly... REALLY? What about twins? Oh, that's right I did almost have two in there! I mean I'm 5'2 and when I got preggers I was only 125 lbs. HOW did I have such a large child? LOL!

I have a terrible relationship with my horrific younger brother and my DH has twin younger brothers so both of us being the eldest child was hard. Both of us were forgotten. We probably would never have HAD children had she not been a surprise, LOL! So we won't be having any more. My girl is very well rounded, not spoiled (as in she doesn't get her way), we are able to afford the best school for her, and she gets to have the childhood I never did.
My mom has almost given up on me having another... DD asked for a while but I told her babies poop and cry and would have to share her room so she's quit asking!

So how are we going to raise well rounded only children? Are you thinking about having more (I get these evil thoughts in my head but really it's unhealthy for me to have another and too late for her to have a close sibling).
The stereotypes scare me, I don't want a monster! Not that she is even remotely close to being one. Her teachers all adore her and I get compliments on her behavior all the time.
I don't think it's bad, but I do worry about the future. She is going to be my only family when I get old. Hope I do this right!
---
You can get a lot further with a ladder than you can with crutches!!
What do you mean what do I mean?
We have way too much in common Fly. My daughter is also 7 and an only child. I'm good with that. I also had a tough pregnancy/delivery. I had toxemia so I ended up stuck on bed rest and was induced early. She was a little thing at 5 lbs 10 oz. It might be selfish of me but I don't want to go through that again, I was miserable. Glad I have her though :)

The stereotypes are scary. I hope I do it right too. M doesn't go without but isn't spoiled. I'd like to think that the life we lead lends itself to making a polite, well rounded and well behaved child. A farm is great for teaching the value of hard work and a dollar.
---
Life is like a camera. Focus on what's important, Capture the good times, Develop from the negatives and if things don't work out, Take another shot.
I am glad you two found each other, or I would have put you together.

There are many good points to having an only child. my husband's mom is an only child and she is so far from being a spoiled person. She is gracious, thoughtful and tolerant. from what I have read of how you guys parent, I think your children will have great foundations.

Your biggest concern will be to NOT be too much involved in your child's growing up. I was the middle child of 5. my mom was a traditional home mom , and was very involved in our upbringing, in as much as she had to be to take care of us and keep a happy home. She did a great job. But she was too busy to be "meddling" in each one of our's individual lives. This meant that we had to do a lot on our own, and we had a fairly deep level of personal privacy. We did not spend a lot of time thinking about out parents, and worrying about pleasing them or making them happy or living up to their infinite expectations. the let us roam, make mistakes and be bored. not because they were great at that, but becuase they simply did not have the time to get that involved with any one child.
I count that as a great blessing. I see parents nowadays just sticking their noses in every aspect of their children's lives. Honestly, let them alone!

I am not saying YOU do this, but only that this is one of the possible pitfalls. You guys have animals and work to keep you busy and out of your children's lives, right?
My daughter is 10 and will forever be an only child (DH was "gelded" when she was 4).

I think you already have a great start. Being aware of the dangers is a positive step. DH and I work hard at making sure Kitten (my daughter) is respectful, socialized, and obedient. We worked hard to teach her empathy and while I believe she is truthful, I always investigate both sides of a conflict before coming up with a game plan.

(Example: Kitten tells me about a "bad thing" at school, I contact the teacher and make a polite inquiry. After I have both sides, I work with the teacher to either fix Kittens perception of the incident or help the teacher understand why Kitten is feeling the way she does.)

My child IS spoiled, but not rotten. She does not beg, whine or throw temper tantrums because they never work for her. She's learned that while if she asks politely, I will often give in, but can accept no as an answer.

The bottom line...Good parents raise good children. Whether they have 1 or 10 kids, if you are consistent, discipline wisely, and instill good values in your child, he/she will grow up to be a values member of society.
Posted via Mobile Device
Thank you Caroline.

Yep, have plenty of animals to keep me busy. The farm allows for a good bit of freedom for her too. She can be a kid without me worrying too much, a blessing these days. Except for the occasional can't get down from the tree she climbed, how many hay bales she busted open climbing or which horse she might be on in the pasture there's not too much trouble to get into :)
---
Life is like a camera. Focus on what's important, Capture the good times, Develop from the negatives and if things don't work out, Take another shot.
Sorry, double post. That's happened a couple times today...
---
Life is like a camera. Focus on what's important, Capture the good times, Develop from the negatives and if things don't work out, Take another shot.
Tinylily has a good point. Kitten benefits from our sole attention, but I work hard to ensure she is not the center of our universe.

I work on making her independent. She knows how to take care of herself, feed herself, and care for her pets. She's comfortable away from us and on her own. She has a lot more freedom to roam than her friends...I refuse to be a helicopter.

Add that I want to ensure my marriage survives her childhood, I've made sure that I have time for my DH and our adult interests as well. Our home life may be impacted by Kitten's wants/needs, but those needs are just part of the greater whole of our lives. :)
Posted via Mobile Device
Trained
Join Date: Sep 2011
Location: Hour and a Half from Town!
Posts: 6,324
• Horses:
2
Yeah MHF, WE DO! Oh if I had you closer I'd dump E off all the time, and would expect the same! She needs a riding buddy, but ohhh the trouble!
Tiny you are right, I have to make sure I don't crowd her. I think me not really planning for a family makes it easier. I don't have any expectations or goals for my kid, just for her to be happy, confident, and hopefully a contributing member of society. I do fear that I'm the opposite of what I need to be... We can't participate in sports because we live too far out. Going to do the whole 4-H thing eventually, yep need to get on that! LOL!
For the most part she's independent. She has to play alone while I work in the summers, usually she's sitting by me practicing her art. Poor thing wants to be an artist like me. Noooooo!!!!!! She isn't as much into horses as I am. Loves them, but a little too passive. Oh well, no pressure! Living out here is dangerous for an only child, bears, snakes, bobcats, coyotes, I ran wild on horses and in the woods starting at 6 but didn't have those around! I'm too protective of her. Just recently has she been allowed to go outside
alone
and play in the dirt pile with her bud.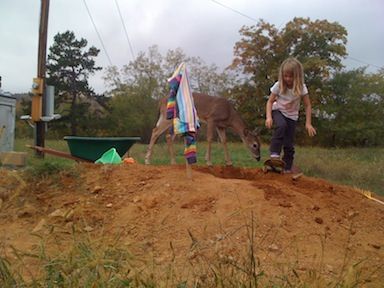 Dude seriously I'm trying to plant that!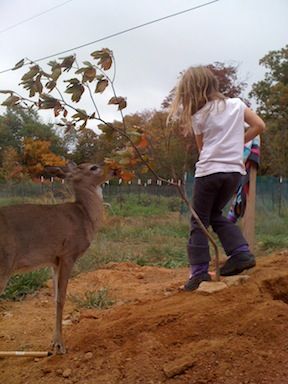 ---
You can get a lot further with a ladder than you can with crutches!!
What do you mean what do I mean?
Quote:
She is going to be my only family when I get old. Hope I do this right!
How do you know that? She may marry someone and have 6 kids! LOL
My kids are 6 years apart and I honestly thought I was only going to have one. I can tell you from personal experience that I don't parent any differently with two than I did with one. Having more than one doesn't give you magical parenting powers at all. Having one child doesn't mean they will automatically be spoiled rotten. Mine are living proof that you can spoil two kids rotten! LOL Being six years apart, my son started kindergarten when my daughter was born. It was kind of like having 2 "only-childs". My daughter had to entertain herself all day while my son was at school. But I got that special one on one mommy time with both of my kids that many 2nd children don't get.
I am a firm believer that kids learn the most by example. Monkey see, monkey do. If you live your life with honesty, compassion, kindness, compromise, determination, strong work ethic, etc, it will rub off on the kiddos whether they like it or not.
For what it is worth, whether we have no kids or 19 kids, we all "hope we are doing it right".
---
Last edited by Sahara; 11-14-2012 at

01:16 PM

.
Have you read "The Yearling"? it's about growing up with a fawn, in Florida.
It's a Classic, oh, and the child in the story is an only child.